Discover more from Wonkette
Wonkette is filthy, hilarious, liberal news. YOU CAN HANDLE THE TRUTH!
Over 15,000 subscribers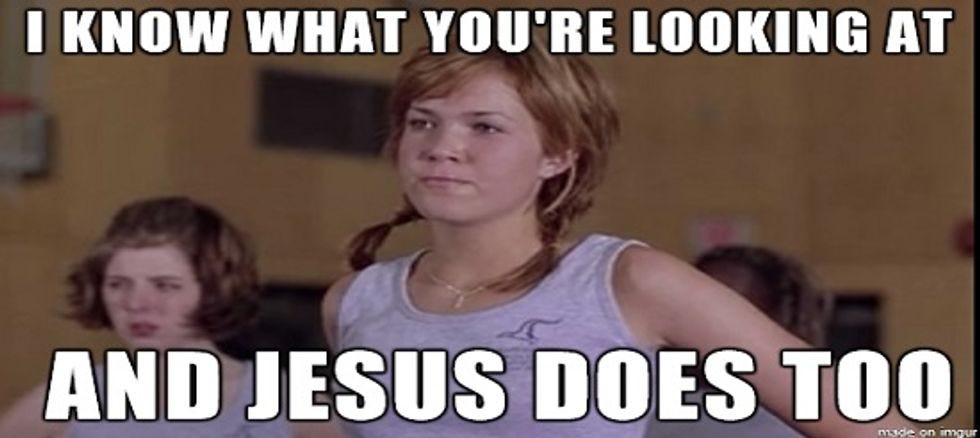 We've learned so much about the Duggars in the past couple weeks! Of course, we now know, in grisly detail, about how Josh Duggar molested five girls, four of whom were also his co-stars on TLC's 19 Kids And Counting , i.e., his sisters. We've also been learning more and more about the creepy homeschooling cult the Duggars subscribe to, that of alleged sex crimer Bill Gothard's Advanced Training Institute (ATI). We know the sort of horrific counseling Josh's victims likely received, using materials from the ATI cult that suggest when little girls are molested, they share some of the blame, for being female, and for being available targets.
 
 But what kind of sex ed are the kids getting in the first place? Is Our Duggar Children Learning About Sex? Well yes, kind of, in a really creepy way that seems to directly set the stage for the sort of abuse Josh Duggar inflicted on his sisters. Gawker dug through some of ATI's "Wisdom Booklets" and learned so many exciting things! For instance, ladies? You are naturally allergic to the jizz treats of all mankind, and if you get overexposed, you will get cancer. Now, you are probably thinking, if jizz causes cancer, shouldn't Michelle Duggar be dead by now? NO, YOU IDIOT, you don't know the first thing about science. The curriculum clearly teaches that when you are getting Duggared consistently by a man who is your God-ordained husband, your lady cervix parts will become immune to the jizz demons -- but only HIS jizz demons. If you have sex with strange dick, it's just like allergy season, and you will get the pussy sniffles. Or cancer:
Doctors have discovered that the seed of the man is an alien substance to the woman. It triggered responses similar to those of an "allergic" reaction. A woman who has a husband is able to develop "immunity" to this reaction; however, a promiscuous woman's immune system becomes confused and unable to distinguish alien substances. This confusion is a key to the development of cancer.
Now,  Cosmopolitan  (who will NOT be using this in its upcoming issue "666 Ways To Drive Your Duggar Wild In Bed") points out that sperm allergies are a real thing, but blaming them on promiscuity is fucked up, and also not scientific.
Please note that if somehow a foreign demon sperm happens to penetrate the area without making you sneeze or giving you a mild case of the cancers, you can still get pregnant. And what happens to ladies who get pregnant by men what are not their husbands?
The miscarriage or premature birth of a child conceived in unfaithfulness can also be attributed to the stress of the cup of bitter water. This interpretation assumes that the accused WOMAN is pregnant when she is brought before the priest. If the child is the husband's, she has no reason for guilt, and the child will live.
The female body has ways of shutting that whole thing -- HEY WAIT A MINUTE. Does former Missouri Rep. Todd Akin, of the "legitimate rape" Akins, factor into this?  Has somebody looked into whether there's a connection between the Duggars and THAT guy? Oh hai:  
The Duggars are back on the campaign trail. This time, they are showing their support for representative Todd Akin. Join them in Missouri on October 16th and 17th (details below). The Duggars plan on bringing their entire family, minus John and Jill, to the events to perform music. Josh and Anna also plan on attending with Mackynzie and Michael.
A refugee from the Quiverfull movement remarked at the time, "I wonder if Jim Bob and Michelle would be so eager to support him if one of their precious daughters had the misfortune of being raped?" Knowing that the Duggars knew then what we know now, gonna go throw up now.
Okay, back to rapey misogynistic Duggar sex ed. Did you know that if you sin, with your sinhole, you might actually have to have surgery to pull all the shame and guilt out of your lady organs? It's true:
But remember, the men are NOT TO BLAME for any of this, because they do not have the power to control themselves around ladies or, apparently in Josh Duggar's case, little girls:
When a man looks lustfully at a woman, a flood of impulses travels through the optic nerve to the back of the brain. As a result, the glands and other bodily functions are activated, and the level of testosterone increases.

Recent studies revealed a significant correlation between high testosterone levels and those who commit violent crimes.
He can't control what happens to his body when he sees a pretty lady, but you, ladies, can control whether or not you are dressed like a temptress whore. And if you show a bit of wrist and get raped, well, your slut wrist probably was making an inadvertent "come hither" gesture.
Stay tuned. There's more where this came from.
[contextly_sidebar id="xeoVS7KqsaWJNBD3P0dZjH3CclcQIH13"]
[ Gawker ]