Discover more from Wonkette
Wonkette is filthy, hilarious, liberal news. YOU CAN HANDLE THE TRUTH!
Over 15,000 subscribers
Who was killed in the Holocaust? If you are a Holocaust denier, the answer is "not Jews." If you are trying to be an "intellectual" Holocaust denier, or are White House spokeswoman Hope Hicks, you will explain that okay, maybe SOME Jews, but hardly any in the grand scheme of things, because if you mention Jews, you're leaving out "priests, gypsies, people with mental or physical disabilities, communists, trade unionists, Jehovah's Witnesses, anarchists, Poles and other Slavic peoples, and resistance fighters."
Wouldn't have wanted to have to include them all! They take up ALMOST TWO LINES in Wordpress!
And so once again it is up to Canadian Prime Minister "Joe" Trudeau to teach our American president, Donald Trump, "no, this is how you shake hands, "
President Trump welcomes Canadian Prime Minister Justin Trudeau to the White House. https: //t.co/n7TqA3VDnW   pic.twitter.com/5TcpyDfZx5 

— ABC News (@ABC) February 13, 2017 
and, "no, this is how you greet five-year-old Syrian refugees, they are really not that scary,"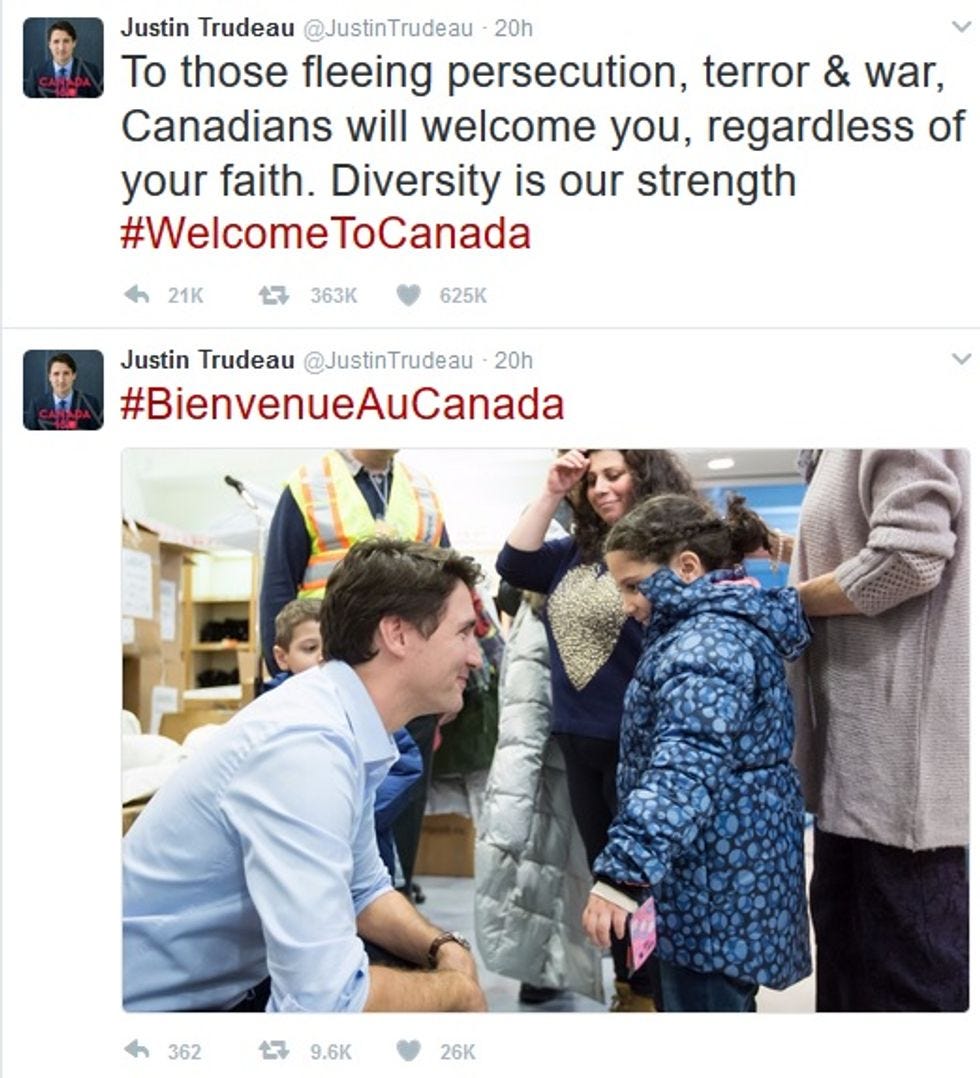 and now, "no, this is how you do Holocaust Remembrance, hint, stop using Holocaust Remembrance Day to give your Racist Frog people a le boner."
Wreath laying this morning at the Memorial to the Murdered Jews of Europe in Berlin. pic.twitter.com/Hh9XcJJKPx 

— Justin Trudeau (@JustinTrudeau) February 17, 2017 
We wonder if "President" Trump will tell him to sit down and shut up, like he did with that poor nervous Orthodox reporter at yesterday's press conference? 
Trump bullies Jewish reporter who asked for plan to fight anti-Semitism pic.twitter.com/65jVHlg2cS 

— Tommy Christopher (@tommyxtopher) February 16, 2017 
HOW DARE YOU, REPORTER MAN? HOW DARE YOU TELL THE PRESIDENT THAT YOU DON'T THINK HE'S ANTI-SEMITIC BEFORE NOTING THAT RACIST FROG PEOPLE ARE THREATENING JEWISH CENTERS AND SCARING THE CHILDREN? Just what kind of liar IS that man anyway?
He HATES EVEN THE QUESTION. Which is why he didn't listen to it.
You know who is probably the best at listening?
That guy. He has a heart on for you.
 Know WHO ELSE has a heart-on? It is Wonkette. Just leave the money by the bed.