Discover more from Wonkette
Wonkette is filthy, hilarious, liberal news. YOU CAN HANDLE THE TRUTH!
Over 18,000 subscribers
Image via video from roberts.senate.gov 
Kansas Democrats are calculating, power-hungry animals who will stop at nothing in their quest to deny a fourth term in the Senate to kindly old vagabond Pat Roberts. They'll make deals with anyone as long as it ends in Pat's defeat, and they would think nothing of engaging in such reprehensible tactics as sending a letter, notarized, to the Kansas Secretary of State, unilaterally withdrawing from the race.
No longer will the voting public in Kansas be terrified by the prospect of a messy three-way involving Republican Sen. Pat Roberts. County prosecutor, Democrat, and really good sport Chad Taylor used up one last page of campaign letterhead to ask that his name be removed from the ballot , leaving Roberts to face Democrat-turned-independent Greg Orman in a head-to-head matchup that puts Pat in danger of being kicked out of the Capitol for the first time since 1981.
After surviving a primary challenge from that eccentric doctor who posted gunshot X-Rays on Facebook, Sen. Roberts hadn't anticipated much of a problem in the general this time around. Sure, his approval rating was practically non-existent, his lead over his second-place challenger was in the single digits, and he only had about a third of the vote , but with Taylor and Orman fighting it out in the mid-20s, Pat seemed set for a lame but inevitable victory in November.
What the senator didn't count on was that the Democrats' thirst for his electoral blood would drive them to a "corrupt bargain" with Dirty Harry Reid andnosy neighbor Claire McCaskill and this terrifying monster, this beast, the one they call OR-MAN.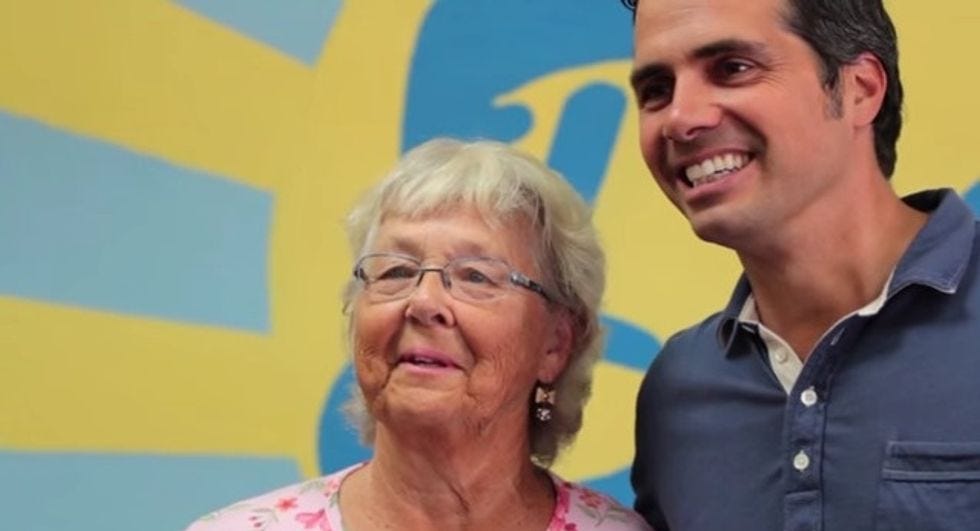 Image via Orman campaign video 
Now that Taylor's gone, the polling looks considerably more grim for Roberts. A Roberts/Orman race was polled as a hypothetical by PPP in August and showed Pat losing by 10 points, so he must have been relieved when, last week, Taylor vowed once again that he would not drop out . We hope you had a nice holiday weekend, Senator!
We wouldn't be surprised to see an emergency cash airlift for the now-endangered senator dispatched from Washington. National Republicans weren't counting on needing to spend money to keep Pat in office, but maybe they can find a little extra in the seat cushions down in Kentucky .
That makes twice this week (so far) that a red-state Democrat has nobly sacrificed a campaign to shore up the chances of a Republican's defeat at the hands of an independent. Chad Taylor is even more of a mensch for stepping aside than gubernatorial candidate Byron Mallott up in Alaska, who at least gets a run for lieutenant governor out of the deal.
This sudden outbreak of Democrat Humility Syndrome managed to jump to the lower 48 with frightening speed, so there's no telling where it could crop up next! Wrap your favorite Democrat in a hazmat suit!
[ Kansas City Star / Wichita Eagle / Public Policy Polling ]
 You can follow Beth on Twitter for full election coverage of the Dirty Dems.