Discover more from Wonkette
Wonkette is filthy, hilarious, liberal news. YOU CAN HANDLE THE TRUTH!
Over 18,000 subscribers
The Sexism is dead! Long live The Sexism!
Most Wonkers get by on government cheese and Soros protest checks, but there may be some Real Americans among you who are employed by Your Friend Corporate America (YFCA). And you Real Americans have probably signed a contract promising to nevernotever sue your benevolent employer overlords. If you get the mistaken idea that you might want to sue, well help yourself to all the binding, confidential arbitration you can handle.
YFCA will tell you that it's better this way, that you will save the cost of litigation, that it's best to solve things collaboratively. They'll swear that mean trial lawyers just want to use you, and you'll get nothing out of litigating.
YFCA is a fucking liar!
So before we dive into this week's Washington Post story about pervasive sexual harassment at your mall's jewelry stores, let's remember that this decade-long shit show could have been avoided if women had not been shunted into arbitration and told to shut up or else .
Every Kiss Begins With Kay, If You Want to Keep Your Job
In 2008, 12 women filed an arbitration claim against their employer Sterling Jewelers for sex discrimination. Sterling owns Kay Jewelers and Jared's Galleria of Jewelry, and is itself a subsidiary of Signet Jewelers, which also owns Zales. In 2015, the arbitrator found enough evidence of persistent sex discrimination at Sterling to allow the suit to proceed as a class action, potentially including over 69,000 current and former female employees.
The plaintiffs are specifically seeking to recover back pay for employees underpaid or not promoted because of their gender. Their testimony paints a vivid picture of 1500 stores run like Mad Men's Sterling Cooper, where women were routinely pressured to sleep with their managers to gain promotions. Because arbitration is confidential, lawyers for the women only succeeded in releasing this testimony to the public on Sunday. The story was widely reported Monday, and on Tuesday Signet's stock price dropped so dramatically that trading was briefly halted.
What got shareholders in such a panic?
Routine sexual "preying" at company events "was done out in the open and appeared to be encouraged, or at least condoned, by the company,"Melissa Corey, a manager of Sterling stores in Massachusetts and Florida between 2002 and 2008, said in her declaration.

Ellen Contaldi, a Sterling manager in Massachusetts between 1994 and 2008, said in her declaration thatmale executives "prowled around the (resort) like dogs that were let out of their cage and there was no one to protect the female managers from them."
Makes a girl want to run right out to the mall and buy some jewelry, amirite? Oh, wait ... we're supposed to shave our legs and make sammiches to earn our bling .

www.marketwatch.com
Former employee Heather Ballou testified that she was coerced into sleeping with her manager in 2005 to advance her career. She also described mandatory management seminars in Orlando where women were pressured to have sex with their bosses.
It was common practice, former employees said, for executives and high-level managers to ply subordinates with alcohol. One night, Ballou told The Post,she saw a top executive watching as female managers in varying stages of undress splashed in a hotel pool. "He had a drink in one hand and a cigar in the other, just taking it all in, like, 'I am the king and this is my harem,'" she told The Post.
While Ballou doesn't name the "top executive," other testimony makes clear that he is Mark Light, the current CEO of Signet.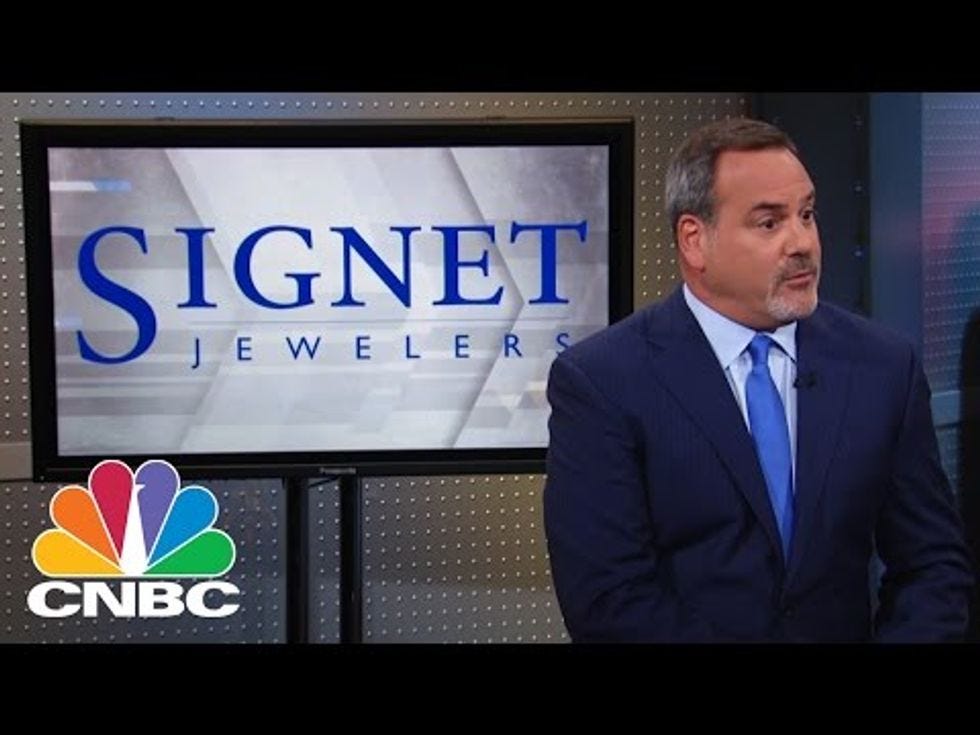 Mark Light, Without Cigar and Harem
Light, whose compensation totaled $7.4 million last year, has been accused of having sex with female employees and promoting women based on their willingness to sleep with him. He's made no public comment, and may or may not be planning to spend more time with his family in the near future.
Bang Up Job on the PR, Signet!
In a response to WaPo's article, Signet seemed to downplay the sexual harassment, only to draw attention to the underlying wage and hiring discrimination.
In a statement provided during the halt of trading, Signet said none of the 69,000 members of the case have brought legal claims forward of sexual harassment or impropriety.The arbitration case solely focuses on whether those women have suffered discrimination in pay and promotions, it said.
Cool PR strategy, bro. But isn't it really both the harassment AND the wage discrimination? Signet has warned its shareholders that the company will take a substantial financial hit if the arbitrator awards back pay to thousands of women. And it's a safe bet that their store traffic will decline on today's news. Wouldn't you rather he went to the pantry and made you a necklace of macaroni than to Jared right now?
As the saying goes, when you find yourself in a hole, KEEP DIGGING! Right? In his comments to the Post , Sterling spokesman David Bouffard insisted that Signet is actually a champion of working women.
The company "has created strong career opportunities for many thousands of women working at our stores nationwide" and takes allegations of pay and promotion discrimination seriously, with "multiple processes in place to receive and investigate allegations of misconduct.
AREN'T YOU LADIES GRATEFUL FOR THE OPPORTUNITY TO SELL JEWELRY AT THE MALL? YOU GOT TO BE IN MANAGEMENT, SO WHY COMPLAIN IF YOU HAD TO SLEEP WITH THE DISTRICT MANAGER TO GET THERE?
This seems an odd posture to take when the press is poring over accounts of reprisals faced by women who called Sterling's internal employee hotline.
Kristin Henry was 22 when an older, male employee cornered her and tried to kiss her at one of the infamous Orlando Harass-a-thons.
A few days later, she called an internal hotline to report the encounter, believing her identity would be protected. But within days of her report, a regional boss visited her store for two days, interviewed her co-workers and reviewed surveillance video before accusing her of stealing a gold necklace and $100 in cash. She told The Post she showed the boss evidence that she had not stolen anything, but Sterling fired her, a few days before she was set to receive an annual commission payment worth roughly $30,000, she alleged.
Julia Highfill called the hotline to report her boss for arriving to work late and smelling of alcohol. Shortly after, he warned her,"Anything you say, I'm going to know."
Arbitration: The One Weird Trick to Make Your HR Problems Disappear Like Magic
Sterling downplays claims of harassment by pointing out that some of them are more than a decade old. It takes some serious CHUTZPAH to make this argument. ( Look it up, Michele. ) The entire purpose of mandatory arbitration is to allow the company to exhaust employees by dragging disputes out forever while depriving them of their most powerful tool, PUBLICITY. A handful of harassment and wage discrimination lawsuits in 2006 would have forced Signet to deal with their Pussy Grabber work culture long ago. Instead they got to go on underpaying and harassing female employees, while watching their stock price soar. Mandatory arbitration is the reason Hamburger Pants Roger Ailes got away with harassing women for decades while pretending Fox was "Fair and Balanced."
FUN FACT: Fox has paid out so much money to settle harassment suits that the Justice Department is investigating it for hiding relevant losses from shareholders.
So, Ladies, whether you buy your own trinkets or earn them as God intended , PAY ATTENTION TO HOW THE COMPANY SELLING THEM TREATS ITS LADY EMPLOYEES.
[ Washington Post and Washington Post again / Business Insider / Cohen Milstein Sellers & Toll PLLC ]
 Wonkette is ad-free and sells only the finest whore diamonds, supported entirely by Readers Like You.