Discover more from Wonkette
Wonkette is filthy, hilarious, liberal news. YOU CAN HANDLE THE TRUTH!
Over 15,000 subscribers
Last night, the 76th annual Tony Awards, the only award show that there is any actual reason to watch, aired on Pluto and CBS — and it almost didn't. The awards were nearly not going to air this year because of the Writers Guild of America strike, but an agreement was worked out with the union and the show did, in fact, go on ... albeit entirely unscripted.
As far as the strike goes, this was definitely the best move, because it allowed host Ariana DeBose and those giving acceptance speeches to highlight how extremely necessary writers are for things like this and to call even more attention to the strike and the need for fair compensation, from the beginning in which DeBose opened a big book labeled "script" that was entirely blank to the part in the evening where LaTanya Richardson Jackson called Jodie Comer "Julie."
UNION! UNION! UNION!
Practically every person who got up there to accept an award took a moment to voice their support for the strikers, keeping the cause at the forefront in a way it really wouldn't have been if they had just not not bothered to do the show at all. It really could not have been more pro-union if the entire Broadway community just got up on stage for an impromptu production of The Pajama Game . (Although obviously that would have been awesome).



Of all the winners who paid homage to the WGA in their speeches, one of the most touching came from Miriam Silverman, who won the Tony for Best Featured Actress in a play for her role in Lorraine Hansbury's The Sign in Sidney Brustein's Window, and who spoke about how her recently deceased mother had raised her to be a radical and to support unions, adding, "We are a staunchly pro-union household. And I have to say my parents raised me to believe in the power of labor and workers being compensated and treated fairly. And we stand with the WGA in solidarity."
Because it was such an overtly political show this year, I feel like it's entirely appropriate to dish about it here a little bit.


Conservatives Are Now Mad At Frosted Flakes
As part of a marketing gimmick, a Tony the Tiger mascot did a whole bit where he walked the red carpet and handed out participation bowls of cereal to those who didn't win their categories. However, while doing this bit, the mascot took some cute pictures with trans influencer Dylan Mulvaney and now the Right is furiously throwing boxes of Frosted Flakes out their windows, because that's what they do now.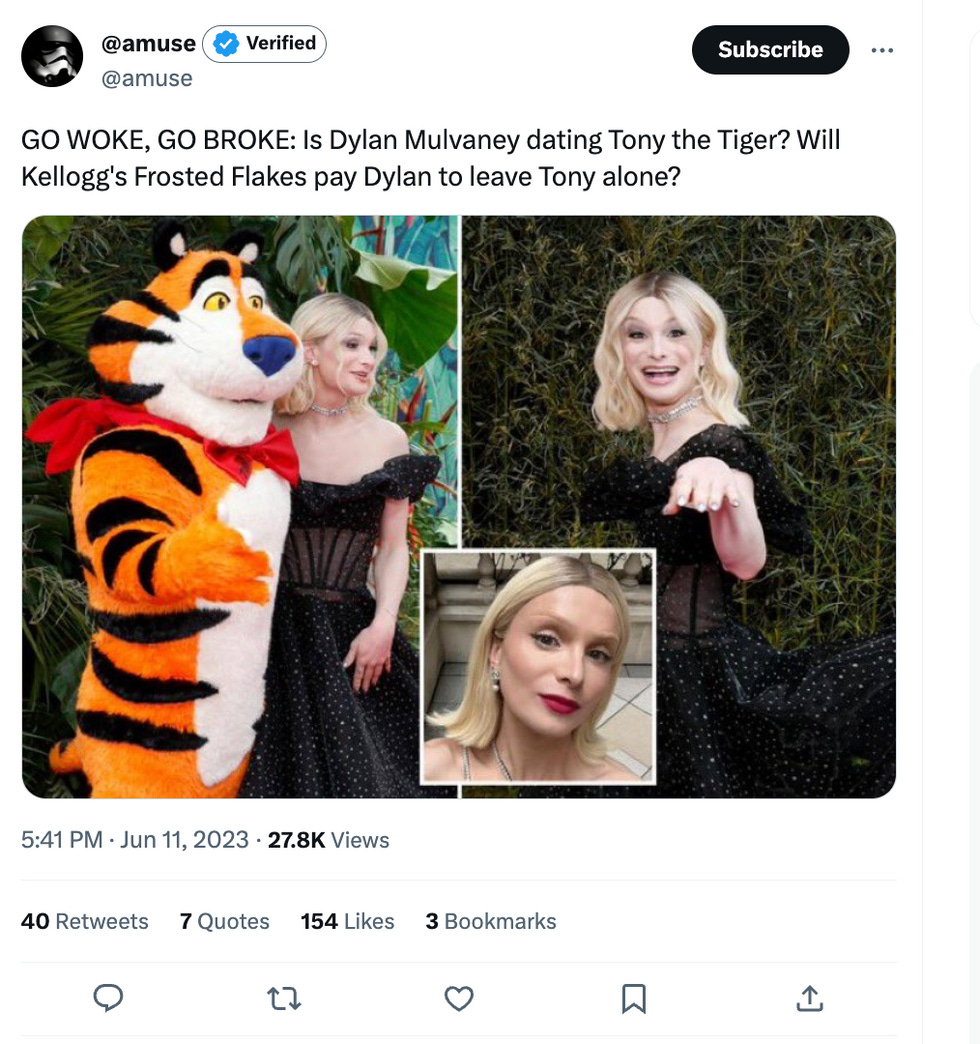 Bigot influencer Joey Mannarino, who definitely was not watching the Tony Awards, dropped a series of hysterical tweets about the incident, including a ridiculous rant in which he explained that he believes that brands that associate with Mulvaney "have a Chinese-style sweatshop somewhere in the world with a bunch of trannies just pumping out juice for the ingredients." He vowed to only ever eat Froot Loops for breakfast from now on. Because nothing says "heterosexual cis macho man" like a rainbow cereal called Froot Loops .
Froot Loops and Frosted Flakes are, for the record, both manufactured by Kellogg's.
Of course, if they had actually watched the show, they'd be mad about a lot more than cereal.
Alex Newell Became The First Nonbinary Actor To Be Nominated For And Win Best Featured Actor In A Musical!!
I could not be more delighted to be able to say the words Tony Award Winner Alex Newell . Seriously, as soon as they announced their name I sat up and clapped, by myself, in my room, like a complete dork. It wasn't the first time I teared up during the show, but it was probably the most I teared up during the show.
Newell, who has probably one of the most incredible voices in existence right now, made history last night by becoming the first non-binary actor to win the award for Best Featured Actor In A Musical for their performance in Shucked! , a musical about corn and love and con artists that looks absolutely amazing and hilarious.
I mean ... just listen to this. Was there even going to be a question?



Newell first popped on the scene as a runner-up on The Glee Project (which they should have won) and later became a series regular on "Glee," playing Unique Adams, a trans female student who first sings for rival show choir Vocal Adrenaline and later joins the New Directions. As obviously problematic as we all know "Glee" was, especially behind the scenes, it really did do a lot of good when it came to LGBTQ visibility, particularly with characters like Unique.
"I have wanted this my entire life," Newell said during their acceptance speech. "Thank you for seeing me, Broadway. I should not be up here as a queer, nonbinary, fat, Black little baby from Massachusetts."
Newell is so unbelievably talented and Broadway is beyond lucky to have them.
Shows About Anti-Semitism Won Big
I fully admit that I had hoped that Into The Woods would win for best musical revival, largely because I was hoping they would bring Milky White on stage to accept the award (Milky White is the cow).

It didn't — what did win, however, was Parade , a musical about Leo Frank, a Jewish factory superintendent in Georgia, who was wrongly convicted of the murder of 13-year-old factory worker Mary Phagan and later kidnapped from prison and lynched by a virulently anti-Semitic mob outraged by the fact that his death sentence had been commuted.
They had been inspired, no doubt, by Georgia politician Tom Watson, who openly called for Frank to be lynched, writing the truly horrifying words "This country has nothing to fear from its rural communities. Lynch law is a good sign; it shows that a sense of justice lives among the people," in an op-ed about the case.
The winner for Best Play was Tom Stoppard's critically acclaimed Leopoldstadt , about the lives of a Jewish family in Vienna throughout the first half of the 20th century. Brandon Uranowitz also took home the Tony for Best Featured Actor in a Play.
"We are seeing a lot of those tiny seemingly little inconsequential things [that happen in the play] happening right now," Uranowitz said during his acceptance speech. "It's a clarion call to pay attention to those seemingly inconsequential things that accumulate and lead to mass devastation."
J. Harrison Ghee Became The First Nonbinary Actor To Be Nominated For And Win Best Actor In A Musical!!!
That's right — nonbinary performers took home both Best Actor and Best Featured Actor In A Musical. The fabulously talented J. Harrison Ghee, who previously killed it in Kinky Boots , received the award for their performance as Daphne, the role initially made famous by Jack Lemmon, in the musical version of Some Like It Hot .

Notably, in this new version of the story — which was co-written by Amber Ruffin, who is awesome — Ghee's Jerry/Daphne actually experiences a revelation, realizing that she actually is trans, and it is hinted that she will remain Daphne after the curtain closes.
There are definitely some issues as of late, with Broadway shows based on the "LOL it's a man in a dress trope!" — the Mrs. Doubtfire musical (in which Ghee, actually, originated the role of Andre Mayem) and the Tootsie musical in particular. This show does, however imperfectly, try to avoid that trap, which was also obviously present in the original Billy Wilder film.
Acceptance All Over The Place!
Bonnie Milligan — who won Best Featured Actress In A Musical for her performance in Kimberly Akimbo , a musical about a girl with a progeria-like condition that causes her to age at four times the normal rate (which also garnered awards for Best Musical and Best Actress In A Musical) — gave a particularly touching speech that definitely made me tear up a little.
"I want to tell everybody that doesn't maybe look like what the world is telling you you should look like, whether you're not pretty enough, you're not fit enough, your identity is not right, who you love isn't right — that doesn't matter, because guess what?" she said. "It's right, and you belong somewhere."

"Growing up, I was called the f-word more times than I can remember, and now all I can say is that I'm a f**** with a Tony," Michael Arden said in an equally touching speech when he won Best Director for Parade, adding, "When you hide in shame you are uncounted."
We Got A Great New Nickname For Ron DeSantis
Deneé Benton, who was previously nominated for a Tony for her performance as Natasha in the 2016 musical Natasha, Pierre, & The Great Comet of 1812,  got a massive round of applause for a brief dig at Florida governor and charmless bigot Ron DeSantis.
"Denée Benton calls Governor Ron DeSantis the "current grand wizard" of Florida at the #TonyAwards"

— The Hollywood Reporter (@The Hollywood Reporter) 1686534343 
"While I'm certain that the current grand wizard — I'm sorry, excuse me, governor of my home state of Florida," Benton said, recognizing the winner of Carnegie Mellon's excellence in theater education award, "will be changing the name of this following town immediately, we were honored to present this award to the truly incredible and life changing Jason Zembuch Young, enhancing the lives of students at South Plantation High School in Plantation, Florida."
Love her.
The whole night was gorgeous and joyous, and a fitting rebuke to all those sour jackasses who spent their evening steaming about who Tony the Tiger was canoodling with on the red carpet. It obviously would have been a lot better had there been writers, but hopefully this will get resolved by next year.
 Do your Amazon shopping through this link, because reasons .
Wonkette is independent and fully funded by readers like you. Click below to tip us!