Discover more from Wonkette
Wonkette is filthy, hilarious, liberal news. YOU CAN HANDLE THE TRUTH!
Over 15,000 subscribers
Twin Pizzagate idiots Mike Cernovich and Alex Jones have some harsh words for you, the Deep State, and Hollywood's Morgan Freeman. They know full well that the only reason people hate them, Hollywood hates them, and the Deep State is "going after them" is not because they are wacky, hateful, bigoted conspiracy theorists, no not at all. Rather, it is because they hate pedophilia so much and are the only ones on the planet who are not into that. Also this is why you don't like Putin. Because he doesn't like pedophilia either.
And here you were thinking you hated them all for totally different reasons than that! No, it is because you LOVE pedophilia and they hate it.
On an episode of Infowars , Jones and Cernovich took some time to expound on this theory.
The video opens with Cernovich whining that Morgan Freeman is not making any documentaries about how pedophiles are bad -- referring to a video, produced by Rob Reiner's Committee To Investigate Russia, in which Morgan Freeman calls for further investigation into whether or not Russia interfered in our elections.
And why isn't Morgan Freeman making documentaries about how pedophiles are bad? Well, obviously it is because he, along with everyone else in Hollywood, loves pedophiles. Indeed, the whole reason anyone is even talking about Russia having interfered in our election is because Putin hates pedophiles.
Via RightWingWatch :
Cernovich speculated, "What I think is actually going on here is Putin is actually very anti-pedophile and has done a lot of things to fight the –"

Jones interrupted, "Oh no, that's what it is. There's a global anti-pedophile network. Now if you're not for the pedophiles, you're against them and that's what it is. And anybody for the deep state is now a pedophile."

"Deep state is definitely part of the pedophile networks and they are pro-pedophile. There's no question about it," Cernovich said.
These Deep State investigations are almost definitely why Alex Jones went to great lengths to insist that he did not promote the Pizzagate conspiracy theory, even though he definitely did.
The dynamic duo then explain that Facebook and Google have "literally hired lobbyists" to allow them to run advertisements for "enslaved and kidnapped women on the web."
CERNOVICH: So if you want to kidnap a child, chain her to a radiator in the house, beat her up with a whip...

JONES: And let ten guys rape her a day and give her AIDS and then shoot her in back of the head and throw her in a lake, it's totally liberal.[...] As long as you're liberal it's loving!
I am just going to leave this here.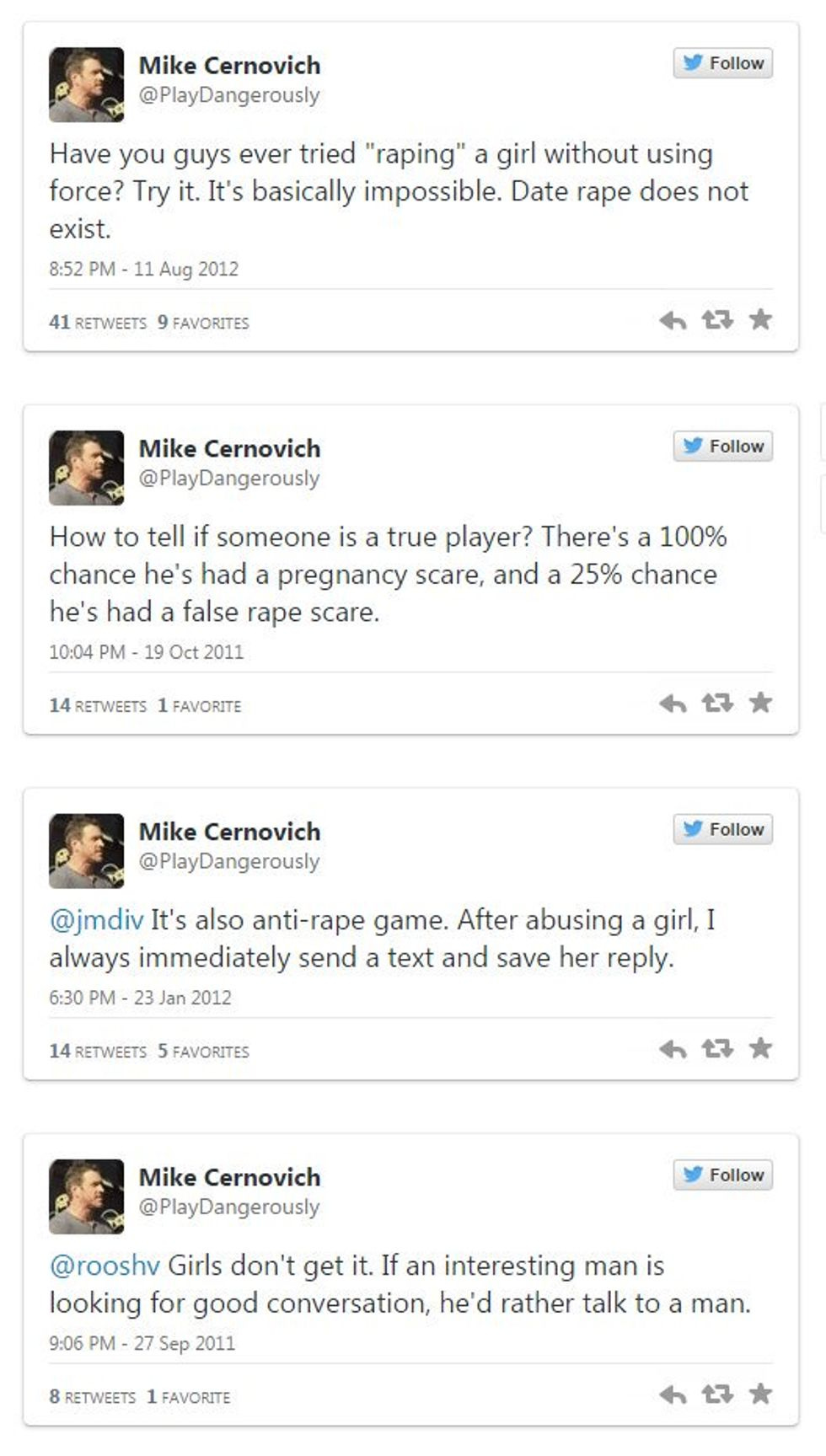 The lobbying they are referring to is not to allow them to run advertisements for "child molestation," but rather the fact that the language in a bill meant to curtail online advertising of prostitution by allowing lawsuits against sites where someone might post such an advertisement is too broad. Which, frankly, it is. There is also an argument to be made that banning sex workers from advertising online actually makes things more dangerous for them . In fact, some sex workers are mad at (liberal!) Kamala Harris for doing that very thing!
Cernovich, for his part, is very disappointed that all these people are allowed to advertise their child molestation and torture on Google and Facebook, but no one will let him or Jones or Jack Posobiec or Gab's Andrew Torba have any free speech at all . Unfair!
They both agreed that no one would have a problem with them or Putin if they were not talking about pedophiles and pedophile rings, and that they are essentially telling them " Just leave the pedophiles alone, everything will be all right. " Yes, that is definitely what we are all saying and thinking about Alex Jones, Mike Cernovich and Vladmir Putin all of the time.
I don't know if it is just that, though. People probably also hate them because they are so very good looking and have the best taste in fashion.
[ RightWingWatch ]
Wonkette is good-looking too. Please give us money.