Discover more from Wonkette
Wonkette is filthy, hilarious, liberal news. YOU CAN HANDLE THE TRUTH!
Over 18,000 subscribers
The only pussy-grabbing Mother would have supported at the time!
McKay Coppins has a fascinating piece on Mike Pence out in The Atlantic . (TRIGGER WARNING for "longread about Mike Pence.") Much of it is about how Mike loves Jesus and Jesus is the boss of Mike and God is the boss of Jesus and Donald Trump is the boss of Mike and that's why Mike lies for Donald Trump so much. Whole buncha Bible fuckery, if you ask us.
It also reveals the trivia factoid that Mike Pence's wife "Mother" thinks Trump is a trash human being. Yay, we agree with Mother about something! That detail is wrapped up inside a much yooger revelation, though, and it is that after Trump's Grab Them By The Pussy tape leaked, Pence was so horrified that he covered his own ears and also Mother's ears, so they wouldn't hear Trump saying swears. But after that, he was still horrified, so he plotted a coup to steal the GOP nomination from Trump and gift it to God's chosen GOP candidate, whose name was Mike Pence. WHOA IF TRUE, right?
It's been reported that Pence sent Trump a letter saying he needed time to decide whether he could stay with the campaign. But in fact, according to several Republicans familiar with the situation, he wasn't just thinking about dropping out -- he was contemplating a coup. Within hours of The Post's bombshell, Pence made it clear to the Republican National Committee that he was ready to take Trump's place as the party's nominee. Such a move just four weeks before Election Day would have been unprecedented -- but the situation seemed dire enough to call for radical action.
Oh goodness! We knew Reince Priebus was telling Trump to drop out or get pounded in the election (which didn't happen LOL thanks Electoral College, thanks Russia, thanks James Comey, thanks 78,000 "economic anxiety" racist crackers in the Rust Belt), but apparently the plan was far more advanced than we knew:
According to someone who was present, Priebus added that Pence and Rice were "ready to step in."
That would be Condoleezza Rice. She could have been your vice president! (Actually, in that scenario, Tim Kaine would probably have been your vice president, Russian interference be damned.)
According to Coppins, Pence wasn't just planning his coup because he, a dumbfuck, is convinced God has chosen him for a great destiny in the Oval Office. He was also doing it because he was literally D-Y-I-N-G because Donald Trump said P-U-S-S-Y. Mother Pence was particularly "disgusted," and a former campaign aide says, "She finds him reprehensible -- just totally vile." See? Like we said, we agree with Mother about a thing!
Anyway, Mike Pence didn't get to do God's plan for his life in October of 2016. But Pence still knows God has big plans for him, and he knows what they are, because God whispered them into his butt. Maybe Pence will run for president in 2020! Maybe he will become president sooner, because Trump will have to resign once Robert Mueller exposes all his crimes to the world! Maybe Pence will do God's plan and install himself as president by doing Article 25 to Trump! Only Mike Pence and Jesus know the truth , is the point.
Coppins notes that, for Trump, Pence is an "obedient deputy whose willingness to suffer indignity and humiliation at the pleasure of the president appears boundless." But maybe there is an endgame in all of this, for the man whose childhood nickname was "Bubbles." Maybe he is being persecuted by Donald Trump -- who makes fun of his Jesus beliefs, and also, according to Coppins, makes fun of the Pence family's pet cats and rabbit and snake, because Trump thinks the Pences are "yokels" -- FOR GOD'S PURPOSE.
(There's always the possibility God's plan for Pence is to let Mueller scoop him up in the investigation and kick his gay-hatin' Jesus freak ass back where he came from. The Lord does work in mysterious ways!)
Another interesting detail in Coppins's piece is that when Pence was younger, he was not good at sports like his brothers, who were "lean and hard and thin." Pence, on the other hand, described himself as "the real pumpkin in the pickle patch," to which we reply HAHA WE BET MIKE PENCE WOULD LIKE TO BE A PUMPKIN IN A PICKLE PATCH, IF YOU KNOW WHAT WE MEAN. (How many pickles can you stuff inside a pumpkin? Dunno let's find out!)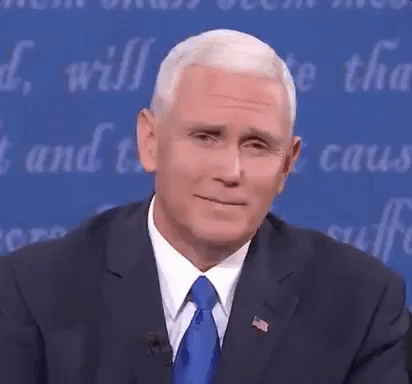 Real shitty how we just jammed a "Mike Pence might be a real big gay closet case" joke into the end of this piece for no reason, but that's Wonkette for ya.
 Follow Evan Hurst on Twitter RIGHT HERE.  
 Wonkette salaries, servers, and all of the things are fully funded by readers like you! If you love us, click here to fund us! 
[ The Atlantic ]