Discover more from Wonkette
Wonkette is filthy, hilarious, liberal news. YOU CAN HANDLE THE TRUTH!
Over 15,000 subscribers
Grab your best fainting couches and clutchin' pearls, America, because there's a whole new set of teensy genitals to have a moral panic over. First there was Victoria Jackson worrying about the moral implication of tiny cartoon genitals in a middle-school sex-ed book, which we've already covered (ha-ha, they should be covered!); and now there's this "You & Me Mommy Diaper Boy Doll," which is either causing a moral panic for some shoppers at Toys R Us, or maybe the doll's manufacturer is behind a really good social media campaign to plant stories of moral outrage to publicize the doll, oh Crom help us, we're thinking like Alex Jones now -- it's a false diaper attack , man! For what it's worth, it appears that a Face-Place page complaining about the doll has now been removed.
Apparently the fuss is at least partly over the lack of any indication on the box or the manufacturer's website that the drink-n-wet boy doll (which also cries when he wets, which would make it the perfect companion for a kid to bring on an airplane) has a teensy plastic willy: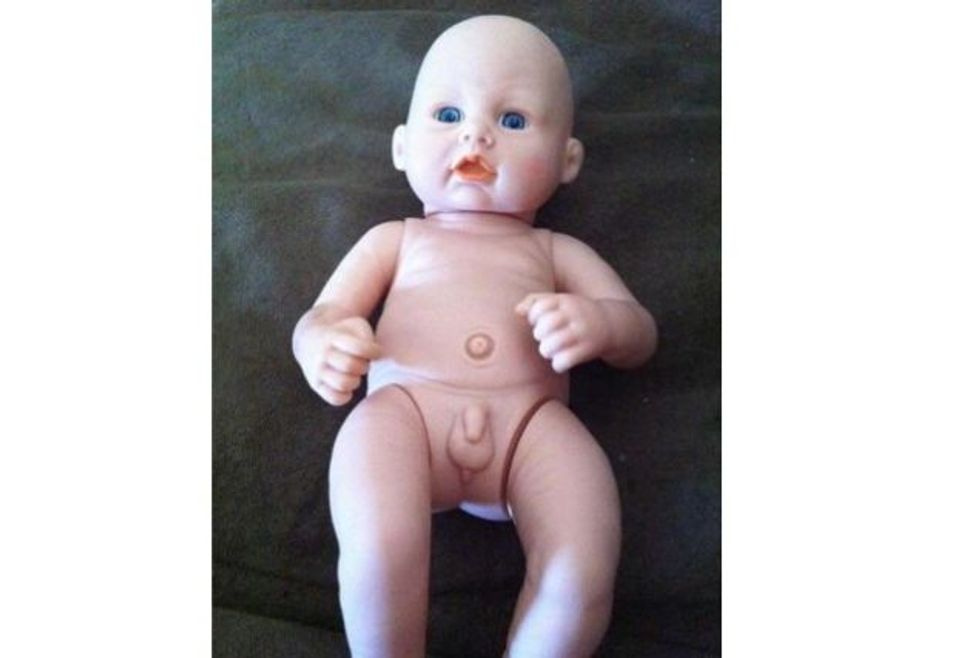 We're far more disturbed by the thing's perfectly circular navel. That's just unnatural.
Apparently one upset mom complained, "Little girls should not be shown that on dolls. The company makes me sick," according to blogger Monica Beyer, who sensibly says that there's nothing dirty or sexual about baby genitals, and that "when a child points out the body part that she doesn't have, all a parent is required to do is call it by its name." That commie libertine.
Those of you having a sense of deja vu here may remember the similarly silly fuss almost forty friggin' years ago when Gloria and Michael on All in the Familyhad them a babby, and when Archie Bunker changed little Joey's diaper, American TV audiences saw a baby peen for a microsecond or so. For reasons that make sense only to marketers, that moment was memorialized in the now pretty-collectible "Joey Stivic Doll," manufactured in 1976, which brought us the term "anatomically correct" in the first place.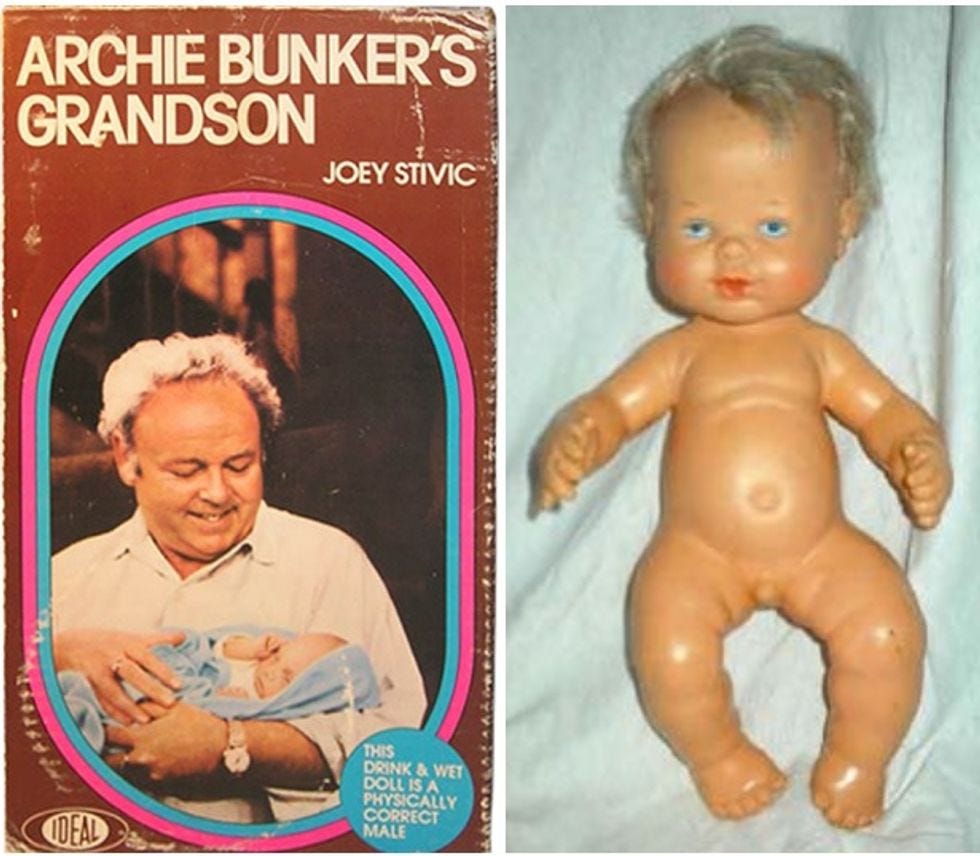 We just hope that this "realistic diaper change" thing doesn't go too far, because somewhere in a product developer's twisted mind, there's a Baby Meconium doll that just needs to be rushed to market, and we'd rather not think about that.