Discover more from Wonkette
Wonkette is filthy, hilarious, liberal news. YOU CAN HANDLE THE TRUTH!
Over 18,000 subscribers
But I thought I hated fags real good too!
Do you need something to make you LOL on this Monday? Well, that's why you're at Wonkette, obviously, but for real though. Because even if we didn't make all the hilarious jokes about it, you would still be ROFLMAOing about how the fine fellers and lady-fellers from the Westboro Baptist Church have decided to protest gay-hatin' Kentucky clerk Kim Davis, who is such a Good Christian that she's probably next in line to the Jesus throne (you know, if the current savior gets caught doing porn or something and can't fulfill His duties), on account of because she is a adulterous whore.
Get a load of this press release:  
Well, that is a lot of information! We had no idea Kim was actually still married to Dwain Wallace, and was just PRETENDING to be married to Otter Farts "Joe" Davis, because he looks the sexiest in pictures with Mike Huckabee probably.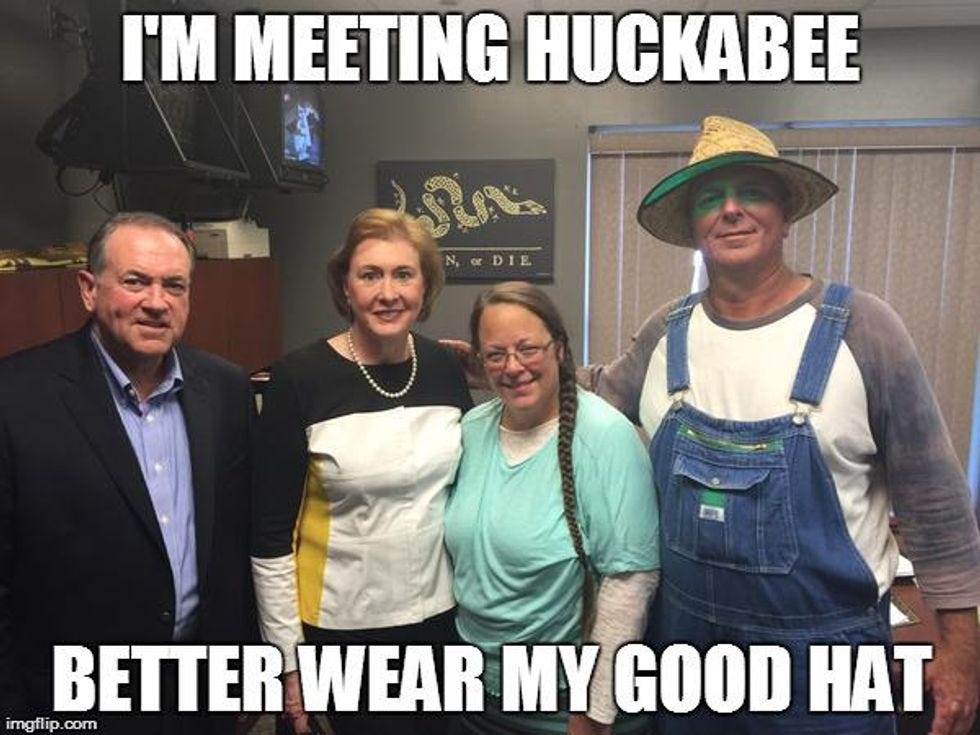 So, gosh and wow, is Westboro Baptist correct about how God-Jesus is punishing Kim Davis by forcing gay marriage into her throat, as retribution for all the other men she's forced down her throat? (ALLEGEDLY!) We don't know! We have pointed out that she is probably going to hell because she accidentally did a marriage license for a transgender trickster demon, but we were just making tease words when we said that. We don't actually think Kim Davis is going to hell for that. (UNLESS SHE DOES, IN WHICH CASE MUST CREDIT WONKET!)
And Pat Robertson DID say, in his subtle way, that it's regrettable Kim is such a giant whore, since it opens the entire religious right up to charges of, ahem, hypocrisy, when your traditional marriage champion has to go three counties over to run into a man what she does not know in the Biblical sense, and by "Biblical" we mean she's fucked all these guys, like SO MANY.
[contextly_sidebar id="6zdrJ9a8bNakeO9wi3fOpnUs0rCvUxmX"]
But gosh, it's just too bad these paragons of the religious right -- Pat, and now Westboro -- are casting judgment on poor Kim. Can't a lady be a gay-hating religious freedom martyr in peace, without the crazy God Hates Fags people coming and essentially delivering the same message she delivers, but also calling her a Jezebel whore slut adulteress at the same time?
What a shame. Oh well, life isn't fair, have fun with the Westboro people, Kim!
[ Westboro Baptist on Twitter / Fox 2 St. Louis   via   Mic ]