Discover more from Wonkette
Wonkette is filthy, hilarious, liberal news. YOU CAN HANDLE THE TRUTH!
Over 18,000 subscribers
Proud Boys Tore Down A COVID-19 Memorial, Because Caring That People Died Is For Commies
Just like ... why?
In recent weeks, the covidiots have turned. Now, those at anti-lockdown protests are not only demanding their right to defy stay-at-home orders and social distancing protocols, they're not only asking that they get to risk other people's lives, they are demanding that everyone else join them. They grab at the masks of reporters who cover the rally and at those belonging to counterprotesters. They get in people's faces. They scream. If they were leftists this would be a super big deal and Tucker Carlson would have had a thousand fainting spells by now, but they're not.
One thing that would be very big news if these people were liberals but is not because they're not is that last week, during an anti-lockdown rally in Spokane, Washington, a bunch of Proud Boys trashed a memorial to COVID-19 victims. A memorial made out of crosses meant to represent people who have died from the novel coronavirus, two of which they broke. Crosses. You know, like the one Jesus hung on?
The memorial had been put together by activist Tom Robinson, who runs the Stronger Together Spokane Facebook page. Robinson also attended the protest as a counterprotester, where he planned to simply stand with his memorial and not bother anybody. This did not work out as planned, because these people are the biggest assholes on earth. A video posted to the group's Facebook page show the protesters harassing Robinson, screaming at him to take off his mask and otherwise acting like the school bullies in a John Hughes movie.
The primary antagonist in the video was a Seattle Proud Boy who called himself "Milkshake," but whose real name is Daniel Lyons Scott. "Milkshake" wore a midriff bulletproof vest and a Hawaiian shirt — aka "big luau," get it, official shirts of "Boogaloo Boys," the far-right fanatics hoping that the pandemic will lead to a race war.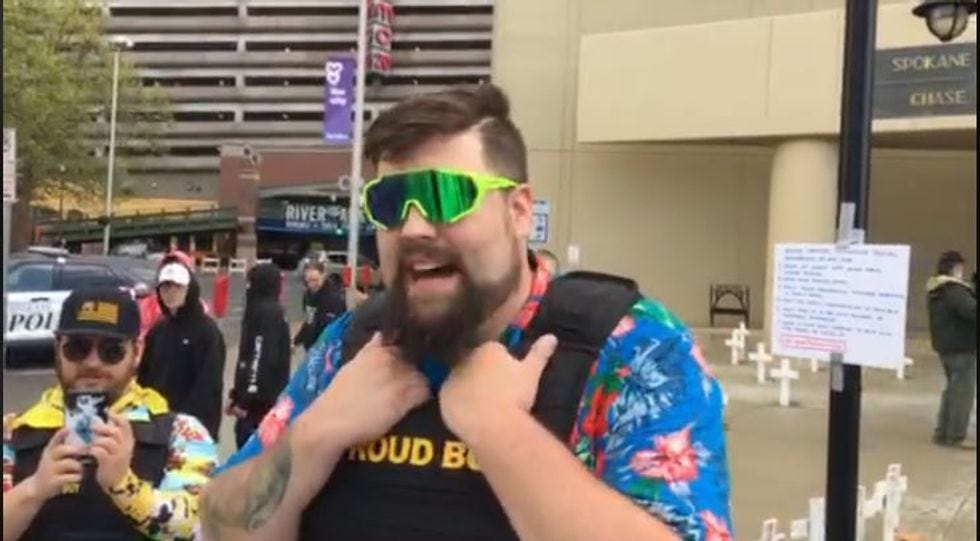 Daniel Lyons Scott works at Boeing in the 777x composite wing fabrication department. In case you were curious. 
Here's the video.
The video also features a man old enough to have grey hair taunting Robinson and claiming that he "knows" that this is all a hoax and a very aggressive woman wielding a flag. Here are their pictures, should you happen to live in the area and want to avoid people who will probably infect you with COVID-19. Or, you know, if you work in human resources.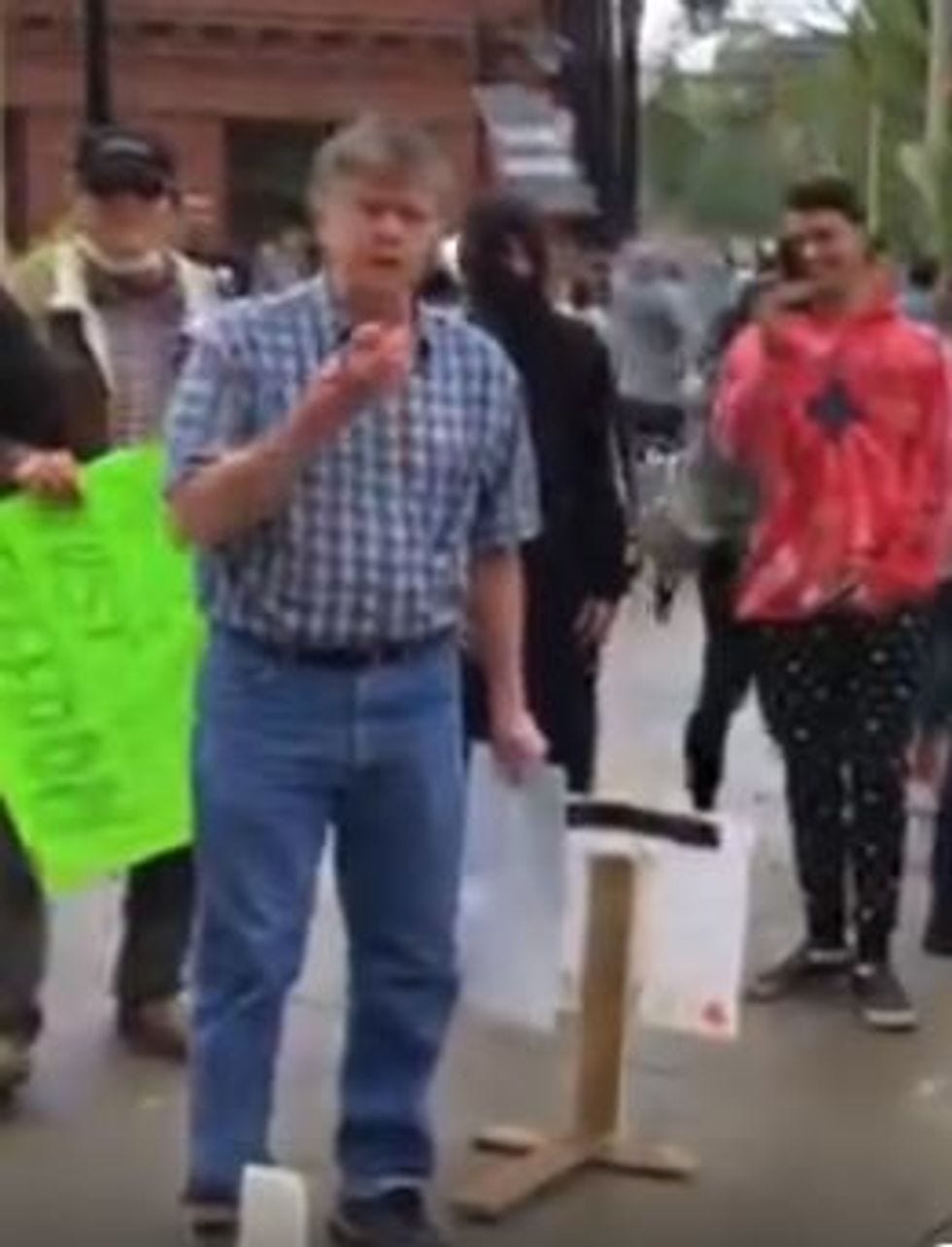 Tom Robinson told the Spokesman-Review that he felt afraid for his safety and so left the area. When he returned, he found his memorial had been destroyed.
Soon after, Seattle area Proud Boys Zac Staggs, Josh Hanks, and Daniel "Milkshake" Lyons Scott posted a video to TikTok in which they actually bragged about tearing the memorial down, writing "Antifa made a fear propaganda cemetery. We cleaned it up. We don't stand for COMMUNIST FEAR" as a caption on a picture of it. The image then switches to a picture of the crosses in a pile on the ground, with a hand doing the "OK" symbol now associated with "White Power" over it. Because of course.
Charming people, no?
Robinson has since put the memorial back together, replacing the two crosses broken by the Proud Boys in their attempt to stamp out "communist fear." Most likely, unless these douchenozzles keel over and die from COVID-19, everyone involved will remain at an impasse. Because that's just how things are now.
[ Spokesman-Review ]

Wonkette is independent and fully funded by readers like you. Click below to tip us! Also if you are buying stuff on Amazon, click this link !