Discover more from Wonkette
Wonkette is filthy, hilarious, liberal news. YOU CAN HANDLE THE TRUTH!
Over 18,000 subscribers
Robert Mueller's Investigation Will Be Over When It's Fucking Over, You Hear That, Donald Trump?
Mama said knock you out.
The giant Robert Mueller investigation news that broke over the weekend was ... wait, what's this? We actually had a weekend that DID NOT FEATURE ONE MILLION BREAKING NEWSES TO MAKE OUR MONDAY SUCK REALLY HARD? Holy crap!
But a couple things did break Friday and this weekend, and they are related to each other, and they are funny. One is that Donald Trump's lawyers are REPORTEDLY trying to negotiate with Mueller and say they will let their client, OrangeFace McStupidDick, sit for a Mueller interview, IF Mueller agrees to commit to a final end date for his investigation. LOLOLOL, you stupid idiots, that is not how this works.
The  Wall Street Journal  reports:
The president's legal team is considering telling Mr. Mueller that Mr. Trump would agree to a sit-down interview based on multiple considerations, including that the special counsel commit to a date for concluding at least the Trump-related portion of the investigation. One idea is to suggest a deadline of 60 days from the date of the interview, the person said.
To which Robert Mueller replied, "ACTUALLY!"
WSJ notes that Trump's very good lawyers have time and time again told him the investigation was almost over, but everybody knows that's just horseshit they have to tell Trump to keep him from exploding into a cloud of orange make-up and shame. (Of course, it's possible his lawyers really are that dumb , but golly, we don't want to think about that.) Legal experts, asked to comment on the possibility of Mueller actually agreeing to a timeline in exchange for access to the president, fell off their chairs and rolled around giggling, and they have not stopped giggling as of press time.
Perhaps in response to that story,  Bloomberg  is now reporting that MAYBE JUST MAYBE Robert Mueller will put his obstruction of justice investigation into the president on pause, even though he's probably almost done with it, perhaps to make the point that THE INVESTIGATION WILL BE FUCKING OVER WHEN IT IS OVER, YOU DUMB MOFOS. "Current and former US officials," speaking anonymously (because the Mueller investigation does not leak), explained the reasoning:
Mueller may calculate that if he tries to bring charges in the obstruction case -- the part that may hit closest to Trump personally -- witnesses may become less cooperative in other parts of the probe, or the president may move to shut it down altogether. [...]

[E]ven if Trump testifies in the coming weeks, Mueller may make a strategic calculation to keep his findings on obstruction secret, according to the current and former U.S. officials, who discussed the strategy on condition of anonymity.
 Bloomberg goes on to explain that if Mueller indicts Dumb Don Jr. -- or if he does what was unthinkable a few months ago and indicts a sitting president -- Trump might have a temper tantrum and try to Saturday Night Massacre the whole thing. On the other hand, if Mueller were to clear Trump on obstruction charges (STOP LAUGHING), it could embolden the Devin Nuneses of the world to try to kill the investigation.
In short, it's probably a good idea for Mueller to keep all the obstruction indictments under wraps until he's good and ready to release them, so that he may maximally put people in prison. And if recent reports on the Russia conspiracy part of Mueller's investigation are any indication, the special counsel's office is VERY BUSY with other stuff right now, and will be for the foreseeable future.
Though the president is a very stupid man with a bad brain, one more news bite from this weekend suggests he knows on some level that shit is getting real in the investigation. Maggie Haberman reports at the New York Times that Trump met with Emmet Flood, the lawyer who helped Bill Clinton through getting impeached by the House because he lied about a cum stain on a blue dress, possibly in hopes of adding Flood to his team. Haberman says Flood wouldn't necessarily replace head Trump idiot lawyer Ty Cobb, but that Cobb's job was to handle the document requests, and that part is just about over, so maybe he will quit destroying his professional career by representing Trump pretty soon.
Haberman goes on to report that Trump advisers have tried to see if any other good laywers might be interested in joining Trump's team, but that all the good lawyers in America are washing their hair that day.
Is any of this true, or is it all fake news?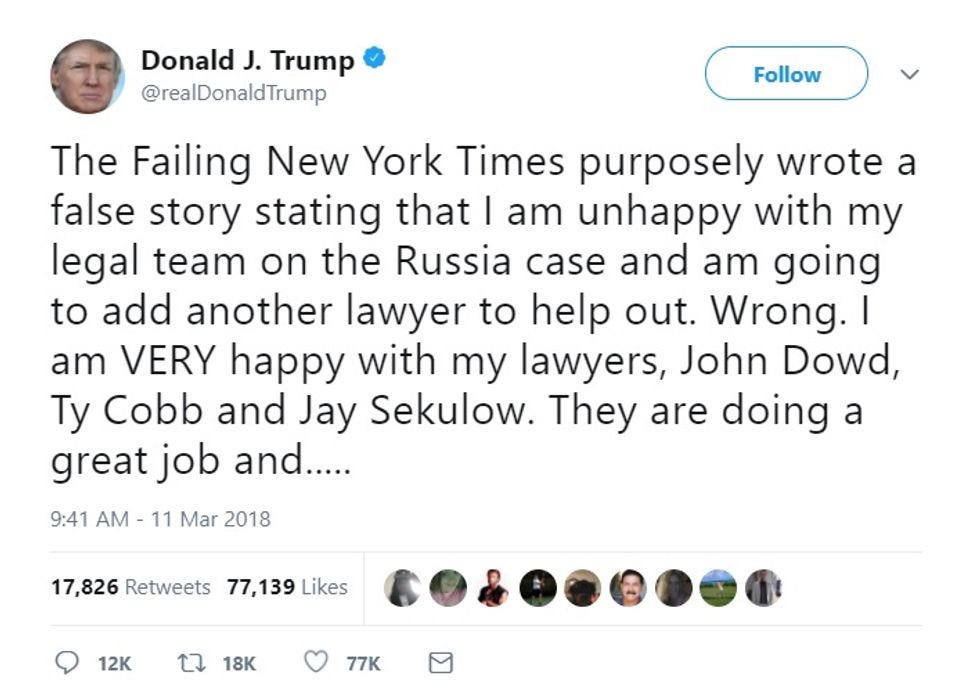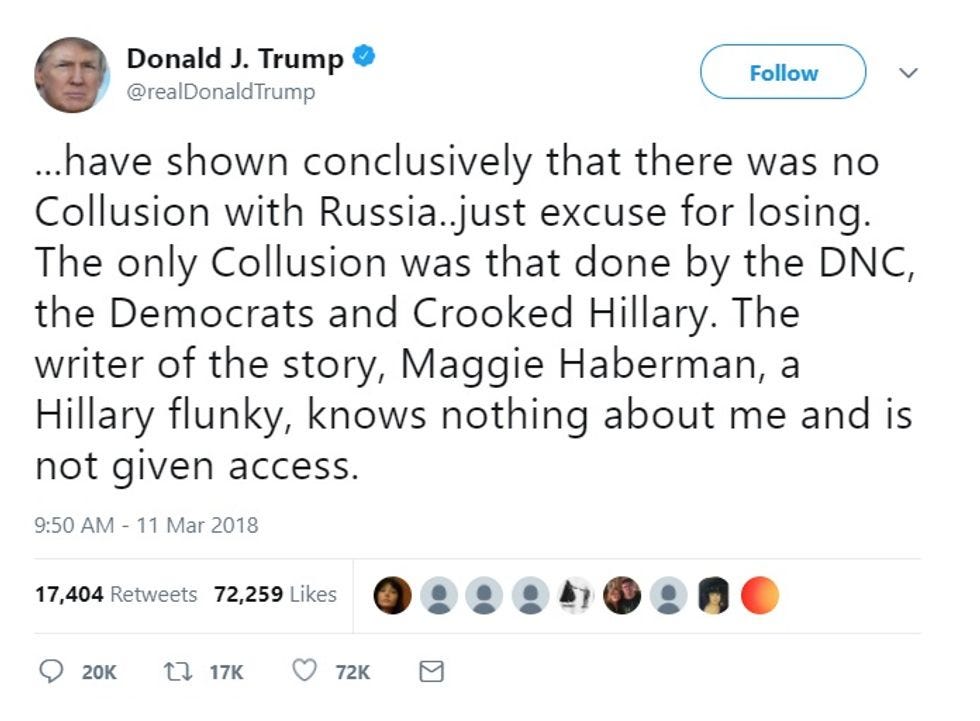 Cool story, bro.
We give Maggie Haberman shit  occasionally and only when she deserves it  (most days), but we're gonna have to side with her on this one, because for all her journalistic faults, one thing she does have in the Trump White House is access . She's kinda bad about copying things Trump and his inner circle of dipshits say and reporting them as unvarnished truth, but she's definitely in the room, and by "room" we mean "Oval Office."
Therefore Wonkette rates the following tweet ...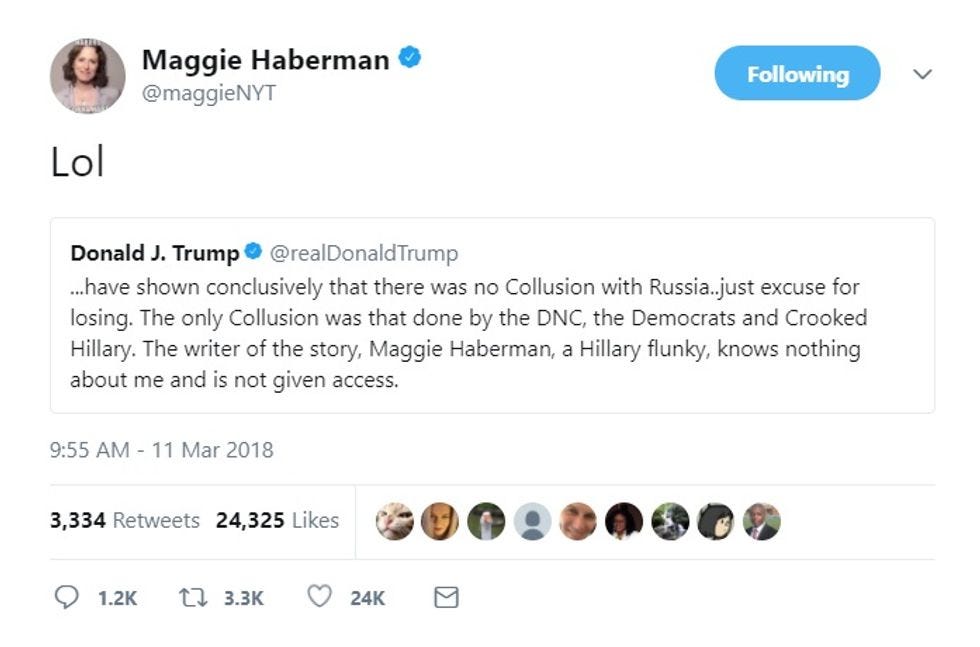 ... as 100% true.
And also LOL!
 Follow Evan Hurst on Twitter RIGHT HERE. And if you love this article, tweet it and share it on the Facebooks! 
 Wonkette salaries and servers are fully paid for by YOU! Please pay our salaries, so we NEVER DIE. 
[ Wall Street Journal / Bloomberg ]