Discover more from Wonkette
Wonkette is filthy, hilarious, liberal news. YOU CAN HANDLE THE TRUTH!
Over 15,000 subscribers
It's actually a bit more tasteful than we were expecting.
Do you have $2,499,000 lying around, perhaps under your mattress or maybe in your Amazon dot com gift card account? Would you like to put it to good use by buying yr Wonkette a 7,971 square foot fuckpad in Scottsdale? Because Sarah Palin is selling one, and we feel that, due to our constant, hard-hitting coverage of the Palin family, it is probably rightfully ours. Oh, we are not saying we are going to occupy it like a common Bundy, just that somebody OUGHT to buy it for us, to use as our new Wonkette International Headquarters.
Because look at it!
According to the listing, it has six bedrooms, six and one half baths, and a six car garage (that is three sixes, just saying) and guess what, Wonkette has somewhere around six people working here full time, if you include Wonkette Baby, who, like editrix Rebecca, IS THE BOSS OF YOU.
It has a kitchen, where we can make all the yum-ass foods from the Recipe Hub! 
 
 GRANITE COUNTERTOPS! Or something similar.
It has a sexxxy master bathroom, where Sarah says word salad romance words to Todd like "WOLF MOOSE CONSTITUTION OOH RIGHT THERE DONTCHA BET" and "Wanna go in the bedroom and role-play like I'm Bristol and I've just met a human man?"
 
 Ayup. That is where Sarah Palin washes herself.
And it has this room that needs a full fucking overhaul. Glad to see that American flag on the easel, though, in case the Palins forget what it looks like.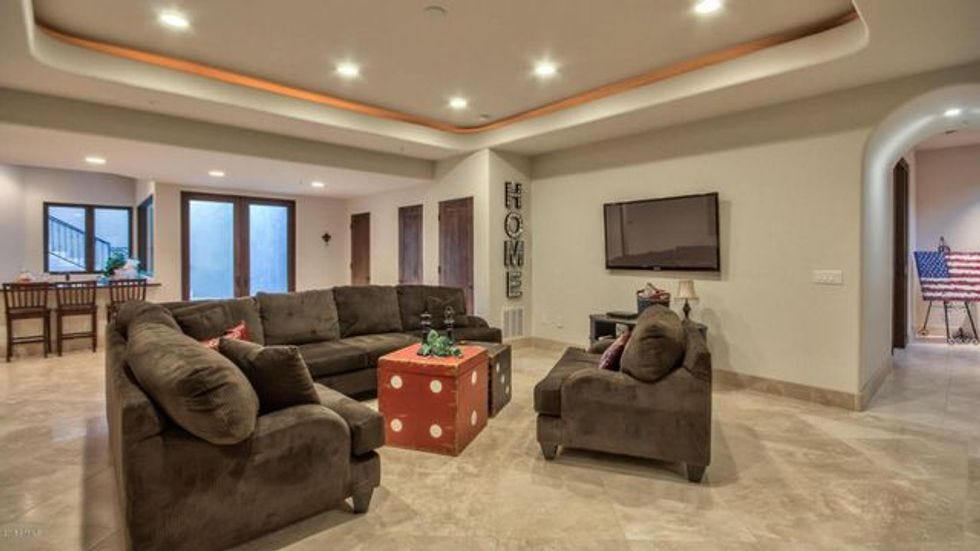 So, this all sounds just great. We DO have some questions, though, to make sure this is a good fit for us:
OK, so we believe those are the questions we have at the moment, but feel free to come up with more in the comments, which are not allowed. Assuming all Wonkette's questions are answered to our satisfaction, whoever wants to buy Sarah Palin's house for us can click THIS LINK and give us three million dollars. Yeah yeah yeah, it's only listed at two and a half mil, but we have to furnish the damn thing, YOU FUCKERS, and we'll probably need to hire a well-paid housekeeping lady or nine.
In conclusion, Wonkette thanks you in advance (WHOEVER YOU ARE) for buying us a new Sarah Palin's House!