Discover more from Wonkette
Wonkette is filthy, hilarious, liberal news. YOU CAN HANDLE THE TRUTH!
Over 15,000 subscribers
Some nerds looked at media coverage of the 2016 presidential election, and put math on what everyone already knows: The New York Times pulled out in the middle of a good self-rogering, and shot semen straight into its eye! Oh, how the eye-jizz burned!
You already know how the New York Times has become a steaming pile of profiles of angry Trumpists, and how they let "law enforcement officials" totally deny any link between Trump and Russia a week before the election -- and no, they haven't apologized. But the nerds put numbers on their coverage, and they are PEE-EW!
Now, we almost stopped reading the nerds before we got to the fun "NYT SUX" part, because their opening about Facebook was so innumerate. (They soft-pedaled the effect of Facebook's dark posts to enthuse nazis while also dividing the left, counting the tiny percentage of posts -- as compared to all the posts during that time worldwide . It made us shake our fists and shout NERRDDDS!)
But then they got their shit together and just started counting, and it was great! All Hillary Clinton's coverage was about emails -- duh -- and all of Trump's coverage was about policy! Let's do some blockquote!
First the nerds cite an earlier study by the Berkman Klein Center at Harvard, on coverage by the Times, the Post and CNN. Here's what they say about that (which you, like us, probably already read, but it's always good to have a 'fresher!).
What did all these stories talk about? The research team investigated this question, counting sentences that appeared in mainstream media sources and classifying each as detailing one of several Clinton- or Trump-related issues. In particular, they classified each sentence as describing either a scandal (e.g., Clinton's emails, Trump's taxes) or a policy issue (Clinton and jobs, Trump and immigration). They found roughly four times as many Clinton-related sentences that described scandals as opposed to policies, whereas Trump-related sentences were one-and-a-half times as likely to be about policy as scandal. Given the sheer number of scandals in which Trump was implicated—sexual assault; the Trump Foundation; Trump University; redlining in his real-estate developments; insulting a Gold Star family; numerous instances of racist, misogynist, and otherwise offensive speech—it is striking that the media devoted more attention to his policies than to his personal failings. Even more striking, the various Clinton-related email scandals—her use of a private email server while secretary of state, as well as the DNC and John Podesta hacks—accounted for more sentences than all of Trump's scandals combined (65,000 vs. 40,000) and more than twice as many as were devoted to all of her policy positions.
Have their graph!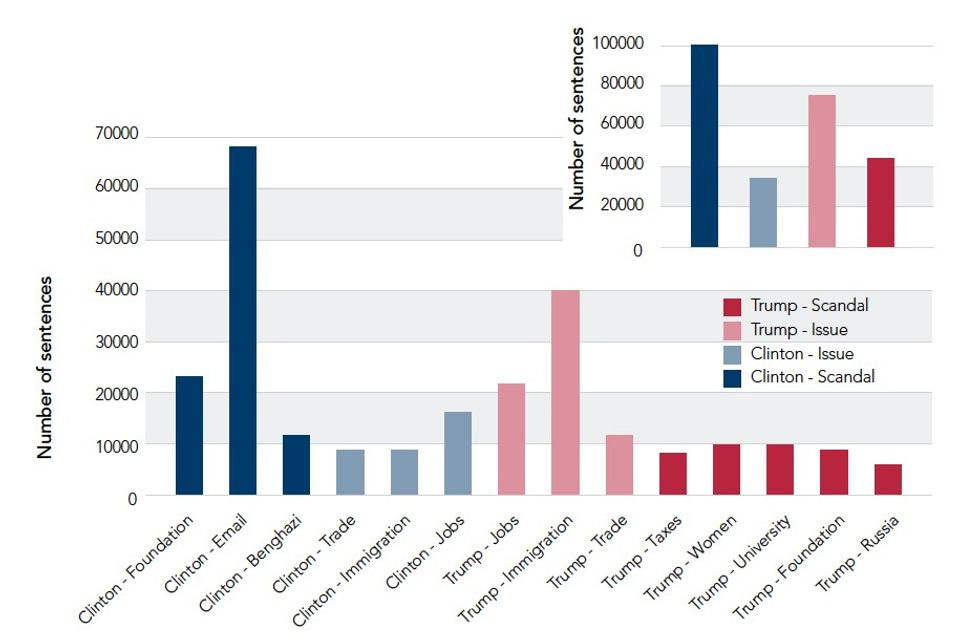 Then the nerds count for themselves, just front page stories in the last 69 days of the campaign, in the Paper of Record, and she is not looking good!
Of the 150 front-page articles that discussed the campaign in some way, we classified slightly over half (80) as Campaign Miscellaneous. Slightly over a third (54) were Personal/Scandal, with 29 focused on Trump and 25 on Clinton. Finally, just over 10 percent (16) of articles discussed Policy, of which six had no details, four provided details on Trump's policy only, one on Clinton's policy only, and five made some comparison between the two candidates' policies. The results for the full corpus were similar: Of the 1,433 articles that mentioned Trump or Clinton, 291 were devoted to scandals or other personal matters while only 70 mentioned policy, and of these only 60 mentioned any details of either candidate's positions.
You should probably have their graph of that too.
MEANWHILE! We made Dom-formerly-the-intern count all Wonkette posts just in the month of October, and who do you think does policy more (and better)? HINT IT IS US.
Of the 234 posts in October 2016, not counting agendae and Dear Shit Fer Brainses, Wonkette wrote
Seventy about the campaign

40 about policy

63 about scandals

and 71 that weren't about the presidential campaign at all, so like "miscellaneous" or whatever.

That's right. Wonkette, with our little reader-funded staff of three full-time and Robyn on weekends and some freelancers who rock, wrote two and a half times more posts about policy in one month than appeared on the front page of the New York Times in two and a half months. Our percentage of policy-focused stories was also two-and-a-half times higher -- 24 percent of our posts were about policy, once you remove the 71 miscellaneous. (I honestly have no idea what those miscellaneous posts were about; I'm guessing "fundagelicals being VERY MUCH LIKE JESUS.")

In other, more current news, the Wall Street Journal reports that former Gawker employees are kickstartering to buy back their website from the bankruptcy it entered when a billionaire Trump pal decided he didn't like it. While we've had our disagreements with Gawker -- from whose rib we sprung -- in the past, we've got $20 with their name on it, and wish them luck with their exciting new plan to

[use] a new membership model that will fund the site's operation. Money from readers would be used to pay editors and writers as well as legal and administrative costs, Mr. Del said, and there would be no advertising or paywalls.

It sounds so familiar. Have we heard it somewhere before? 

It turns out that Wonkette survived the last time Gawker tried to steal its tiny crust of bread, and we're always happy to help a pal out.

In conclusion, WONKETTE WINS FOREVER, for ruling the raddest. Also give us money, the end.