Discover more from Wonkette
Wonkette is filthy, hilarious, liberal news. YOU CAN HANDLE THE TRUTH!
Over 18,000 subscribers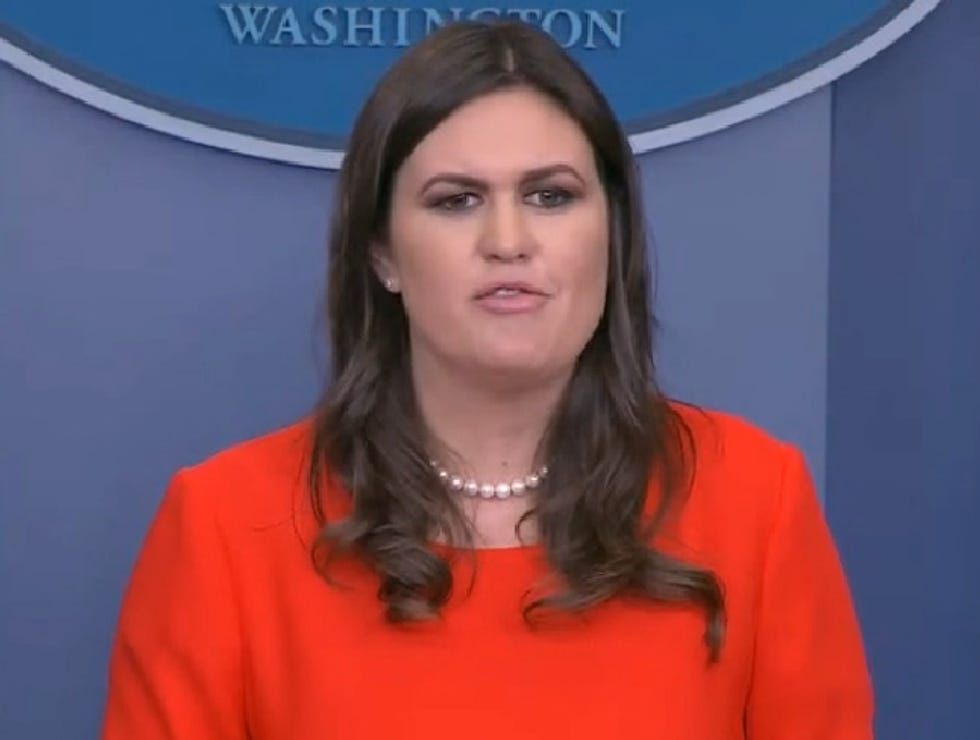 Before we get into this very brief post, can we all stand up where we are and give Michelle Wolf a round of applause for telling the truth about Sarah Huckabee Sanders, and in the process creating the "smoky eye" metaphor about her constant fucking lies? All credit where credit is due, because it really makes for a great shorthand way of saying "Hey look, Captain Chucklefarts is lying again."
ANYWAY, to build off our morning post about Rudy Giuliani going on the "Hannity" show and blowing goats all over Donald Trump's Stormy Daniels case, we should note that Sarah Huckabee Sanders was confronted about the affair on Thursday morning, and oh boy, those fake news reporters were MAD! It's crazy, we know, but it seems like they don't like being lied to. ( Except the New York Times, we guess, which seems like couldn't give a shit.) 
Here's a sample:
. @jonkarl: "Did you know that the president did not tell the truth when he said that he didn't know about the payment?" @PressSec : "There's ongoing litigation. I'm not going to be able to comment, no matter how many times you guys ask the same question." pic.twitter.com/U30Z3yDixa 

— Evan McMurry (@evanmcmurry) May 3, 2018 
Rudy Giuliani has addressed this, says Sanders, last night and this morning! And she's right, he sure did! Trouble is, he addressed it by completely contradicting everything Trump and Sanders have said about it up to this point, DOY DOY DOY, what hellbound liars they are!
Sanders went on to say "not that I'm aware of," about whether Trump knew about the $130,000 payment to Stormy Daniels, which would seem to be contradicted by the president's own tweets this morning, AND ALSO by Rudy Giuliani, who, Sanders reminds us, has addressed this already! So, unfortunately, beyond the lies Sanders has already told, she will not be able to lie further, as that was not in her daily Lie Plan, which she writes up just after she does SMOKY EYES from yesterday's lies, thank you again to Michelle Wolf for that joke.
Let's flash back to what Sanders said about this back in March, by stealing a tweet from The New Civil Rights Movement, which very helpfully compiled all these videos:
Sarah Sanders in March: "There was no knowledge of any payments." https: //t.co/ZXJLPSAnNw 

Sarah Sanders today: "This is something we at the White House can't comment on, and I would refer you to [Giuliani's] comments and the president's tweets from earlier this morning."

— Manu Raju (@mkraju) May 3, 2018 
WAIT A MINUTE, WAIT A MINUTE, WAIT A MINUTE. We sense fuckery afoot! Because right there in that March presser was when Sanders accidentally   made a whoops with her mouth and admitted that there had been private arbitration on the matter of Stormy v. the Pussgrabber . Let's go to the transcript:
Q: I do have a question about something you said earlier in response to Jeff's question. You said that there's arbitration that's already been won. By whom and when?

MS. SANDERS: By the President's personal attorneys. And for details on that, I would refer you to them.

Q: But you're aware of them, so what more can you share with us?

MS. SANDERS: I can share that the arbitration was won in the President's favor, and I would refer you to the President's outside counsel on any details beyond that.
So she knew there was arbitration involving Trump and Stormy Daniels, BUT Trump didn't know about the payment? THE FUCK YOU SAY.
Now, to be fair, it's possible that Sarah O'Lie-lly Sanders is way out of the loop and they tell her nothing, therefore she never quite knows when she is lying. It's not probable, though, because the woman's horseshit knows no bounds, and she seems proud of it, except when everybody's crying crocodile tears about how she got called on her horseshit at the White House Correspondents Dinner.
The point is that Sarah Huckabee Sanders owes Michelle Wolf an apology for being a lying, mendacious asshole, and also that she should quit her job IF SHE EVER WANTS TO WORK IN THIS TOWN AGAIN.
In Jesus's name, go fuck yourself, Amen.
 Follow Evan Hurst on Twitter RIGHT HERE.  
 Don't take for granted that the institutions you love will always be there, like democracy, and Wonkette. Click to save at least one of them!