Discover more from Wonkette
Wonkette is filthy, hilarious, liberal news. YOU CAN HANDLE THE TRUTH!
Over 18,000 subscribers
Ted Cruz's campaign accidentally went and hired a softcore porn performer for a recent ad touting his super-conservative values, even though the actress, Amy Lindsay, describes herself as a conservative Christian and a Republican. After it became aware of Lindsay's body of work, the campaign pulled the ad, which is a damned shame since Lindsay's presence is the only remotely interesting thing about it.
The premise of the anti-Marco Rubio ad, "Conservatives Anonymous," is a real thigh-slapper, though not in the way some of Ms. Lindsay's other work was: A bunch of people are in a support group for people who thought they supported real conservatives who turned out to have been RINOs, and confess that they voted "for a guy who was a tea party hero on the campaign trail; then he went to DC and played patty-cake with Chuck Schumer and cut a deal on amnesty." Haw haw haw. You see, that is pretty much equivalent as being an alcoholic, because it could ruin your family and maybe even your country! Amy Lindsay's big line is, "Maybe you should vote for more than just a pretty face next time." Which if you think of it is pretty blamey for a support group, no? Conservatives are into tough love and unfunny jokes.
Shortly after the ad aired, Cruz's campaign learned of Lindsay's full filmography and stopped running the ad. Unfortunately, Buzzfeed doesn't detail whether it was a devout Christian Cruz supporter who happened to recognize her from that one time they accidentally ordered one of the movies on pay-per-view and then called DirecTV to complain, or some smartass journalist. We sincerely hope it was the former. Amy Lindsay's oeuvre (mostly under the pseudonym "Leah Riley," in case any of you Wonkers didn't instantly recognize her name) includes such softcore classics as Carnal Wishes,   Animal Lust,   The Sex Spa II: Body Work,   Insatiable Obsession, and Kinky Sex Club, which one IMDB reviewer warns is "Not Kinky, and Not a Club," so caveat emptor on that one.
Cruz spokesdork Rick Tyler told Buzzfeed in a statement that the campaign wasn't aware of Lindsay's full spectrum of talent:
"The actress responded to an open casting call. She passed her audition and got the job. Unfortunately, she was not vetted by the production company. Had the campaign known of her full filmography, we obviously would not have let her appear in the ad," Tyler said.
In an interview, Lindsay explained to Buzzfeed that she'd initially assumed that the Cruz campaign was familiar with her film career, but was later surprised to learn they knew nothing of her work:
"I have clearly talked to the filmmakers and stuff and just to be clear, I assumed that they knew, but none of the filmmakers or the casting director knew about my complete filmography in the past."
She also emphasized that she'd never done hardcore porn and that she is a conservative Christian and a Republican. Further, she has performed in non-erotic, mainstream productions as well. We looked, and by golly, she's right! She was in an episode of Star trek: Voyager (2001), as well as such hits as Stepsister from Planet Weird, (2001), Timegate: Tales of the Saddle Tramps (1999), and MILF (2010) -- not to be confused with the wholly fictional reality series "MILF Island" in "30 Rock." Thought we should make that clear, in case you felt burned by Kinky Sex Club. 
Lindsay expressed disappointment that the Cruz campaign would drop the ad faster than the pants of a CPAC attendee with a Grindr account, since it had missed a unique opportunity to bring in voters who like softcore direct to video semiporn:
"In a cool way, then hey, then it's not just some old, white Christian bigot that people want to say, 'It could be, maybe, a cool kind of open-minded woman like me,'" she said of people supporting Cruz.
You'd think that Cruz would be OK with appealing to an even wider audience of wankers. Ms. Lindsay says she is still split between voting for Cruz or Donald Trump, although a tweet that she posted after the RawStory piece went up suggests that she may be leaning away from Cruz and his prissy judgmental face: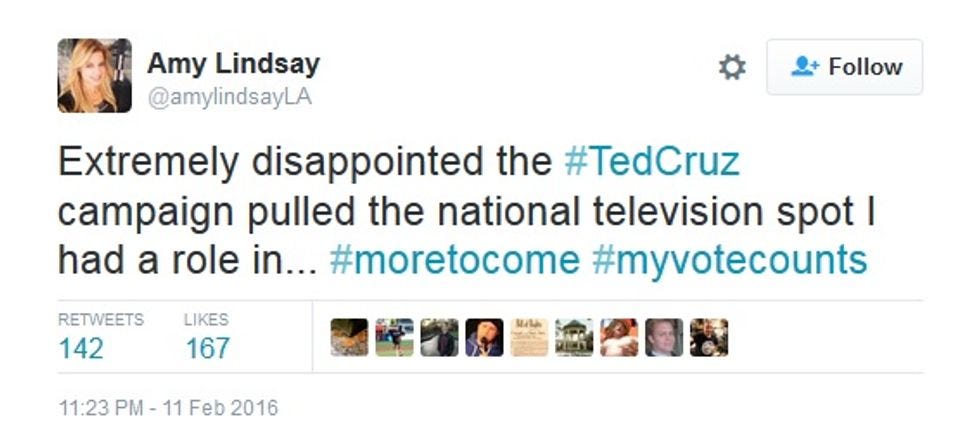 Asked by Yr Wonkette whether he would have a problem with a softcore porn performer being in one of his ads, Donald Trump's voice in our head said it would depend on whether she was as hot as his daughter.