Discover more from Wonkette
Wonkette is filthy, hilarious, liberal news. YOU CAN HANDLE THE TRUTH!
Over 18,000 subscribers
This is Ted Cruz's sex face.
Last night, while I was kind of half asleep and watching True Blood, a miracle happened on the internet. Ted Cruz, or whoever was managing Ted Cruz's Twitter account in the middle of the night, liked a porn video (link NSFW!). On Twitter. From the account Sexuall Posts, with two Ls. Where everyone could see. Everyone, it seems, had a very good time, and I am very sad that I missed it.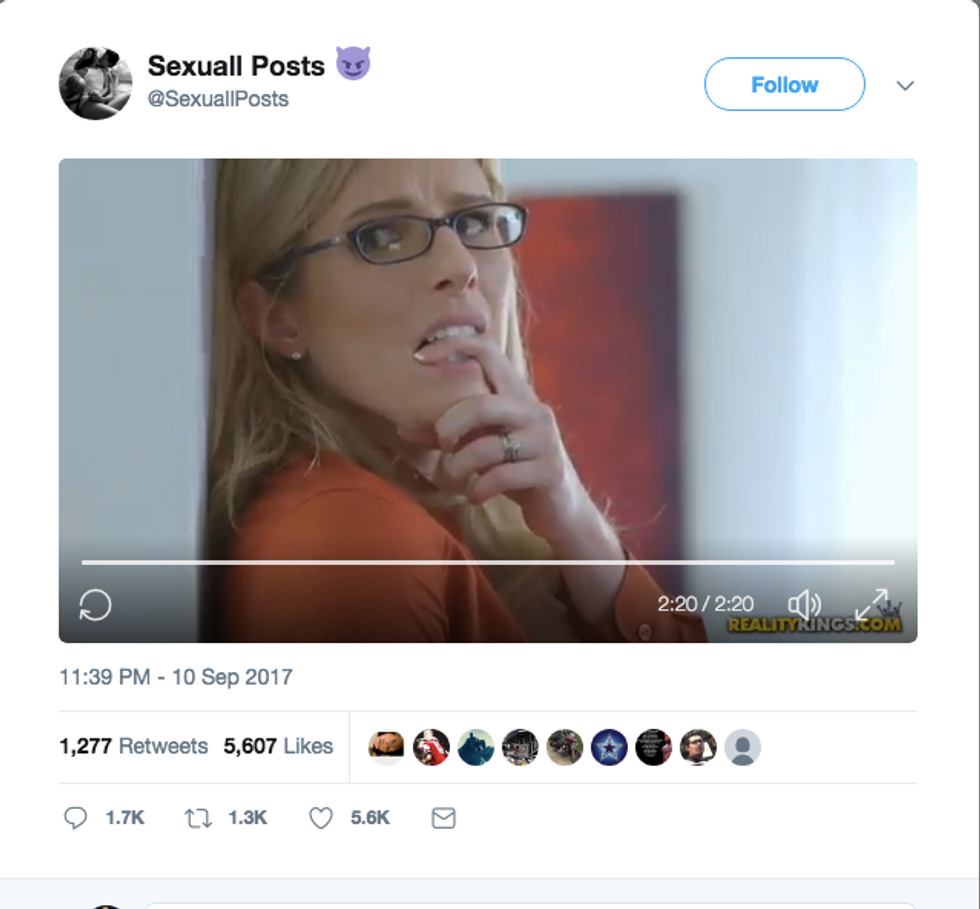 Intrepid reporter that I am, I watched this porn. It was not good.
So, there's this lady and she's walking into her house, talking on the phone to someone I assume she is romantically involved with, on account of calling them "honey" and "sweetie." She's all like "Honey? I'll -- I'll call you back. I don't know, something's in the house." So she walks over to her living room, and there, on her stark white couch, are two people fucking. Naturally, rather than calling the cops or being like "Hey, why are you people in my house, having sex on my white couch?" she stands secretively by a pillar, lifts up her skirt, unbuttons her blouse and begins to masturbate. She does not appear to climax at any point, probably because she is doing this all wrong.
It is in no way surprising to me that this is the kind of porn Ted Cruz is into. Being that everyone hates Ted Cruz, he probably does not feel included or wanted. Probably no one would be into it, even in a porn, if Ted Cruz were to see them having sex and then try to join in. So he can probably totally relate to this weird woman who just secretively watches the sex havers and touches her boobs and does not join in. The most realistic thing about any of this is that the woman does not have a full-on bikini wax. Not that porn is ever realistic, but you get what I'm saying here.
Like Cruz himself, this porn is somehow both entirely mediocre and weird. Somehow it's super vanilla-y, but not entirely normal, and full of plot holes. It is the porn version of Ted Cruz's personality. 
It is for this reason that I totally believe it was Cruz himself accidentally liking the porn he was watching. Ted Cruz would not be into porn where the lady actually goes and joins in and starts sexing up the random sex-havers in her house. He would be intimidated by her lack of fear of rejection.
Also because I bet looking at porn on Twitter is probably a good way of keeping actual porn sites out of your internet history (UNLESS YOU CLICK LIKE). Ted Cruz would probably not go to a real porn site, because plausible deniability, and probably because I'll bet you he has some kind of thing on his computer that blocks them anyway. For Jesus.
Also, according to the AMAZIN Craig Mazin, the screenwriter who was Ted's college roommate, Ted was -- at least in college -- a serial master debater.
It is also for this reason that I do not believe the election year rumor that Ted Cruz had cheated on Heidi with five women, even though I did a post of all the hypothetical Ted Cruz sex faces at that time. Ted Cruz is the woman in this porn video. There is no way he was sexing up five human women.
But accidentally "liking" some very bad spam porn on Twitter? Totally buy that.
[ Twitter (NSFW] ]
I just thought about Ted Cruz masturbating for way too long. That is worth some money, right? Click click click on our tip jar below!