Discover more from Wonkette
Wonkette is filthy, hilarious, liberal news. YOU CAN HANDLE THE TRUTH!
Over 18,000 subscribers
Thanksgiving Ain't Over Until The Turkey Tetrazzini Sings
Do you still have turkey leftovers? Great. Let's get rid of it already, with the American comfort classic Turkey Tetrazzini.
It's a pasta casserole with mushrooms, leftover turkey, frozen peas, and a cream sauce. You can do a shortcut and just use Campbell's condensed cream of mushroom soup instead of the cream sauce, you lazy fuck. We'll only include photos of the final product so you can guess in the comments whether we made the sauce ourselves or used canned soup.
It's named after Luisa Tetrazzini, an opera prima donna of the early 20th century. Here she is singing some opera:
Turkey Tetrazzini
All your leftover turkey, chopped into bite-sized pieces
4 tbsp. butter, or half a stick, whichever you can find first
1/2 onion, diced finely
1/2 green pepper, diced finely
4-25 (to taste) cloves of garlic, minced
Your own proprietary blend of Thanksgiving herbs (thyme, sage, etc.)
8 oz. mushrooms, sliced
4 tbsp. all-purpose flour
 A whisper* of dry sherry
1 quart of milk or cream
2-3 frozen chicken stock cubes
Dash or two of Worcestershire sauce
1 lb. spaghetti
2 handfuls frozen peas
Wheat germ
Parmesan cheese
Salt and pepper, as you go, to taste
Butter a rectangular casserole dish. Preheat the oven to 425 F.
Get a large pot of water going for the spaghetti.
Meanwhile, in a large sauce pan, melt the butter over medium heat. Add the onion and green pepper, and saute for a few minutes.
Mix in the garlic and herbs, then the mushrooms.
Once the mushrooms are coated with butter, sprinkle in the flour. Stir constantly, until you detect the nutty aroma of flour and butter cooking together. While this is going on, make sure to scrape the bottom of the pan to minimize the cooked-on build up.
Stir in the sherry and add the frozen stock cubes. Continue stirring constantly, and add the milk or cream.
Stir until everything is combined in the sauce pan, taking care to scrape the bottom of the pan. Stirring occasionally, let that stuff come up to a boil over medium heat.
Is the spaghetti water boiling yet? Wonderful, cook the noodles al dente, and drain them well.
The sauce is ready when it boils. Remove it from the heat when that happens.
In your prepared casserole dish, combine the sauce, noodles, chopped turkey, some parmesan cheese, and frozen peas.
Sprinkle wheat germ all over the top of everything, and put it in the oven.
Bake 40 minutes to an hour, until it's bubbling across the entire surface. About 10-15 minutes before you get there, sprinkle parmesan cheese all over the top.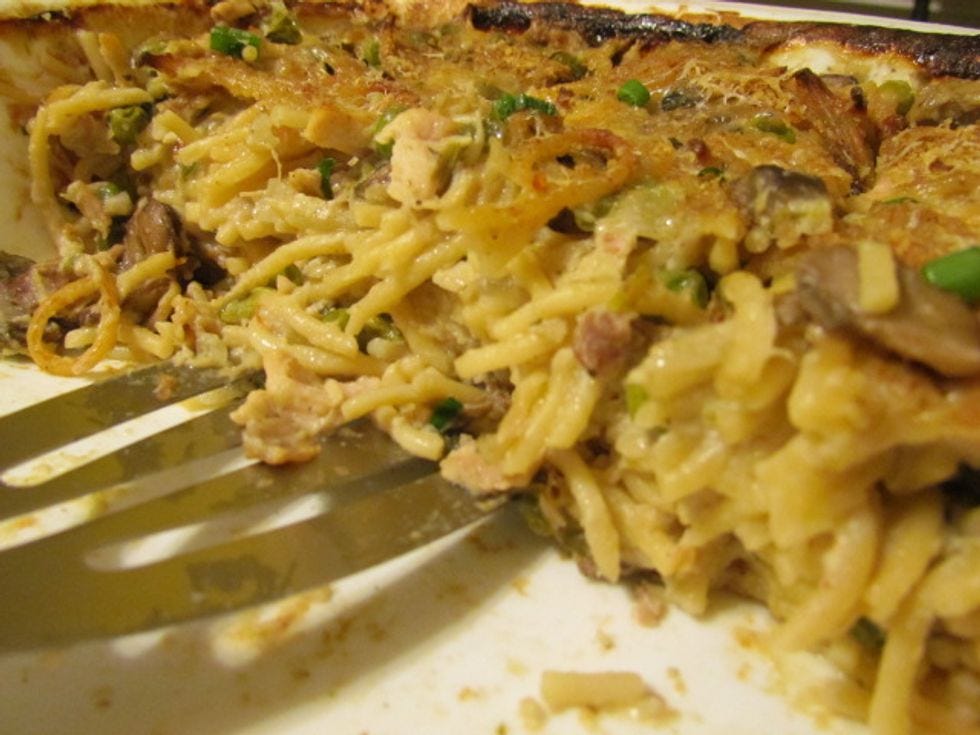 If you do this right, the top and sides will form a delicious crunchy crust around a creamy molten center. You'll fork a piece of the crust from your plate, and a noodle will pull some of the creamy inside along with it. It's pretty awesome, just like when you pick a really dry, hard booger and a long, wet snot string comes out with it. 
 * A whisper is an amount of liquid that makes a "pss-sss" sound when you pour it in. It's up to you whether it's just a short word or an extended piece of juicy gossip.