Discover more from Wonkette
Wonkette is filthy, hilarious, liberal news. YOU CAN HANDLE THE TRUTH!
Over 18,000 subscribers
 This is the final installment of The Sarah Palin Fartknocker Report, presented by Fartknocker, a series made possible by a generous grant from Fartknocker. Relive all your favorite Sarah Palin Fartknocker Report moments at the Sarah Palin Fartknocker Report Archives . And thanks for supporting Yr Wonkette. 
The dim lights at the Sarah Palin Channel have all gone dark. The site's URL now redirects to Sarah PAC, and the videos that brought America such joy are nowhere to be found.
When it came time to close up shop, there couldn't have been much left to do. The Sarah Palin Channel's Quote of the Day, Image of the Day, and the vocab-building Word of the Day have not been updated since June 2, 2015, and for the last several weeks, the Quote of the Day was simply blank. That's a shame for scholars working in the nascent field of Fartknocker Studies, because the Quote of the Day was a great way to cross-check instances of Sarah's incoherence or hypocrisy against other, earlier instances of Sarah's incoherence or hypocrisy.
In its final week as agriftinggoing concern, the Sarah Palin Channel's videos exuded all the enthusiasm of someone hiking in wet socks. There was a post about how veterans don't get no respect; a video calling upon someone, anyone to step up and lead , dammit; another video about a proposed Convention of States that, once again , proves Sarah doesn't really get what the word "amendment" means; and a fourth video that was so boring we forgot everything about it.
We would like to imagine that Palin has spent most of the summer shuffling aimlessly around her studio, not sure of what to do with herself, turning away late-arriving stragglers like Sam does in the final scene of  Cheers , only this time it's a stupid Internet teevee channel and not a beloved bar, and America can't wait for the show to end. We would like to imagine that the failure of the Sarah Palin Channel was a stinging, market-based rebuke that will make Governor Quitterface reexamine her life and her life choices. But that's wishful thinking.
 Political Gates recently broke down Sarah PAC's most recent FEC report and noted that her PAC has only $560,000 cash on hand, the lowest reported sum in its history. But still: $560,000! Just for being Sarah Palin and pretending to use donations to support political candidates who are not Sarah Palin!
Palin's next grift appears to be a video (or maybe a DVD?) called "Building the Future." She published a trailer and pushed the new documentary-like substance on her FaceSpace page back on June 29, and we have embedded it below as proof that with selective editing, you too can make John McCain seem to have nothing but nice things to say about Sarah Palin.
The bad news is we have no new videos to show you today, and not because Sarah didn't publish any new videos, which has been the case in the past .
The good news is we have a year's worth of Fartknocker screengrabs, which we will now rank for you in order of descending derpiness. Here are the top 10 funny-lookin' pictures of Sarah Palin as screengrabbed by Yr Wonket:
10.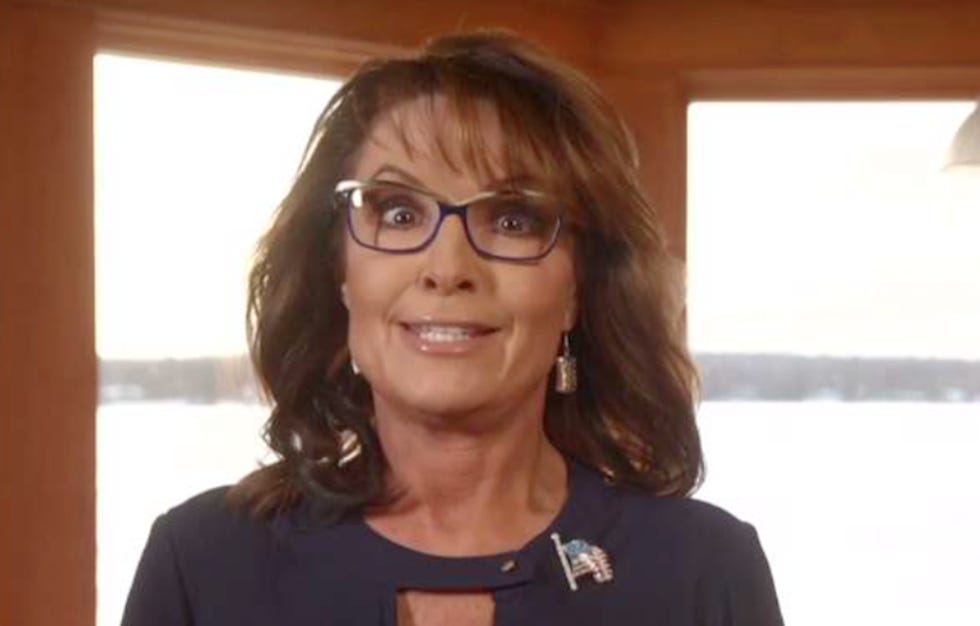 9.
8.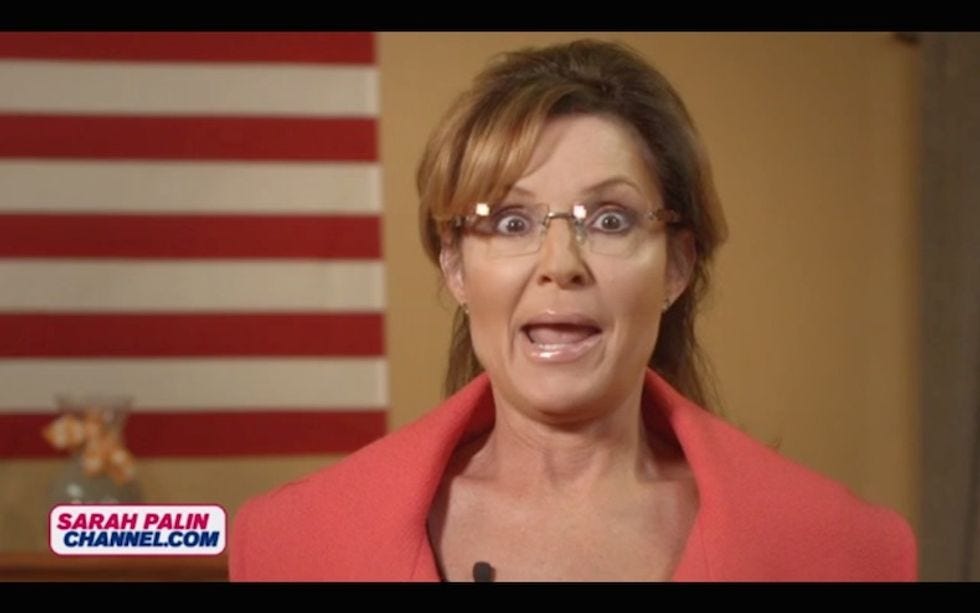 7.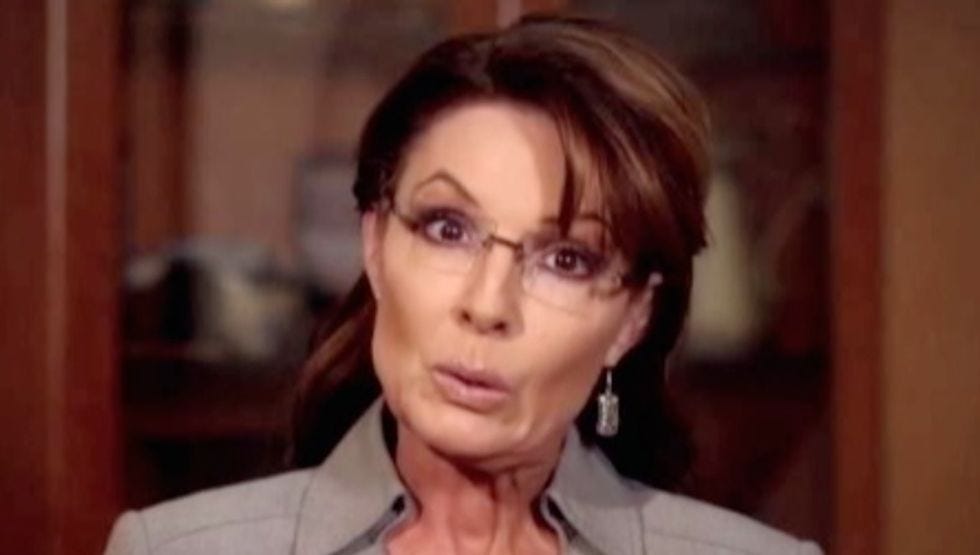 6.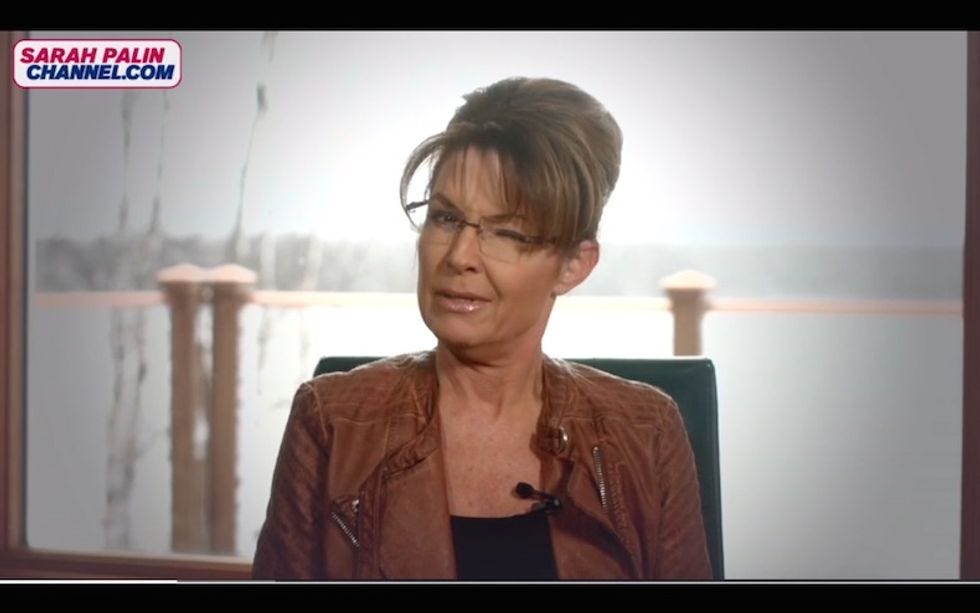 5.
Oops, we are halfway done with the job we set out to do, time to quit like Sarah Palin!
We hope you've enjoyed the Sarah Palin Fartknocker Report, Presented By Fartknocker. We now return you to your regularly scheduled programming.
 The Sarah Palin Fartknocker Report, presented by Fartknocker, was brought to you by Fartknocker. 
 Follow Dan on Twitter .