Discover more from Wonkette
Wonkette is filthy, hilarious, liberal news. YOU CAN HANDLE THE TRUTH!
Over 18,000 subscribers
This is his excited face.
The nominal president of the United States appears to still be lying between his gold-plated sheets in his yellowed tighty-whities this morning, with his remote control in his left hand, his Twitter phone in his right hand, and "Fox & Friends" on the television. He's retweeting all the most exciting "news stories" from Fox, and he's VERY het up about how CNN put up a story last week that was apparently poorly sourced, then took the story down and ultimately accepted resignations from three people involved in the story's publication. This means CNN is FAKE NEWS! and Trump has been VINDICATED! But when will all the rest of the news media resign for reporting on the MADE-UP STORY of Trump's collusion with Russia to steal the election?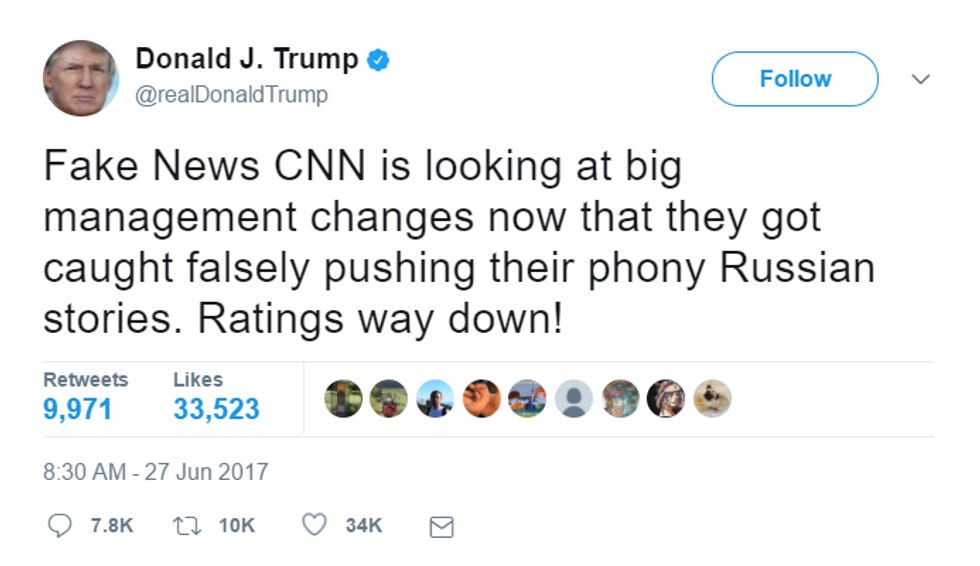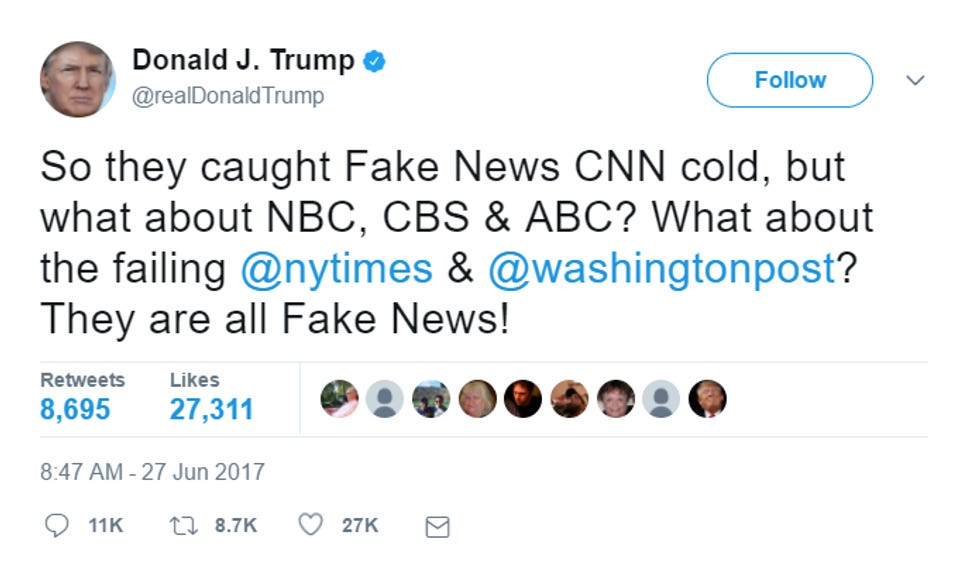 Right, everything is Fake News, and if we wanted to be smart like Trump, we'd just watch Fox News and read Breitbart and the National Enquirer , followed by an Alex Jones Trucker Speed chaser.
The CNN story was about a Trump transition team goon, Anthony Scaramucci, who met in Davos with a Russian named Kirill Dmitriev, head of the Russian Direct Investment Fund (RDIF), which Bloomberg describes as a "10 billion state-run investment vehicle," and it sounds like they were deal-making over getting Russian sanctions lifted. The meeting definitely happened, as both sides confirmed it. According to CNN, based on one unnamed source -- for reference, a lot of the big Washington Post exclusives on Trump-Russia have as many as 30 sources -- the Senate Intelligence Committee is investigating the RDIF, but CNN screwed it up a bit. Like for instance, CNN said the RDIF is part of the Russian state-owned VneshEconomBank (which is not actually a bank ). The RDIF is a different thing! Also, CNN said the Intel committee's inquiry into that meeting was related to that time Jared Kushner met on the down-low with Sergey Gorkov, the head of VEB. Whoa if true, but maybe it's not?
It's not exactly clear how many details CNN got wrong:
"We pulled it down not because we disproved it," says a CNN source, adding that there was "enough concern" on some factual points that "given the breach in process, we decided to pull it down."
In short, mea culpa , they fucked up, oh fiddlesticks!
Anthony Scaramucci reacted to the retraction like a normal person:
Look at that, Donald Trump! That's how a guy with regular-sized hands reacts!
Anyway, as we said, three CNN people have "YOU'RE FIRED!" themselves over this. The resigners are Thomas Frank (the journalist), Eric Lichtblau (the editor of the piece) and Lex Haris (executive editor of CNN Investigates). WAIT A MINUTE, do we not shit on Eric Lichtblau all the time for sport here at Ye Olde Wonkette? YES WE DO!
You see, Eric Lichtblau just came to CNN from the New York Times, where he was responsible for such breaking news stories as "Trump Innocent Of Russia Stuff Because I'm Butthurt About Slate Scooping My Story About Trump Russia Stuff"and"How Is The Clinton Foundation Raping Puppies Today Just Kidding It's Not But I Like To Say That." 
According to the WaPo, this isn't the first story he's fucked up during his short tenure at CNN either. His byline was on a story before the James Comey testimony about how Comey would definitely probably for sure say he never told Trump he wasn't under investigation. As we all know, that's not what Comey said AT ALL.
In short, Eric Lichtblau may have been a good reporter at some point , but these days we just wonder if there's a secret running game in Washington called "Tell Eric Lichtblau A Thing." It's easy to play! You make up a thing that's literally the opposite of true, you tell Eric Lichtblau the thing, and you see if it shows up on the internet before you are even done telling Eric Lichtblau the thing. If it does, YOU WIN A PONY.
Oh well, this post has veered off into Eric Lichtblau bashing, as we are wont to do, so instead of wasting a paragraph trying to tie it up with a bow, how's about we say fuck that and quit while we're ahead?
Wonkette is fully funded by readers like you, and we're RUNNING SHORT! Please click below to help us keep Wonkette-ing at you!
[ Washington Post ]