Discover more from Wonkette
Wonkette is filthy, hilarious, liberal news. YOU CAN HANDLE THE TRUTH!
Over 18,000 subscribers
Cheerio, Donald Trump! Robert Mueller Just Indicted A Fuckton Of Russian Hackers!
Have fun at your summit with Vladimir Putin, Mr. President!
OH, WE ARE SORRY, DONALD TRUMP, WERE YOU HAVING SOME TEA WITH THE QUEEN OF ENGLAND? WAS SHE TRYING TO FIND A SCONE SMALL ENOUGH FOR YOUR SHITTY LITTLE HAND TO HOLD?
Also, is the fat Trump baby balloon in the sky still hurting your fragile feelings?
Oh well, we are excited to report that the president's day just got worse, because Robert Mueller has dropped indictments on 12 members of Russian military intelligence (GRU), both for hacking and for direct election interference , which provides a lovely backdrop for Trump's upcoming summit with Vladimir Putin in Helsinki on Monday. One thing's for sure though -- PUTIN SAYS RUSSIA DIDN'T DO IT, AND TRUMP BELIEVES HIM.
Attorney General Rod Rosenstein announced the new indictments in a press conference Friday, saying he briefed Trump on them before Air Force One transported the president's massive ass across the Atlantic Ocean. There are no Americans indicted -- so far -- but the document certainly alludes to Americans without naming them, like Roger Stone, and at least one Republican congressman, about whom we shall wildly speculate later in this post!
According to the Justice Department filing, the Russians are "GRU officers who knowingly and intentionally conspired with each other, and with persons known and unknown to the Grand Jury ," and the operation started in March of 2016 and continued all the way through the election. It is weird, because literally none of those indicted sound like they are Seth Rich. Also weirdly, Mueller fails to indict the CIA for framing the Russians (Sean Hannity thinks that ) or indict the DNC for hacking itself (Donald Trump thinks that ).
(HAHA! WONKETTE IS THE WEBSITE WHERE WE MAKE JOKES!)
The indictment states that these fucking Olegs hacked the Hillary Clinton campaign (including chairman John Podesta), the DNC, and the DCCC using spear-phishing and malware. None of this is new information, of course, unless you are still waiting for the four-hundred-pound hacker promised by Donald Trump, sitting on his bed. We just have Russian names to go with the crimes now. After the hacks were done, they used the fake online personas DC Leaks and Guccifer 2.0 to get the emails out. And how did they get them out?
OMG WHO ARE THEY EVEN TALKING ABOUT? IS IT WIKILEAKS?

Duh and of course. Here's WikiLeaks talking to the hackers about how to time the release of stolen DNC emails. You see, WikiLeaks really wanted to get those emails before the Democratic National Convention, to create tension between Hillary Clinton and Bernie Sanders supporters. WikiLeaks told the Russians, "we think Trump has only a 25% chance of winning against hillary ... so conflict between bernie and hillary is interesting." God, WikiLeaks, way to SAY THE QUIET PART LOUD:
Here is Guccifer 2.0 talking to Roger Stone:  
Oh, and one time Guccifer 2.0 "received a request for stolen documents from a candidate for the U.S. Congress. The Conspirators responded using the Guccifer 2.0 persona and sent the candidate stolen documents related to the candidate's opponent":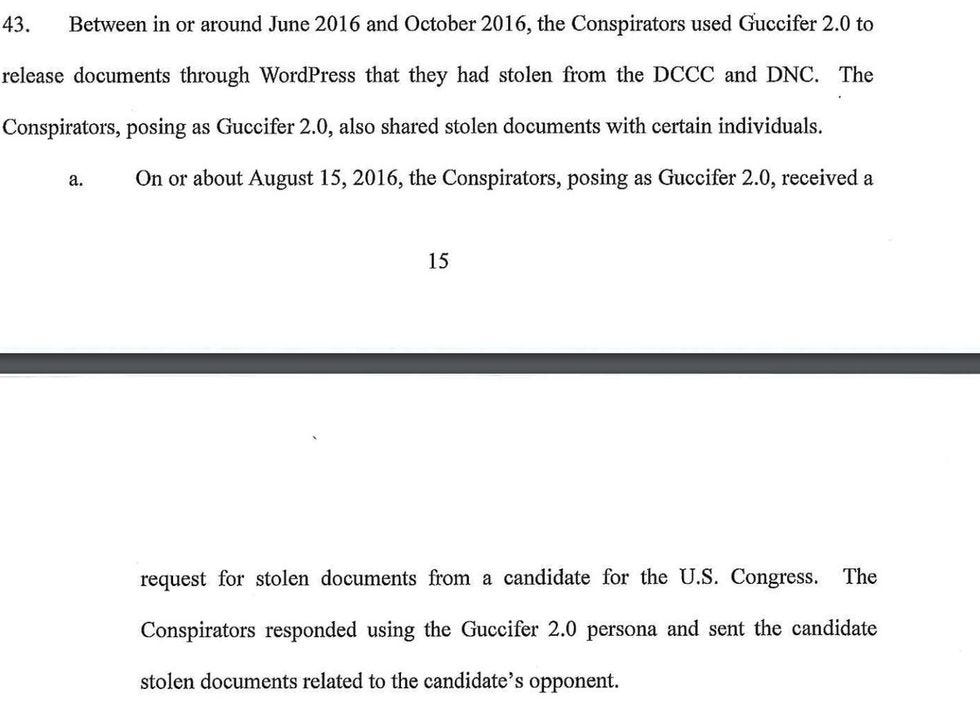 WHO'S THAT, ROBERT MUELLER? WHO IS IT, WHO IS IT, WHO IS IT?
Oh well, here's a picture of Florida Rep. Matt Gaetz hanging out with Roger Stone, not that we're suggesting he has anything to do with this, we are just posting a picture.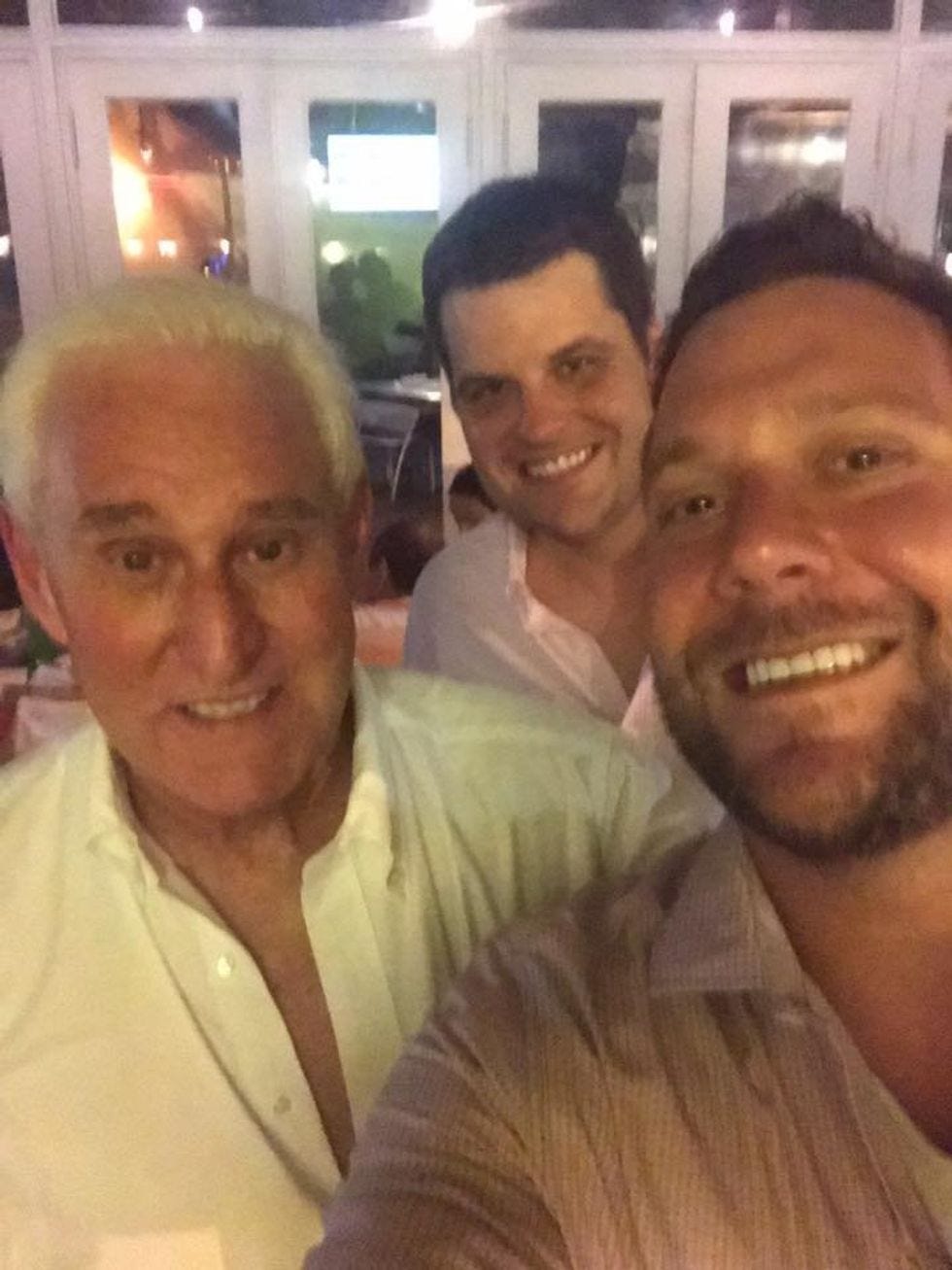 Matt Gaetz asked lots of questions to FBI sexter Peter Strzok yesterday. Why is he allowed to do that, do you think?
But maybe it's not Gaetz! Others on Twitter are suggesting that maybeit is another Republican congressman from Florida named Brian Mast, who according to a  Vanity Fair article   article from last year certainly did end up benefiting from leaked documents hacked by the Russians.
Guess we'll find out for sure when Robert Mueller decides it's time to tell us the truth!
The indictment states that the Russians used many creative tactics to keep access to the Democrats' shit (not the Republicans' shit) once they were caught in the act, including registering the domain name "actblues.com" (Get it? ActBlue?) and creating a fake donations page so they could keep fucking around in the D-Triple-C's business.

The Russians are also indicted for money laundering, for using crypto-currency to pay for the infrastructure that allowed them to pull off their operation.
And what about that direct election interference????
OH YEAH! While counts one through 10 involve the Russian hacking, including charges of conspiracy, aggravated identity theft and money laundering, the ELEVENTH count names two Russians who conspired to infiltrate computers used to administer elections!
[Defendants conspired] to hack into the computers of U.S. persons and entities responsible for the administration of 2016 U.S. elections, such as state boards of elections, secretaries of state, and U.S. companies that supplied software and other technology related to the administration of U.S. elections.
They stole data on 500,000 voters in one state! They hacked an election vendor "that supplied software used to verify voter registration information for the 2016 U.S. elections"! Probably no big deal!
In his press conference, Rosenstein stated that he is not saying the Russians successfully changed vote totals, so you can relax, because he's not saying that, at least not right now. And there are no Americans named in these indictments, so we guess we will just take our blood pressure medication and trust that Robert Mueller will drop those indictments FUCKING SOMETIME, OH MY GOD, ROBERT MUELLER, COME THE FUCK ON.
Here is a tweet Donald Trump sent in July of 2016: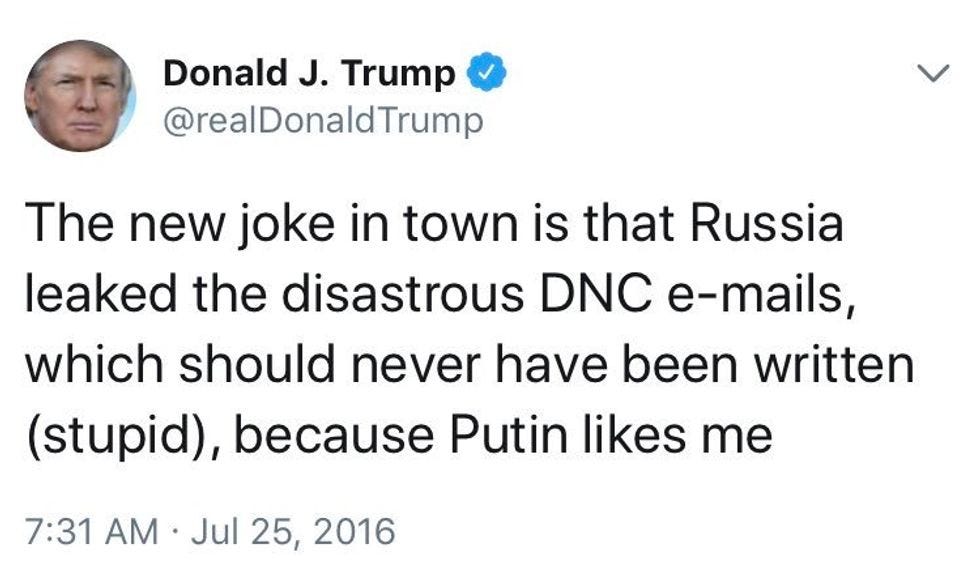 HAHA!
Cancel your motherfucking Putin summit, you fucking dick.
 Follow Evan Hurst on Twitter RIGHT NOW, DO IT RIGHT NOW!  
 Help Wonkette LIVE FOREVER! Seriously, if you can, please help, by making a donation of MONEY.   
[ Indictments ]