Discover more from Wonkette
Wonkette is filthy, hilarious, liberal news. YOU CAN HANDLE THE TRUTH!
Over 18,000 subscribers
We Salute You, St. Joseph Of Cupertino, With Flying Friar Pasta Salad
September 18 is the feast of St. Joseph of Cupertino, a dimwitted 17th century Italian monk. He is the patron saint of test takers because when he was about to take an exam, he prayed that he'd only be asked the questions he knew, and God delivered! His patronage also includes astronauts and aviators because of his miraculous power of levitation. The levitation made him famous in his own time and earned him the moniker "The Flying Friar."
Born in the town of Cupertino, down there in the heel of the boot of Italy, Little Joe experienced ecstatic visions (read: religious hallucinations) that would continue throughout his life. These experiences drew him to religious life but also made him a terrible student. (Remember that guy in your high school math class who would space out staring at a graph of a sine curve?) As such, he had difficulty finding a religious order to accept him into their community, and even when he did, he was kicked out for tripping on the job. Another group (the Conventual Franciscans) said, "Hey Joe, you can't join us, but it's cool if you shovel the shit out of our donkey stable."
He was such a good shitshoveler, the friars let him join up in full, and he was ordained as a priest (thanks to divine intervention at his final exam). This is when his levitation started, usually while celebrating the Mass or during other communal prayer. Naturally, this attracted spectators from all over and jealousy from his peers and superiors. Basically, all the lay people wanted to see the Flying Friar, and the clergy hated working with him.
This was a tough situation for Church leaders. Revenue had dwindled since indulgences were banned in the previous century, and Slow Joe put asses in the seats. So they put him on the road, touring around Italy. When the novelty wore off, they referred him to the Inquisition for witchcraft, but the bad boy makeover didn't work out as well  as it has for the Biebs.
The following recipe is typical of what a family would have packed in their picnic basket when going to see the Flying Friar live. It makes a lot, so there's enough for your sisters and brothers who share your love of psychedelics and sideshow spectacles.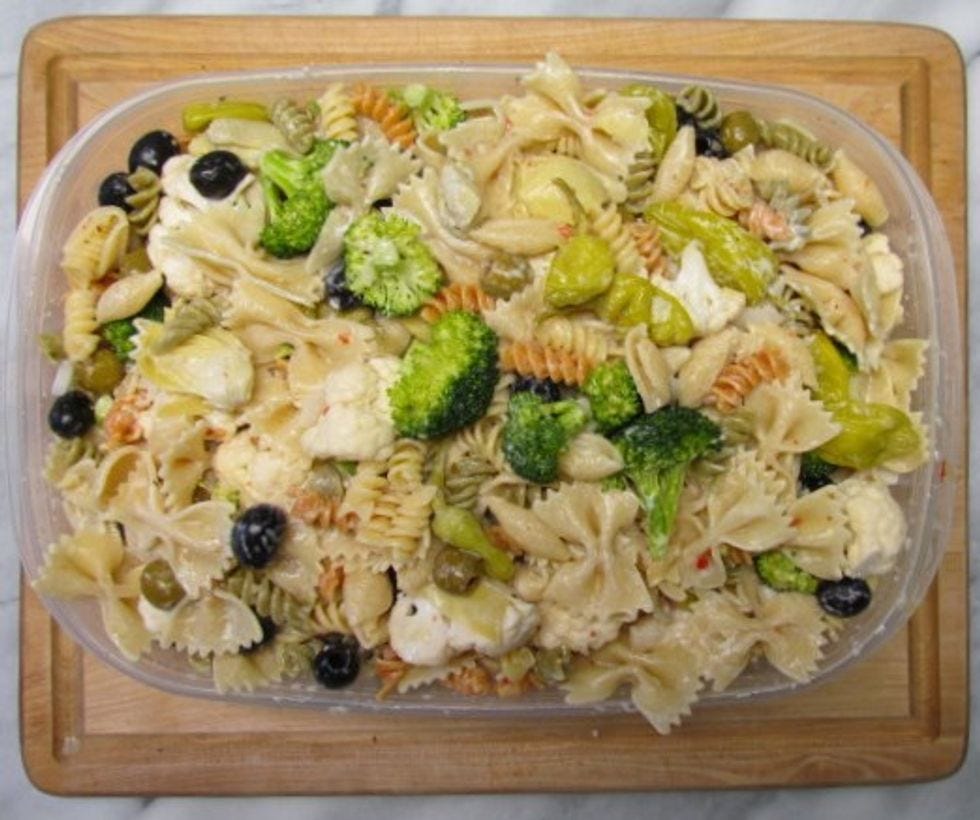 Flying Friar Pasta Salad
2 lbs or so of dry pasta (I like to use a mix of three kinds: shells, tri-colored rotini, and bowties. You do you.)
1 head of cauliflower
1 head of broccoli
1 can of artichoke hearts
1 can of black olives
1 pint jar of pepperoncinis
1 half-pint jar of pimento-stuffed green olives (or get the super fancy ones from the olive bar, you prick)
1 bottle generic Italian salad dressing
1/2 cup of mayonnaise
8 doses hallucinogenic mushrooms (optional and only with the informed consent of the eaters)
Cook the pasta. (In a huge pot of boiling water. Do I really have to explain that? Who are you -- Joseph of Cupertino?)
Cut the broccoli and cauliflower into bite-sized florets.
Drain all the cans and jars. Save a little bit of the juice from the pepperoncinis and green olives; you'll thank me.
If the artichoke hearts are whole, quarter them. If they're already quartered, this is not necessary.
Mix everything together in a gigantic container (including those reserved olive and pepperoncini brines).
Taste and adjust, as necessary.
Refrigerate for at least a few hours to allow the flavors to meld.
Enjoy your religious experience.
[Biography embellished from Wikipedia ]