Discover more from Wonkette
Wonkette is filthy, hilarious, liberal news. YOU CAN HANDLE THE TRUTH!
Over 18,000 subscribers
It's been a banner week for Florida Man, that marvelous, mystical creature that haunts our waking dreams and provides us with an endless supply of hilarity and rage. Let's dive right in!
We'll begin with what is obviously the most important story not just of Florida this past week, but of the entire world in our lifetimes: We are not alone, and a Florida Man has the photographic evidence to prove it .
A motorist in Florida believes he captured the images of a "reptilian alien" who he says was driving a vehicle ahead of him.

The man, who didn't provide a name, says he was able to snatch a few photographs of the "entity", which was maneuvering a Kia Spectra last February.
There, case closed. (Wait … how are you NOT CONVINCED?)
Speaking of Reptiles (and Crab Legs!)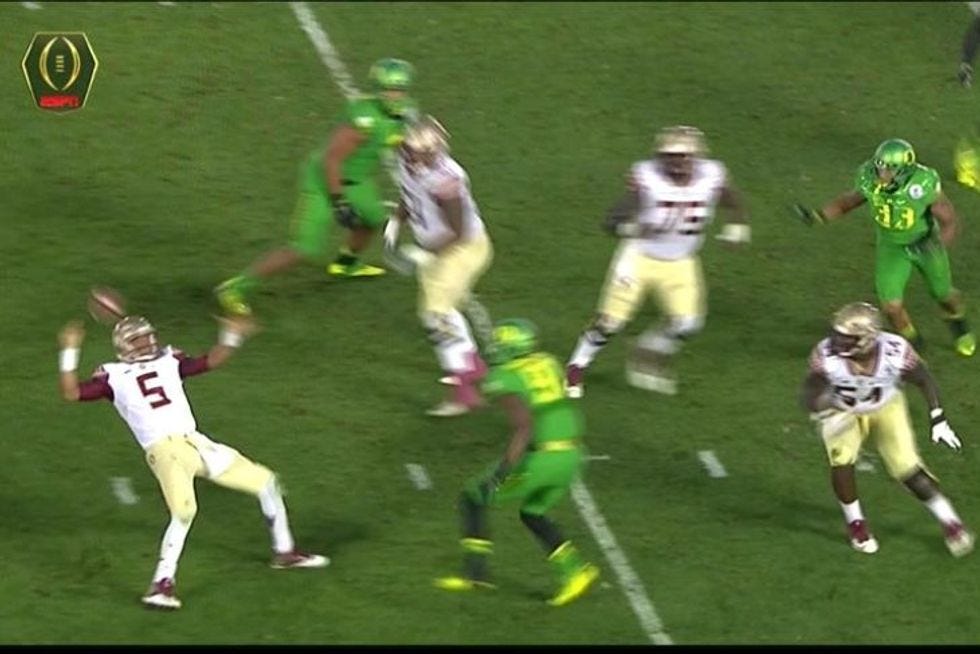 All right, out with it: Fuck Tampa Bay Buccaneers quarterback Jameis Winston, fuck him very hard!
Our favorite maybe-rapey sportsballer is back in the news this week, what with his having a multimillion-dollar contract to play for the loser Tampa Bay Buccaneers until he flames out in eight months, which he can use to hire lawyers to torment the woman he definitely fucked after a night at the bar and quite possibly raped , only to have her claims basically ignored by school officials and the Keystone Kops at the Tallahassee PD.
Bucs quarterback Jameis Winston has fired back at the woman who has accused him of sexual assault.

The No. 1 overall NFL draft pick and former Florida State star filed a counterclaim Friday against Zephyrhills' Erica Kinsman, alleging her rape accusations are "false, defamatory … and have maliciously and impermissibly interfered with Mr. Winston's business and personal relationships."

"Mr. Winston brings this action against Ms. Kinsman out of necessity, not malice or ill will," the court filing said. "Nonetheless, Ms. Kinsman's false statements have irreparably harmed in his professional and personal life."

The counterclaim seeks damages in excess of $75,000.
See, that nagging rape accusation has probably cost Jameis, fine upstanding crab-legs-thief young man that he is , the chance at some very lucrative endorsement deals, and the $25 million he just received isn't nearly enough to get by .
Of course, Jameis, being a Florida Man, may not have thought through the repercussions of his actions:
"Since he is now alleging injury to his great reputation, all of his past conduct will become front and center in the case and the burden of proof will be on him," said John Clune, one of Kinsman's attorneys. "I'm not sure how well that is going to work out for him, but he certainly has the right to try."
Also a Reptilian Motherfucker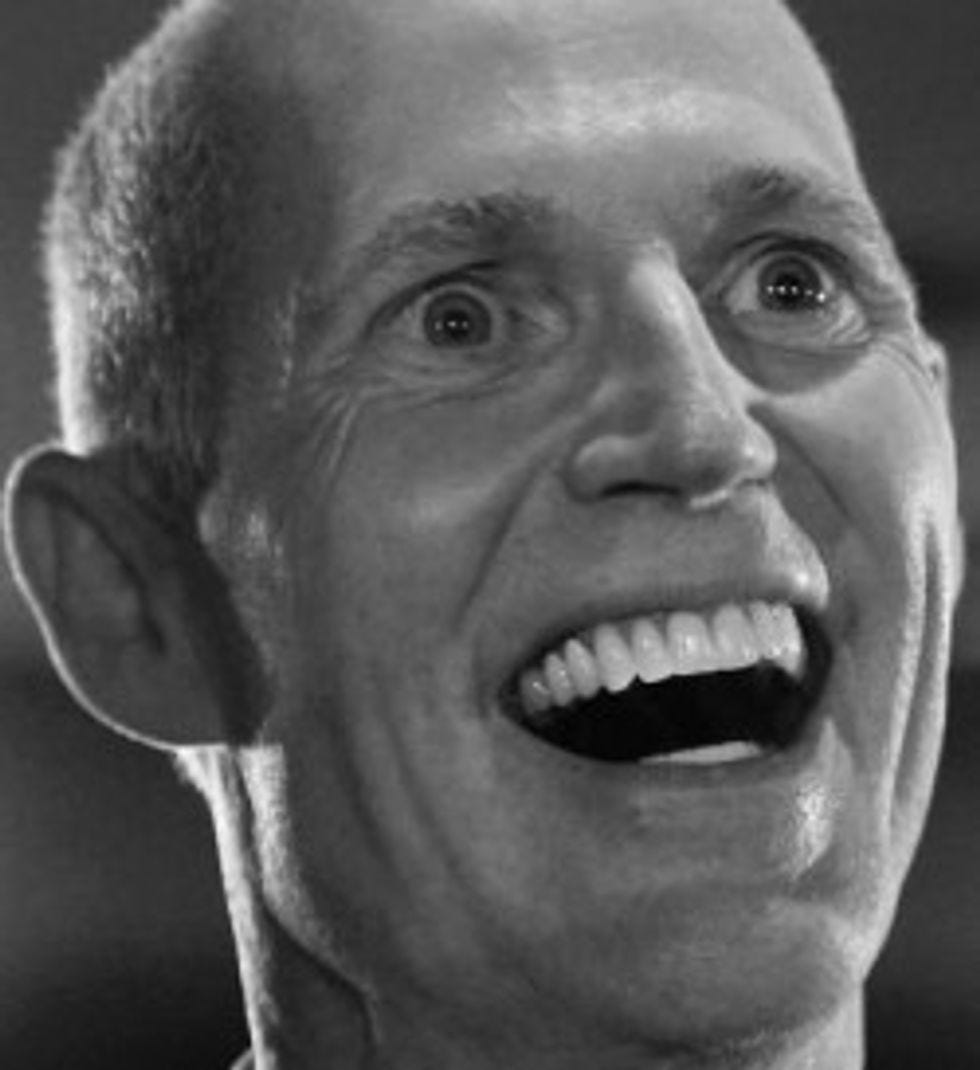 Rick Scott, our Bat-Boy-meets-Monty-Burns governor, looked in the mirror last week and decided that he just wasn't a big enough asshole , and needed to do something about that. So he went and announced that, well, remember that time when he invoked his dead mother to say poor kids shouldn't be left to die without health care? Yeah, he was just fucking with you.
Gov. Rick Scott, after his mother's death in 2013, went on TV to explain his decision to drop his strongly-held opposition to President Barack Obama's health care overhaul.

Scott said his mother's death changed his perspective and he could no longer "in good conscience" oppose expanding health care coverage to nearly 1 million Floridians.

Scott conceded this week that was all a ruse. He now says his support for Medicaid expansion was a calculated move designed to win support from the Obama administration for the state's proposal to hand over control of Medicaid to private insurance companies. At the time, he denied that his support was tied to a deal with the federal government.
As Yr Wonkette so astutely noted :
This is the same governor who announced in April that he'd changed his mind again and didn't want no dirty Obamacare dollars stinking up his state after all — like he'd originally said — and then announced a few weeks later he was going to sue the federal government to give him healthcare bucks for Florida's low-income insurance program, instead of expanding Medicaid with Obamacare dollars. Scott kinda cares about the uninsured Floridians, you know. It's not like he wants them to die from lack of access to healthcare. It's just that he'd rather let them die than take money that has Affordable Care Act cooties.
[contextly_sidebar id="ErHzzbRd03H7lzVW4MQou3P46RKuHfXc"]
By the way, the federal government has told Scott to piss off , and now the Legislature is in absolute fucking chaos trying to sort through this mess . Congrats, dudes.
[contextly_sidebar id="GIaqaFvG9CcV7M0MJcWFKrbHbKsslsz6"]
More Hot Polidicks Action!
While we're on the subject of scumbag Florida governors, we should probably mention Ol' Jebby's fap-tastic support of Big Porn (WITH YOUR TAX DOLLARS!) . Hey good Christian soldiers, let's get out the pitchforks , shall we?
Conservatives in Florida were aghast: State documents said that Gov. Jeb Bush and other overseers of Florida's pension system had shifted retirees' money into a company called Movie Gallery, one of the largest film rental firms in America. Most of the titles were standard comedy and action fare, but a fraction were X-rated titles.

In short, the state of Florida was investing taxpayer money in pornography.
Well, yes, we suppose that might be technically true, if you follow the bouncing logic ball far enough. But, as the state pointed out:
In one of the newly surfaced emails, the SBA's director told an angry Floridian that the state could not take investment advice from "various constituency groups." The Bush administration would not let political ideology shape pension decisions, the director explained, saying the state's pension trustees were "required to act solely in the best interest of the [pension] beneficiaries."
This, of course, makes us, like, not hate Jeb quite as much as we did 30 seconds ago. We can also declare Jeb's political career over.
[contextly_sidebar id="WyW2kf2L6liLiLzGhZ46NcEm7quOe3R3"]
Also in political dickbag funtimes:  this guy , Republican teabagger Congressman Curt Clawson:
A multimillionaire, first-term Florida congressman flipped shares in a solar company the same day he acquired them in an initial public offering, despite a federal law that generally prohibits members of Congress from participating in IPOs.
Yes, in case you are wondering, that is the same Curt Clawson who gave that wonderful Tea Party rebuttal to the State of the Union , the same Curt Clawson who replaced our favorite cokehead congresscritter Trey Radel , and the same Curt Clawson who has a little trouble distinguishing between the browns .
[contextly_sidebar id="1OlNPCqXNN5KA4e3sJ9Z862gh7K4m32S"]
Moving on, then.
This Week in Grand Florida Achievements
One:  Florida Woman Gets 3 DUIs in 6 Days:  
A Brandon woman was pulled over three separate times in the last week for driving under the influence, according to Hillsborough County jail reports.

Jennifer Yi, 31, was arrested early Tuesday morning a short walk away from her home on Camellia Drive E.
Two:  Parents Bribed Their Teens With Cocaine to Get Them to Do Chores .
Some ace parenting right here:
Joey and Chad Mudd from Florida were arrested Monday after they allegedly admitted to police that they regularly used drugs in their parenting of their two teenage daughters, aged 13 and 15, as a bribe to get them to do "household chores and excel in school."
[contextly_sidebar id="ohMmC2dO3sEGZzLovNkrxefZlcnVNxev"]
Three:  Florida Woman Mistakenly Labeled 'Sexual Predator' on License Plans to Sue After Being Detained at Disney World:  
A Florida woman has threatened to sue the state after she was mistakenly marked as a sexual predator on her driver's license, her lawyer said.

Tammy Lemasters, 42, broke out in tears three weeks ago when she realized the blue, capital letters in the bottom-right corner of her license had been the reason she was denied service at a hotel and Disney World.
By the way, this isn't the first time this has happened . The Lake County — FWIW, nothing good ever happens in Lake County — Tax Collector's Office is blaming a normally "top-notch" worker.
Four:  Couple Found Guilty of Having Sex on the Beach:  
A jury Monday found a couple guilty of having sex on Bradenton Beach after only 15 minutes of deliberation.

The convictions carry a maximum prison sentence of 15 years.
You read that right. In Florida, a beach bone will cost you 15 years, while date rape will get you a $25 million sportsball contract. Love this place!
[contextly_sidebar id="bYL9Id3CTw67T0qct2Oi4POqgB5CFagn"]
That's it for this week, Florida. We'll see you on the other side of this bender.