Paultards Race To Discover Secret Meaning of Ron Paul Retirement
News
July 12, 2011 03:26 PM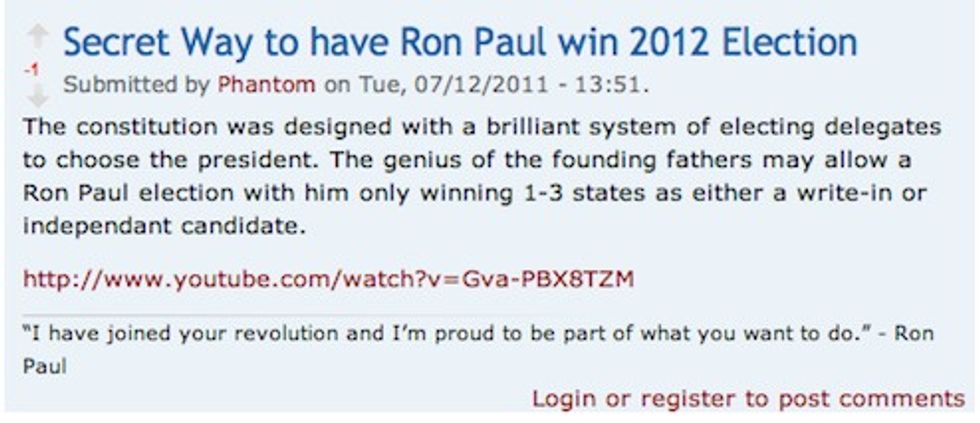 Ron Paul, currently on his third run for president, is finally "in it to win" this time: he announced he will not seek re-election to his Congressional seat so he can focus on his presidential run. This has led to a massive outpouring of grief from sobbing Paultards, who all want to know WHO NOW POSSIBLY will be that lone person to cast "nay" votes on bills to divest U.S. government interests supporting genocide in Darfur. Cooler heads, however, have correctly figured out that this move is all just part of Ron Paul's secret plan. 
---
All of this is happening over at the Daily Paul, where the news has hit like a tornado in a trailer park. Is there a secret plan to use the secret code written in the Constitution by the Founders that can give Ron Paul instructions on how to win a national election with 1-3 states? Or was Ron Paul just predestined by the Constitution to come save America from itself, as the Founders wrote? OH LOOK AND HERE IS SOME OF THE CODE:

THERE ARE SO MANY CLUES TO UNRAVEL. CALL NADER, HE WILL HELP FIND THE ANSWER.

We look forward to the Paul/Nader/Gore/Johnson 2012 ticket. [Daily Paul/ The Facts]