Please Tip Your Waitress And Enjoy The Comedy Stylings of Child Abductor Jeff Sessions
Post-Racial America
June 27, 2018 11:29 AM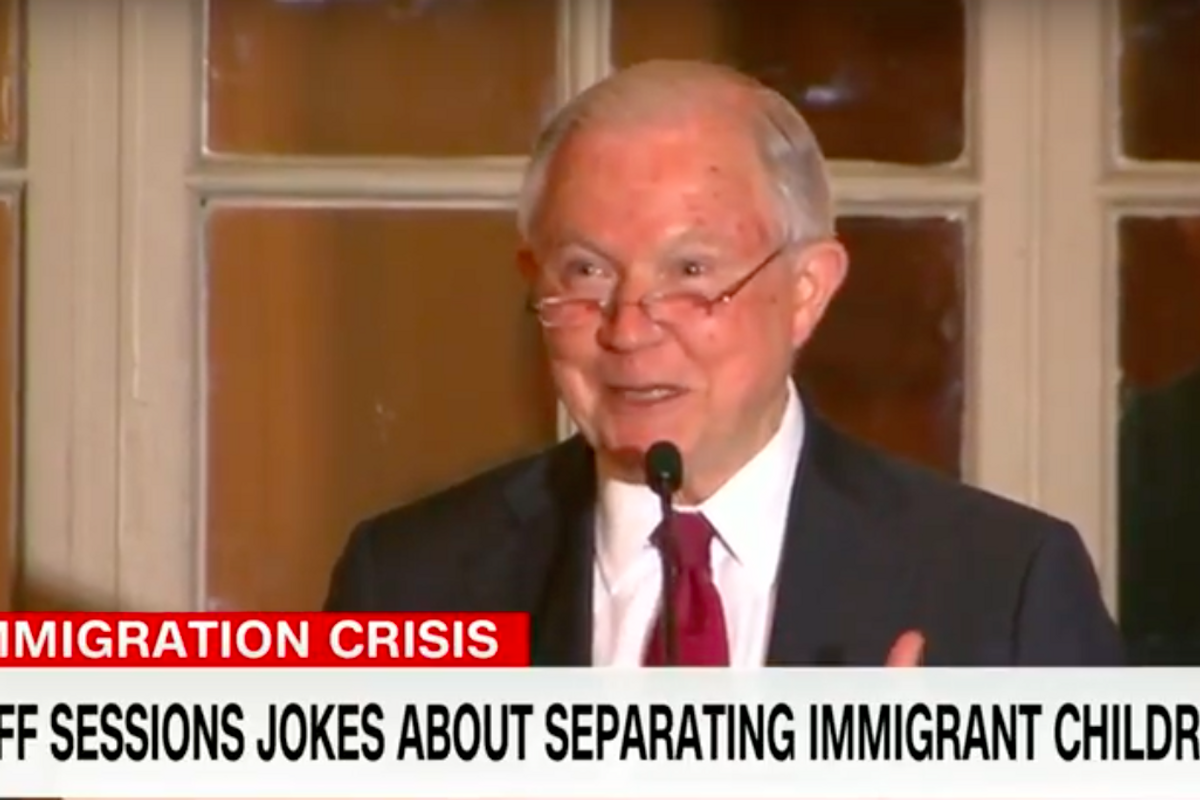 Attorney General Jeff Sessions defended the Trump administration's immigration policies, specifically the torture of migrant children and the emotional blackmail of their parents, in a speech Tuesday to the Criminal Justice Legal Foundation, a conservative advocacy group formed to combat the combined threat of the "ACLU and liberal academia."
Not surprisingly, hundreds of protestors showed up to inform Sessions of his grossness.
---
The protest was organized by CHIRLA [Coalition for Humane Immigrant Rights of Los Angeles] and included several other immigrant rights groups, who marched through the streets in front of the Millennium Biltmore Hotel, where Sessions was expected to speak.

"As a United Methodist, and he's a fellow United Methodist, this is not right, and this is not part of our Christian teachings or our values or our beliefs," said Rev. Allison Mack, a protester from North Hollywood United Methodist Church.
(No, you're thinking of a different Allison Mack.)
Inside the hotel, the foundation assured Sessions he was "among friends," so he felt free to lay into the folks who hypocritically complain about him tearing families apart while they themselves live inside houses. Yeah, it was a stretch.
In his half-hour speech, Session said critics of the administration's hard-line policies wanted to stop all deportations and to have open borders.

"From coast to coast, perhaps especially on this coast, there are politicians who declare that having any border at all is mean-spirited," Sessions said.

Many critics, he said, are people who "live in gated communities" and "are featured at events where you have to have an ID to even come in and hear them speak."
I know it's convenient for conservatives to imagine that everyone opposed to their policies are frivolous Lindsay Bluth types, but outside the Biltmore Hotel's "safe space," actual reality was more complex.
Earlier Tuesday morning, about 150 demonstrators — a mix of interfaith religious leaders and immigrant advocates — gathered outside a downtown federal courthouse, where they held hands and blocked traffic on Spring Street as they prayed.

About two dozen people, many of them members of the clergy wearing religious robes, were arrested.

"Kids belong at home! Not in cages!" they chanted.

Sandra Olewine, a 51-year-old pastor at First United Methodist Church in Pasadena, was the first person taken into custody. She had been seated in a line of people blocking the roadway. As she was led away in handcuffs, people cheered.

"Sometimes you have to break the law," Olewine said minutes earlier. "We are sitting down for the children."

Rabbi Jonathan Klein, who helped organized the protest, said demonstrating against President Trump's policies aligns directly with his faith.

"We are building a just and sacred society," Klein said. "My faith says I have no choice but to be here."

After warming up the crowd with some tired 1990s-era limousine liberal one-liners, Jeff "Shecky" Sessions workshopped some zingers from "The Big Book of Child Abuse Humor."
Here's Attorney General Jeff Sessions making a joke today about separating families (to laughter and applause) https://t.co/j38Oyhd313

— Robert Maguire (@Robert Maguire) 1530049859.0
Even without a two-drink minimum, the assembled crowd of "law and order" crusaders responded positively to Sessions's routine.
But you can't please everyone -- that's how you wind up with Jay Leno's act. In the first reported case of long-distance heckling, Chelsea Clinton delivered a knockout punch to Sessions "live from New York."
You want to know what indecency and incivility sound like? People laughing and applauding at the "joke" about forci… https://t.co/lqWrboHeUW

— Chelsea Clinton (@Chelsea Clinton) 1530049191.0
Let's turn our attention now to the subjects of Sessions's punchline. "CBS This Morning" aired leaked cellphone video from inside New York's Cayuga Centers, where many immigrant children separated from their parents are currently held. It looks like they're inside classrooms, but you can't be sure. America still looks like a democracy.
The kids are confused, frightened, and devastated. It's almost as bad as a high-ranking Trump Cabinet member having to face angry citizens in a fancy restaurant or outside their swank apartment building but, I suppose, probably more civil.
You love Wonkette very much, yes? You don't mind this SER guy? Please make a donation to our snarky cause.
Stephen Robinson
Stephen Robinson is a writer and social kibbitzer based in Portland, Oregon. He writes make believe for Cafe Nordo, an immersive theatre space in Seattle. Once, he wrote a novel called "Mahogany Slade," which you should read or at least buy. He's also on the board of the Portland Playhouse theatre. His son describes him as a "play typer guy."