Poll Porn! Donald Trump Now Losing All His Country Folk, Oh No, How Sad!
Post-Racial America
October 09, 2017 01:34 PM
Donald Trump and his shiny happy scared white people
---
It's time for another episode of Donald Trump Sucks In Polls, because it is our favorite! A new AP poll came out this weekend that showed Trump with the opposite of BIGLY APPROVAL RATINGS, or more specifically, a weak and sad 32% approval rating. Fully 67% disapprove! These numbers suggest that Trump's base is starting to fall away -- you know, the salt of the earth, non-racist Rust Belt voters who propelled him to historically losing the popular vote by almost three million, while squeaking out a thoroughly unimpressive Electoral College win.
Speaking of the racial transcendence that is the hallmark of the typical Trump voter, there is ANOTHER new poll that specifically looked at the rural voters who gave Trump his "victory," or at least unwittingly helped Russia deliver Trump his "victory." They are not so happy with Trump these days! Reuters/Ipsos asked 15,000 grown-ups from the sticks their opinions on life, love, and Donald Trump, and they are now evenly split (47/47) on whether he is still their lord and savior, or whether he totally sucks. The non-racist reason some of them are turning on Trump? Oh, just that he hasn't fulfilled his campaign promises to put all the illegal Messicans in a boat and shoot them into space:
The poll found that Trump has lost support in rural areas among men, whites and people who never went to college. He lost support with rural Republicans and rural voters who supported him on Election Day.

And while Trump still gets relatively high marks in the poll for his handling of the economy and national security, rural Americans are increasingly unhappy with Trump's record on immigration, a central part of his presidential campaign.
According to Reuters, some of them are mad at Trump because he said he was going to build a beautiful Mexico wall and make the Mexicans pay for it, but ain't no wall under construction. INPEACH! #RESIST! Pink pussy hats for all the country folk!
Or if the rurals are worried pink pussy hats might stick out like a sore thumb in Hickory or Bucksnort or whatever their municipalities are called, they might enjoy these baseball caps, which are available at all Wonkette superstores: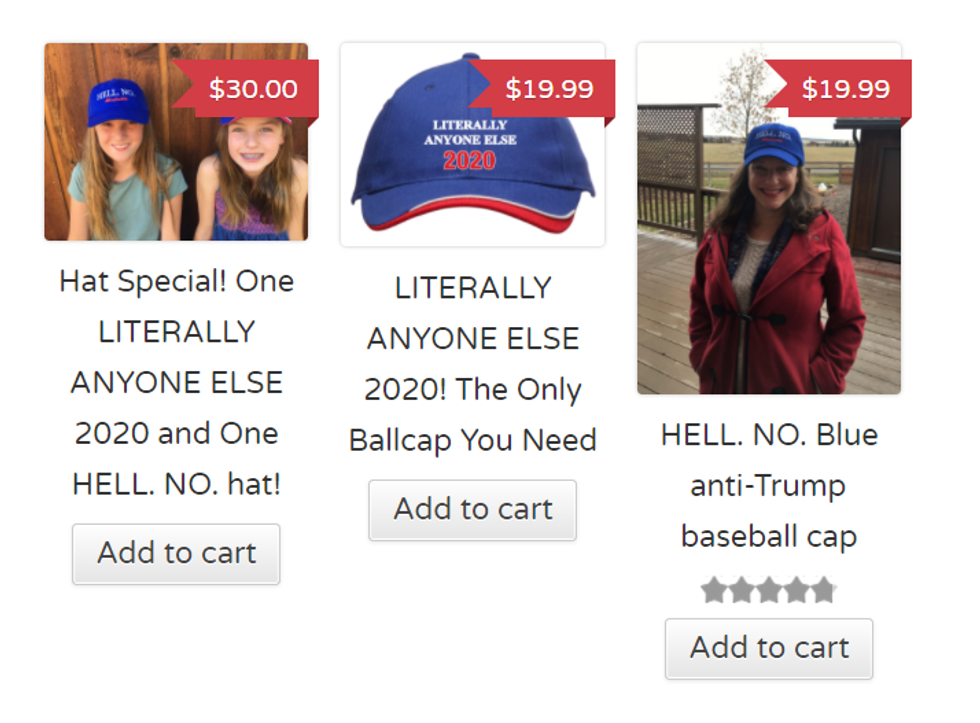 Wonkette regrets to inform rurals angry about Trump being TOO NICE to immigrants that we will not be making any special hats to reflect their specific racist sentiments, because we are not fucking racists.
Other rural voters Reuters talked to are like this guy, who is somehow vaguely more nuanced with his opposition to Trump's record on immigration:
"There should be some sort of compromise between a free flow of people over the border and something that's more controlled," said Drew Carlson, 19, of Warrensburg, Missouri, who took the poll.

But Trump's "constant fixation on deportation is a little bit unsettling to me."
Well it's a little bit unsettling to us too, Drew Carlson of Warrensburg, Missouri.
The point is that there is literally no limit to the ways Donald Trump is capable of failing. Bernie liberals hate him, CORPORATE SHILLARYS FOR HILLARY hate him, moderate Republicans hate him, Bob Corker hates him, Bill Kristol hates him, and now Trump is running afoul of the country racists, because he's too incompetent to accomplish one damn thing he promised them.
But hey, rurals! Trump just released a list of immigration demands, and they're mean and racist as hell! Will that make you happy?
Haha no it will not, because you already know he will find some way to fail at those too, because he is a loser.
Sad!
Follow Evan Hurst on Twitter RIGHT HERE.
Wonkette salaries, servers, and all of the things are fully funded by readers like you! If you love us, click here to fund us!
[Reuters]
Evan Hurst
Evan Hurst is the managing editor of Wonkette, which means he is the boss of you, unless you are Rebecca, who is boss of him. His dog Lula is judging you right now.
Follow him on Twitter RIGHT HERE.