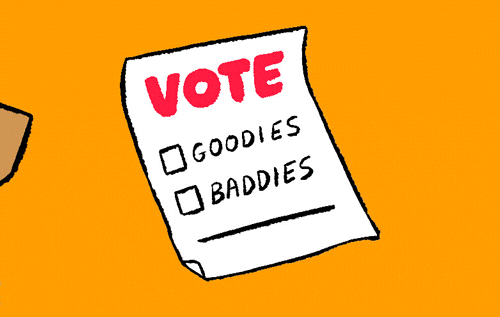 Giphy
THREE WEEKS.
Just twenty-one days until we fire that orange excrescence and put an end to this four-year waking nightmare. We can make it.
But if you're feeling jumpy in the meantime, Cook Political has some Senate nicetimes to calm your nerves.
We are also increasing our current Senate projection from a gain of 2 to 7 seats for Democrats Many Republicans t… https://t.co/TnvFLx3hyY

— Jessica Taylor (@Jessica Taylor) 1602591752.0
Burn it down, y'all. Un-pollable Alaska and Texas get moved one click to the left, from "Likely" to "Lean" Republican (goddammit, Beto!), while Georgia's special election is now looking like a tossup, with Democrat Raphael Warnock taking a plurality of votes and teed up to face Senator Kelly Loeffler in the runoff. And if there's anyone who can lose a Senate seat in Georgia, it's Kelly Loeffler.
---
COVID stood NO chance against @realDonaldTrump! https://t.co/GtNPOHkDqF

— Kelly Loeffler (@Kelly Loeffler) 1601926542.0
She's, like, really good at comms, you guys. Also talking about race. So congrats to Gov. Brian Kemp for inviting Kelly Loeffler to the party and offering her just enough support that she's likely to edge out Rep. Doug Collins — who is gross, but not a complete incompetent — keeping him out of the runoff.
Cook had already moved South Carolina and Georgia's other Senate race into the tossup column (goddammit, Stacey!), along with Iowa, Maine, Montana, and North Carolina. And Democrat Barbara Bollier's strong showing in Kansas puts that race in the "Lean" Republican category as well. Incidentally, if no candidate in the regular Georgia Senate race between Jon Ossoff and David Perdue gets to 50 percent, that race could go to a run-off round as well.
Cal Cunningham's extramarital dumbassery doesn't seem to have cost him any support in North Carolina. Or as the Raleigh NBC affiliate WRAL put it in the press release announcing the results of a poll it commissioned from SurveyUSA:
An ebbtide sinks all boats, and Tillis' fight for a 2nd term in the USA's quintessential battleground state cannot be judged absent the larger context of how Republicans are faring nationwide in the final weeks of President Donald J. Trump's first term. Movement in the Presidential contest between Trump and Democrat Joseph Biden and movement in the election for Governor of North Carolina, poll results from which will be released over the coming 48 hours, provide context to interpret Tillis' failure to thrive.
Ummm ... okay.
SurveyUSA has Cunningham ahead by 10 points (49-39), improving on his lead since the sexting scandal broke and Tillis was diagnosed with coronavirus. And in fact Cunningham seems to have improved his standing with men, while maintaining a nine point advantage with women. They don't call it the Dirty South for nothing!
And, hey, lookit what just dropped as we were typing. Here's Monmouth confirming that Cunningham got more popular once his constituents found out he was down to ... kiss a lot.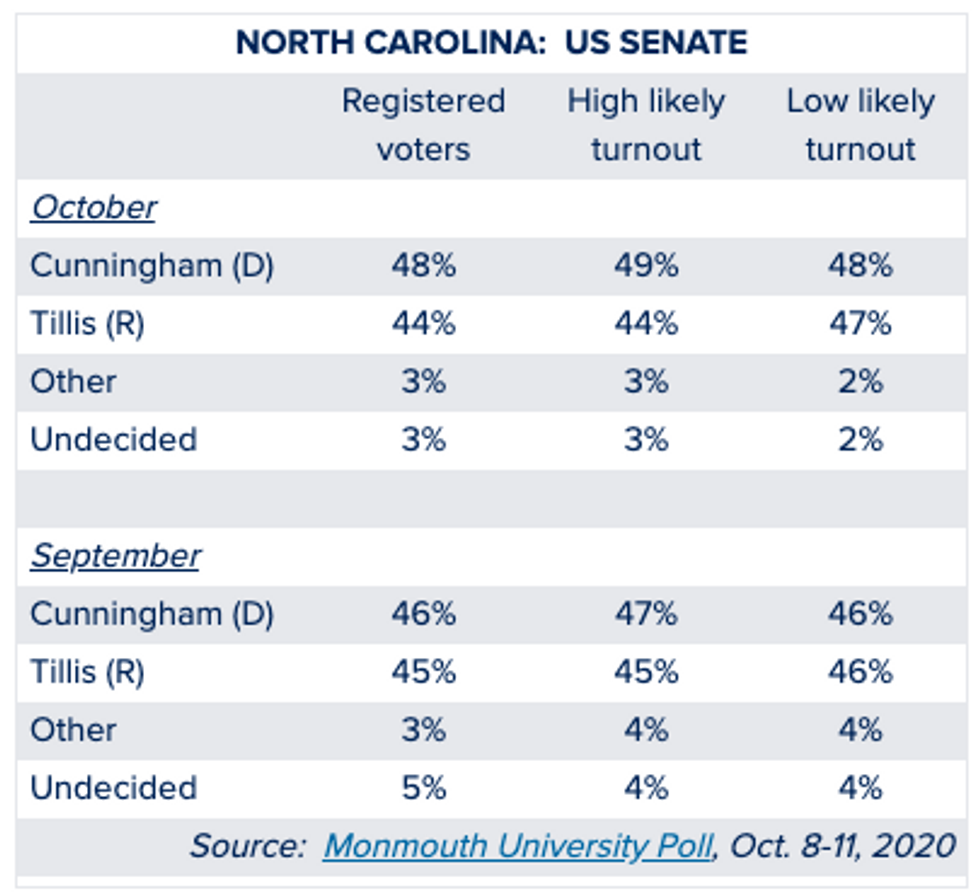 Meanwhile Susan Collins and Martha McSally continue to be as popular with their constituents as cold sores. (To be fair, Susan Collins is doing better than Martha McSally, who's barely beating out genital warts.)

All of which has FiveThirtyEight's model projecting Democrats will re-take the Senate in 69 out of 100 "scenarios". Whatever that means. Anyway, we think it's good. And it's good that no one on earth is projecting the GOP has a chance to win back the House.
So, take nothing for granted, but also don't give yourself an ulcer panicking either. We're going to make it, after all.
Follow Liz Dye on Twitter RIGHT HERE!

Please click here to support your Wonkette. And if you're ordering your quarantine goods on Amazon, this is the link to do it.
Liz Dye
Liz Dye lives in Baltimore with her wonderful husband and a houseful of teenagers. When she isn't being mad about a thing on the internet, she's hiding in plain sight in the carpool line. She's the one wearing yoga pants glaring at her phone.