Poll Porn: The White House Fake News Banana Peel Edition
polls
October 26, 2020 04:15 PM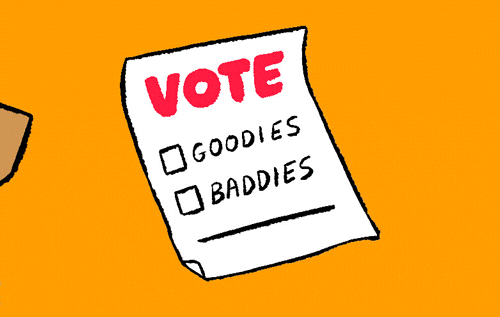 Giphy
Okay, let's play WTF Is the White House Even Talking About Today? Because their latest attempt to persuade the national media that NO, REALLY, Donald Trump is winning actually is ridiculous, even graded on the Trump White House curve.
Here's the tweet printed out and left for every reporter on Air Force One.
As we depart Maine for Washington, this was placed on every seat in the Air Force One press cabin https://t.co/j8vkeiprP1

— Jonathan Lemire (@Jonathan Lemire) 1603657516.0
Hey, cool, another Hatch Act violation! Using government resources, White House staff is bumping a basically random account to force electoral propaganda on reporters. Neat!
---
But aside from that, we have one or two minor quibbles with this Tweet delivered up to the traveling press corps.
Pres Support By Those Who Haven't Voted Yet: Florida: Trump: 59% Biden: 40% Georgia: Trump: 54% Biden: 44% North… https://t.co/MkfS4wQ3fR

— Polling USA 🎃 (@Polling USA 🎃) 1603640560.0
First of all, those numbers appear nowhere in the CBS/YouGov poll. Here, have a look at the Florida crosstabs; and the Georgia crosstabs; and the North Carolina crosstabs. The guy who runs the @USA_Polling account may have extrapolated that data from somewhere, but it wasn't reported by the pollsters. So, congrats on another bangup job by Team Trump, who's out there shouting about FAKE NEWS while pushing out garbage data on Air Force One.
But if they want to talk about that CBS/YouGov poll, bring it on. Let's have that discussion.
To begin with, YouGov found Biden ahead by two points in Florida, five points in North Carolina, and tied with Trump in Georgia. And when they "pushed the leaners" — that is, removed "undecided" as on option — the advantage still held. Worse still for Trump, Biden was at 51 percent in North Carolina and 49 percent in Florida, meaning there aren't enough leaners this year to change the outcome, even if they did break 2:1 for Trump. Big mazal, guys!
Remember in 2016 when late-deciding voters swung hard for Trump after a nice big push from FBI Director James Comey? Well there aren't enough of them in the crucial swing states of Florida and North Carolina to make much of a difference this cycle.
And even if Donald Trump is able to pull an October surprise out of his flabby ass this cycle, it's probably too late for it to have much of an effect. According to the US Elections Project run by Professor Michael McDonald at the University of Florida, 2.75 million Georgians have already voted (compared to 4 million total ballots cast in 2016), and YouGov says that 55 percent of those people pulled the lever for Biden.
In North Carolina, 61 percent of the 3.2 million early votes are probably for Biden according to YouGov. There were fewer than 5 million total votes cast in 2016.
And in all-important Florida, where 9.4 million voters went to the polls in 2016, upwards of 6 million people have already voted. And just like in North Carolina, 61 percent of them voted blue.
So whatever bullshit Trump wants to try in the next eight days, our votes are already in the bank.
But other than that, truly excellent work by the White House comms shop. We're sure you'll apply the same meticulous standards to polishing up your resumes in just a few more days. Although ... maybe y'all should get a grown up to proof it before you hit send. You know, just to be on the safe side.
Follow Liz Dye on Twitter RIGHT HERE!

Please click here to support your Wonkette. And if you're ordering your quarantine goods on Amazon, this is the link to do it.
Liz Dye
Liz Dye lives in Baltimore with her wonderful husband and a houseful of teenagers. When she isn't being mad about a thing on the internet, she's hiding in plain sight in the carpool line. She's the one wearing yoga pants glaring at her phone.