Is Rudy Giuliani Hiding His Porn Boobie Magazines From Michael Avenatti?
Culture
June 12, 2018 02:29 PM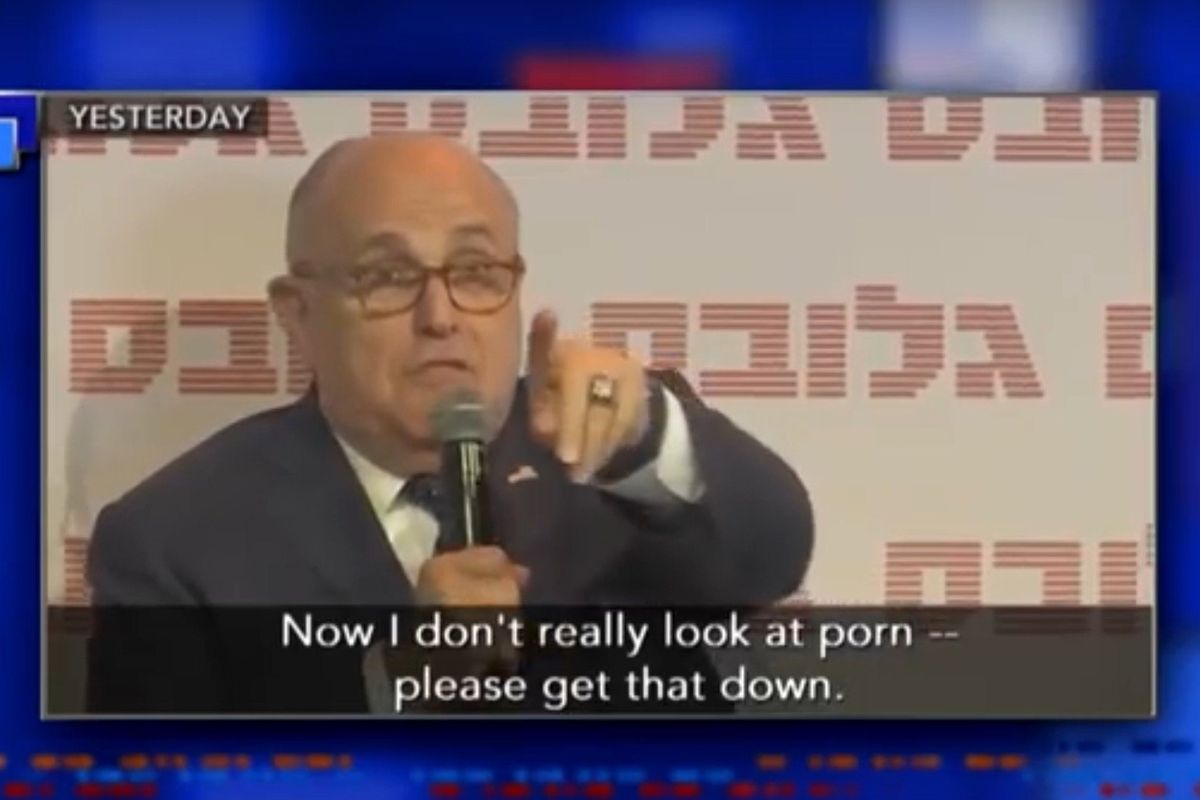 Last week Wonkette told you about how the president's very good lawyer Rudy Giuliani had shown up at the "Globes" Capital Market Conference in Israel with his ever present foot in his mouth to spew a bit of slut shaming at one of his favorite targets, Stormy Daniels. This is the same man who couldn't possibly shut the fuck up and not imply (by imply I mean outright declare with vainglorious delight) that Kim Jong-un was on "hands and knees," just begging and pleading with Trump to date him in Singapore. Not satisfied with almost fucking shit up between the unstable North Korean leader and the unstable dick-hole some people call President of the USA, he decided to swim deeper into shit creek and attack Daniels's CREDIBILITY. Cue the virtue signaling!
Giuliani also had some things to say about porn, and how he swears he doesn't watch it because only notorious liars and fallen women have anything to do with porn.
Daniels's lawyer Michael Avenatti crowed with delight over this idiotic and ridiculously dishonest attempt to play morality police and decided to fuck with him and collect some receipts. He asked his followers to help him learn more about the allegedly disturbing and notorious porn habits of Rudy Giuliani, if such habits indeed exist. We are simply hoping it's all human on human action because Alien Porn (No! I will NOT LINK TO IT! Use Google.) can be a bit overwhelming for the uninitiated.
I want to test Mr. Giuliani's claims of being adamantly against pornography and having no use for adult film stars. If anyone can provide me with any evidence of him voluntarily viewing pornography, I will protect you as a source and publish it. Let's PROVE the hypocrisy. #Basta
— Michael Avenatti (@MichaelAvenatti) June 9, 2018
He continued to tease his followers with follow up tweets suggesting that something was brewing and ready to steam Rudy Giuliani's ass very very soon:

Uh oh, looks like shit is going the fuck down! I'm as excited as a Fox News anchor looking at Hillary's emails!

Mr. Giuliani: my client deserves an apology for your sexist, disgusting, comments about her and women in general. I strongly suggest you provide one. Are you really taking the position that you have not viewed porn in the last year? Ever hear of something called an IP address?...
— Michael Avenatti (@MichaelAvenatti) June 11, 2018
Now we all heard Rudy Giuliani say quite clearly and in nearly intelligible English that "Now, I don't really even look at porn," but has Avenatti stumbled upon Rudy's old box of Playboys from when women still had pubic hair? It would be irresponsible not to speculate! Maybe Avenatti located the PornHub account where Giuliani "researches" how credible Stormy Daniels is based on her "work ethic." Regardless of what he located (and we all know he located something, probably allegedly), it might be time for Giuliani to keep Stormy Daniels's name out of his mouth before he ends up with his own business all in the streets, because we all know Michael Avenatti loves bringing receipts.
It's funny how a man working for a man like Donald Trump seems to think Stormy Daniels and other women in porn lack credibility, yet when push comes to shove, he also thinks a perjury trap (but not a KOREAN PERJURY TRAP) is waiting to snap his boss up if he sits down with Robert Mueller.
Also, has Giuliani forgotten that many of us have seen the first lady in all of her glorious nudity? Does that diminish Melania Trump's value, Rudy? Not in my opinion! I think she's garbage for completely different reasons, but I will "Be Best" and bite my tongue.
Stephen Colbert took exception to Giuliani's claim that he "doesn't really look at porn" (say what, now?) because LOL, sure, Rudy. That's some hilarious bullshit coming from a guy who works for a guy who according to "Morning Joe" co-host Mika Brzezinski is desperate to watch porn in the White House. Either Giuliani is the one of the only adult humans who doesn't watch porn, or he is actually the dumbest liar in the world.
Here, have a video:
In conclusion, if a Rudy Giuliani watches porn alone the woods, does the porn make a shrieking sound like the women who have seen Rudy naked? Impossible to answer. We would never watch him watch porn.
Don't take for granted that the institutions you love will always be there, like democracy, and Wonkette. Click to save at least one of them!
Wonderbitch
Follow Wonderbitch aka Bravenak aka Bianca DeLaRosa, loves her jobs as Social Media Manager for Wonkette more than Sarah Huckabee Sanders loves lying to America. Bianca also moonlights as a Witch (THE BAD KIND!!) and is a Freelance Goddess of All Things Ever. Be very nice her because she likes to curse people, especially mean people. You can find Bianca on Twitter @Wonderbitch81, or email her at bianca@wonkette.com