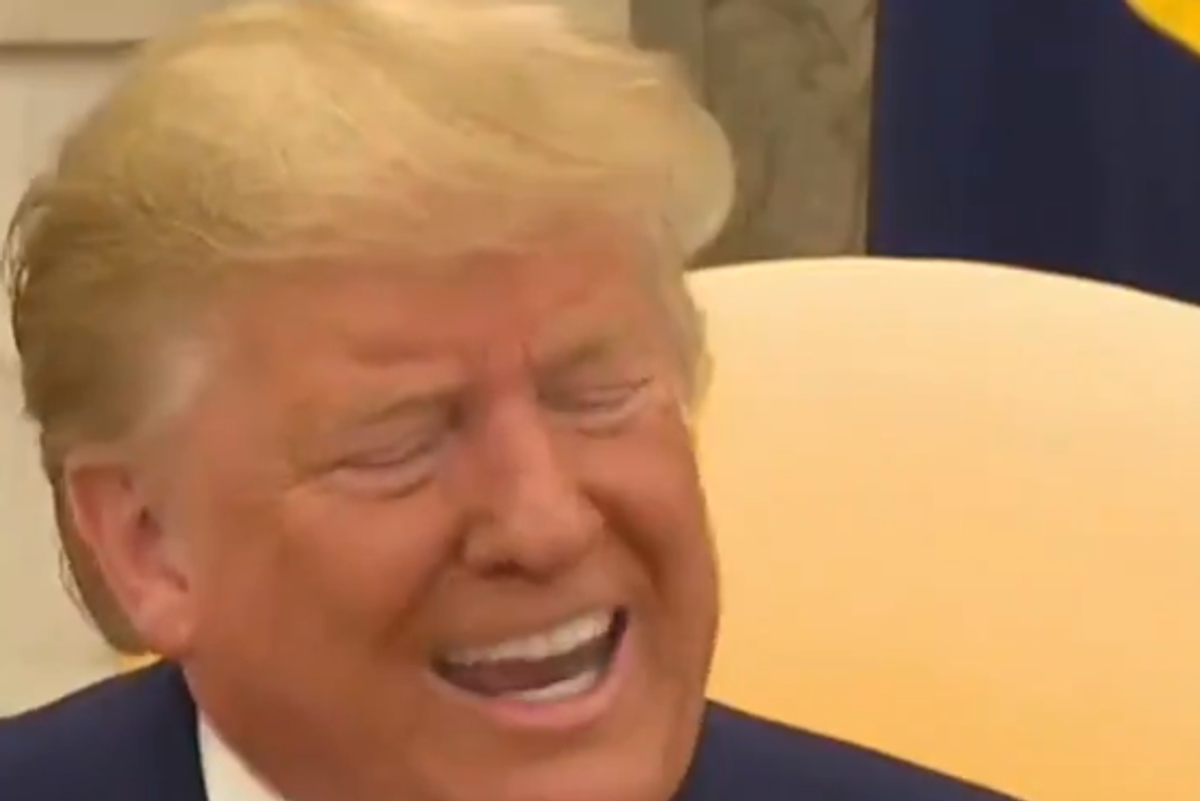 Looks like this whole impeachment thing has burrowed the endless millimeters under Donald Trump's thin skin and what's left of his brain is sliding out of his skull and we don't have any independent evidence on this, but we bet every single one of his Yeti Pubes is standing on end, creating a wire brush in his beef crotch that's threatening to chafe his little Mario Kart stump somethin' BAD.
In a press availability with the President of Finland, Trump didn't talk about Finland very much. Instead he just repeated all the craziest pigshit he's been barfing out the past several days about how Adam "SHIFTY SCHIFF" Schiff did a treason when he paraphrased Trump's treason phone call transcript with the president of Ukraine, how the whistleblower lied about what happened in his treason phone call (the transcript and the whistleblower complaint line up perfectly), how the person/s who talked to the whistleblower is "A SPY," and also something about how Adam Schiff cannot even carry Mike Pompeo's "BLANK strap," yes, Trump said "BLANK strap," because of how Trump is a Christian whose mom swats him on the fanny when he says cusses like "jock."
Here's the part Trump's been bellyaching about since the congressional hearing with (acting) DNI Joseph Maguire, when Adam Schiff said he was going to paraphrase Trump's treason phone call with Ukrainian president Volodymyr Zelenskiy, proceeded to do so, and captured Trump's crime boss spirit almost exactly. First, the president's words today, IN ALL CAPS BECAUSE HE WAS YELLING:
---
NOT A THING WRONG! UNLESS YOU HEARD THE ADAM SCHIFF VERSION WHERE HE MADE UP MY CONVERSATION! HE ACTUALLY MADE IT UP! IT SHOULD BE CRIMINAL! IT SHOULD BE TREASONOUS! EVERY WORD OF IT MADE UP AND READ TO CONGRESS AS THOUGH I SAID IT!

AND I'LL TELL YOU WHAT, HE SHOULD BE FORCED TO RESIGN FROM CONGRESS, ADAM SCHIFF, HE'S A LOWLIFE, HE SHOULD BE FORCED TO RESIGN.

HE TOOK A PERFECT CONVERSATION, REALIZED HE COULDN'T READ IT TO CONGRESS, BECAUSE IT WAS PERFECT, IT WAS A VERY NICE CONVERSATION [...] HE TOOK THAT CONVERSATION, WHICH WAS PERFECT, HE SAID "I CAN'T READ THIS" SO HE MADE UP A CONVERSATION AND REPORTED IT AND SAID IT TO CONGRESS AND THE AMERICAN PEOPLE.

AND IT WAS HORRIBLE WHAT HE SAID! [...]

HE SHOULD RESIGN FROM CONGRESS IN DISGRACE AND FRANKLY THEY SHOULD LOOK AT HIM FOR TREASON, BECAUSE HE IS MAKING UP THE WORDS ...
That is an exact transcript of the so-called leader of the free world talking with his mouth. (NO PARAPHRASE!)
For the record, because we need to have this, and because he's literally babbling about it right now as we publish this, because Trump is going to bitch about this longer than he bitched about that fucking hurricane map he drew dicks on, this is what Trump said in his treason phone call, as excerpted by ultimate Trump fact-checker Daniel Dale:
"I will say that we do a lot for Ukraine. We spend a lot of effort and a lot of time. Much more than the European countries are doing and they should be helping you more than they are." Trump then said of the US-Ukraine relationship: "I wouldn't say that it's reciprocal necessarily because things are happening that are not good but the United States has been very very good to Ukraine." [...]

"I would like you to do us a favor though."
And here are some of the words Schiff said when he set up and recited his paraphrased summary:
"Shorn of its rambling character and in not so many words, this is the essence of what the President communicates. We've been very good to your country. Very good. No other country has done as much as we have. But you know what? I don't see much reciprocity here." [...]

"I hear what you want. I have a favor I want from you, though. And I'm going to say this only seven times, so you better listen good. I want you to make up dirt on my political opponent. Understand?"
Again, Adam Schiff said at the beginning of that monologue that he was going to translate Trump's words to take away some of the dumbshit bad grammar and help make the mobspeak a bit more obvious for people who don't yet understand Trump's low-rent mafia boss use of the English language. And that's exactly what he did.
This is what Trump thinks constitutes "treason." You know, because he is so concerned with accuracy. And the definition of "treason."
Anyway, back to today's batshit event!
Here's Trump explaining how he came up with the very clever nickname "Shifty Schiff," talking about how awesome Mike Pompeo is, and explaining why he can't say Adam Schiff can't carry Mike Pompeo's JOCK strap, because that's naughty:
Many things happen in this next clip! Trump talks about his YOOGE FLAWLESS VICTORY in the case in California over requiring him to release his tax returns to appear on the ballot, and the FAKE NEWS DIDN'T WRITE ABOUT IT. (We did, and we said that however well-intentioned it was, it was probably unconstitutional.)
He says something out of left-field about a big military parade with millions of people in it, and then babbles more about his "perfect" conversation with the president of Ukraine, asking, "WHAT ABOUT OBAMA'S CONVERSATION WITH THE PRESIDENT OF RUSSIA, WHERE HE SAYS, HEY HEY, TELL VLAD I'LL TALK TO HIM AFTER THE ELECTION'S OVER?" (It was a simple conversation. Everybody knows about it. It wasn't like Obama asked Medvedev to hack John McCain's emails, or extorted him to help his re-elect by investigating Mitt Romney's son's work in Ukraine or anything.)
All of that happened in this two-minute clip.
Trump has more feelings about the whistleblower, who he says should be "protected," if the whistleblower is "legitimate." He also -- because he really does believe his shitwhistle conspiracy theories about the Democrats being the REAL COLLUSION in 2016 -- says Democrats are really scared about what's going to come out of whatever jackass investigations Bill Barr, Mike Pompeo and Rudy Giuliani are off doing in Europe, about the real story of what happened to the 2016 election, NO COLLUSION!
THEY'RE TRYING TO HIDE WHAT MAYBE IS COMING. I LET OUR GREAT -- IF YOU LOOK -- I LET OUR GREAT LAW ENFORCEMENT TAKE CARE OF IT, OK? ATTORNEY GENERAL BARR, I GUESS, IS WORKING ON IT. AND I HOPE HE'S WORKING ON IT.

BECAUSE WHAT HAPPENED IN 2016 IS A DISGRACE TO THIS COUNTRY! AND THEY'RE MORE WORRIED ABOUT THAT, BECAUSE THEY KNOW THEY'RE GUILTY AS HELL!
Trump says Florida GOP Senator Rick Scott told him his treason conversation with the Ukrainian president was a perfect conversation! Rick Scott is a "very smart guy!" Unfortunately, the whistleblower wrote down a "VICIOUS CONVERSATION." And the person who gave the whistleblower the information (which was, again, exactly accurate) is a "SPY!"
But Trump TRICKED us! Oh golly gee, he got us with a trick, do you know what the trick he did was?
HERE'S WHERE I FOOLED 'EM! THEY NEVER THOUGHT I'D RELEASE THE CONVERSATION! THEY NEVER THOUGHT IN A MILLION YEARS I'D RELEASE THE CONVERSATION!

WHEN LIDDLE' ADAM SCHIFF SAW THE TEXT, WHEN HE READ IT, HE COULDN'T BELIEVE IT.

WHEN NANCY PELOSI [...] CALLED FOR ESSENTIALLY IMPEACHMENT, LET'S IMPEACH THE PRESIDENT, BEFORE SHE SAW THE TRANSCRIPT [...] SO WHEN SHE SAW THAT, I HEARD, SHE WENT CRAZY! SHE SAID "WE CAN'T IMPEACH HIM WITH THIS CONVERSATION, THAT'S A GREAT CONVERSATION!"
Darn him for tricking us. (Here is the transcript again, in case you want to read it, again.)
Toward the end of the press availability, Trump went on an extended rant against the Washington Post and Jeff Bezos because those New York Times reporters made up fake news about hjow Trump wants to build a moat around WALL and stock it with magic laser cats with shark teeth and devil wings in order to stop all the Mexican Hispanic Central Americans from swimming across.
Just for good measure, he added that the "corrupt media" are the "enemy of the people." He woulda said "fake news media," because he made that up, but he thinks he's going to say "corrupt media" now, to switch it up.
WHEW.
Trump, of course, has been previewing all the things he said on camera today on his Twitter feed this week, because his brain is like one of those olden timey record players that gets stuck all the time and also has tertiary syphilis.
In this one, he gives Mike Pompeo another lickjob, but doesn't say the "BLANK strap" line, because cussing isn't allowed on Twitter:
Adam Schiff should only be so lucky to have the brains, honor and strength of Secretary of State Mike Pompeo. For a… https://t.co/U10wg273nt

— Donald J. Trump (@Donald J. Trump) 1570030747.0
In this one, he says Democrats are doing BULLSHIT, because maybe cussing is allowed on Twitter after all, before lying about his pathetic Electoral College "win," by which we mean that time Russia squeezed a few extra Electoral votes into his buttcrack (304 to be exact, not 306), while doing nothing to interfere with the fact that he lost the popular vote by literal millions:
The Do Nothing Democrats should be focused on building up our Country, not wasting everyone's time and energy on BU… https://t.co/kpxVx4b2Gy

— Donald J. Trump (@Donald J. Trump) 1570031327.0
WHIIIIIIIIIIINE about Adam Schiff:
Congressman Adam Schiff should resign for the Crime of, after reading a transcript of my conversation with the Pres… https://t.co/SWi7gOq09g

— Donald J. Trump (@Donald J. Trump) 1570025807.0
WHIIIIIIIINE about how everybody is doing a coup to him:
....People, their VOTE, their Freedoms, their Second Amendment, Religion, Military, Border Wall, and their God-give… https://t.co/LWjvAwYOZg

— Donald J. Trump (@Donald J. Trump) 1569973293.0
Threats to the whistleblower! Who is a damn liar! Who should be exposed, as should the person who told the whistleblower all his secrets, which are also lies!

....the Whistleblower, and also the person who gave all of the false information to him. This is simply about a pho… https://t.co/4DvAkHxisy

— Donald J. Trump (@Donald J. Trump) 1569935964.0
And of course, he still thinks apostrophes are hyphens, and that when he writes out LIDDLE', that he is typing nicknames the way we English speakers commonly do, in English. This is another tweet about how Adam Schiff did the treason to him by paraphrasing the transcript of his call with the Ukrainian president:
"The congratulatory phone call with the Ukrainian President was PERFECT, unless you heard Liddle' Adam Schiff's fra… https://t.co/macxKMW8T5

— Donald J. Trump (@Donald J. Trump) 1569928197.0
Has he mentioned lately that NO TREASON, NO TREASON, ADAM SHIFTY SCHIFF IS THE TREASON? He should mention that again.

Rep. Adam Schiff illegally made up a FAKE & terrible statement, pretended it to be mine as the most important part… https://t.co/zRmd9IRWOX

— Donald J. Trump (@Donald J. Trump) 1569845567.0
And that is the story of how Donald Trump is handling getting impeached today. It's only downhill from here.
By the way, this post also serves as your exclusive Wonkette report on the official Trump press conference with the President of Finland, because Trump is re-babbling every single thing he said earlier today and subjecting the Finnish president to listening to that yet again as we speak.
[videos viaAaron Rupar]
Follow Evan Hurst on Twitter RIGHT HERE, DO IT RIGHT HERE!

Wonkette relies on YOU to keep us going. We have no ads, we have no capitalist investors, we're just us and you. KEEP US GOING! Click the thing! Pick an amount! Hit 'paypal' or the other one! We love you! Go!
Evan Hurst
Evan Hurst is the managing editor of Wonkette, which means he is the boss of you, unless you are Rebecca, who is boss of him. His dog Lula is judging you right now.
Follow him on Twitter RIGHT HERE.