Arizona Won't Give Schools COVID $$$ If They Require Masks To Stop Spread Of COVID
coronavirus
October 06, 2021 11:41 AM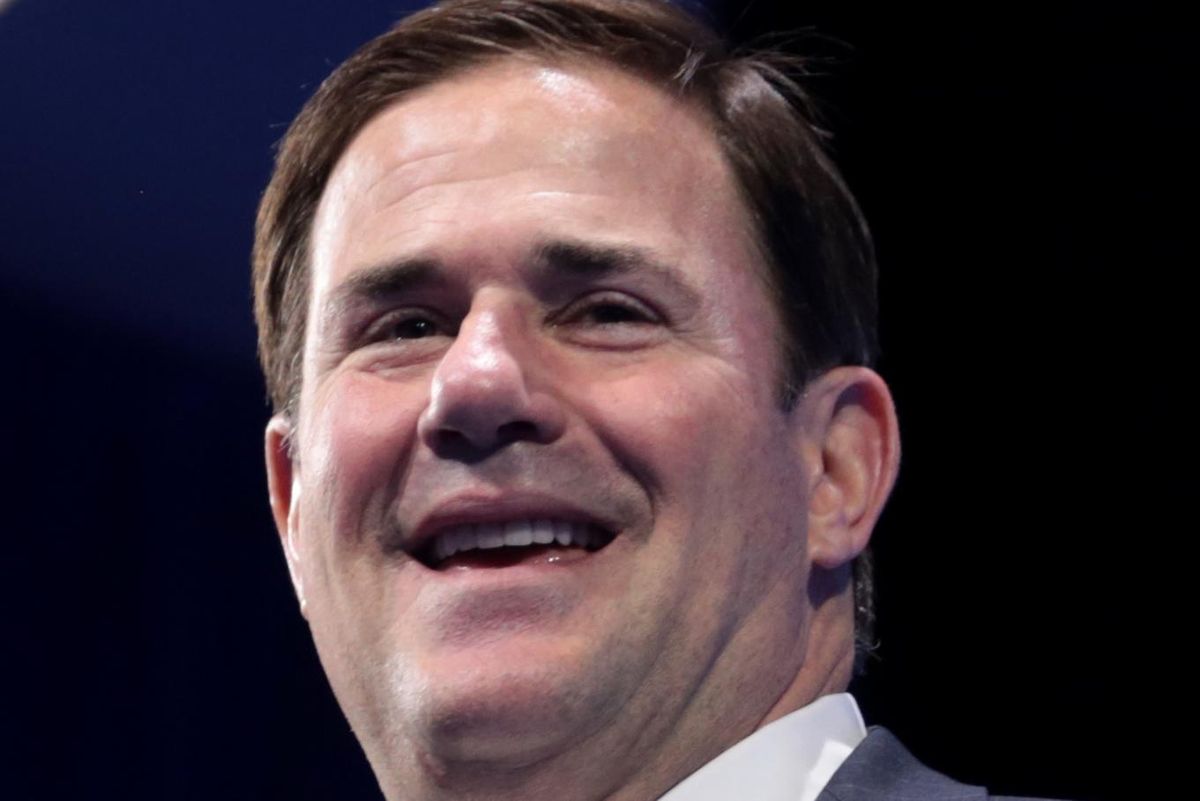 The GOP is a Death Cult: Part 2,379,802.
Yesterday the Treasury Department sent a letter to Arizona Gov. Doug Ducey informing him that he cannot actually withhold COVID relief funds from schools that impose a mask mandate. Because that is apparently a thing Arizona's government has been doing as we try to wrench ourselves out of this pandemic.
"We are concerned that two recently created Arizona grant programs undermine evidence-based efforts to stop the spread of Covid-19," Deputy Treasury Secretary Adewale Adeyemo wrote, according to Politico.
The two grant schemes at issue are nominally designed to remediate educational losses suffered by low income students during the pandemic, although the state government fails to make clear why kids can't make up that lost ground with a piece of cloth over their faces.
---
In the larger program, $163 million from the American Rescue Plan (ARP) is being disbursed "to further aid in the mitigation of the economic impacts of COVID-19 and further ensure financial stability to Arizona Local Education Agencies (LEAs) in preparation for the 2021-2022 school year by providing additional funds to LEAs that received less than $1,800 per pupil[.]" The funds are only being made available by the state to "district and charter schools that are not requiring the use of face coverings during instructional hours and on school property," and schools are required to submit their mask policy with the grant application.

The smaller program is an even more explicit "fuck you" to public health initiatives, directing $10 million to "provide choice for parents who are facing financial and educational barriers due to unnecessary closures and school mandates and that are not in compliance with the provisions set forth in state law." In plain English, families earning up to 350 percent of the federal poverty level can get $7,000 per pupil to put their kids in private school or get a tutor if their zone school imposes a mask mandate or switches to remote learning because of an outbreak. Never mind that Arizona's ban on mask mandates in schools has been stayed by a judge, and the first hearing on the issue in the state's Supreme Court isn't until Nov. 2.
(Incidentally, the mask ban was blocked because it was jammed into a must-pass budget reconciliation bill. The plaintiffs' theory — the plaintiffs here are educators groups and the Arizona School Boards Association — is that this violates the requirement that the provisions, which include a ban on teaching critical race theory, actually relate to the budget. The court did not opine as to whether the law could have passed muster as a standalone bill.)
Ducey claims he has unlimited discretion to disburse federal COVID relief dollars as he sees fit, even if he explicitly incentivizes practices which are antithetical to public health.
"Here in Arizona we trust families to make decisions around what's best for their children," his spokesman C.J. Karamargin huffed.
"Following the challenges during the 2020 school year, everyone's primary focus should be equipping families with the resources to get their kids caught up," he told Politico. "That's exactly what this program does — giving families in need the opportunity to access educational resources like tutoring, child care, transportation and more. It's baffling anyone would disagree with this approach."
Karamargin failed to explain how withholding federal funding from schools which impose a mask mandate would help students in those schools catch up. Nor does the sop to private schools and "parental choice" allow parents to access that money to get their kids to a school that does require masks, if that is their "parental choice." It's almost as if it's a naked play to pro-Trumpist forces that want to spread the infectious disease further, instead of a policy about parents as final arbiters of their kids' safety.
Treasury is having none of it.
"A program or service that imposes conditions on participation or acceptance of the service that would undermine efforts to stop the spread of Covid-19 or discourage compliance with evidence-based solutions for stopping the spread of Covid-19 is not a permissible use of funds," Dep. Sec. Adeyemo wrote, telling Ducey that his state had 30 days to get its shit together or risk losing its share of the $350 billion COVID relief pot.
TL, DR: These filthy sumbitches would gladly sacrifice your kids' health to get one second of positive coverage from Fox News. Vote them all out.
[Politico / Arizona Daily Star]

Follow Liz Dye on Twitter!
Click the widget to keep your Wonkette ad-free and feisty. And if you're ordering from Amazon, use this link, because reasons.
Liz Dye
Liz Dye lives in Baltimore with her wonderful husband and a houseful of teenagers. When she isn't being mad about a thing on the internet, she's hiding in plain sight in the carpool line. She's the one wearing yoga pants glaring at her phone.