Race War Roundup: A Children's Treasury Of Loveable Rogues
News
August 23, 2013 01:30 PM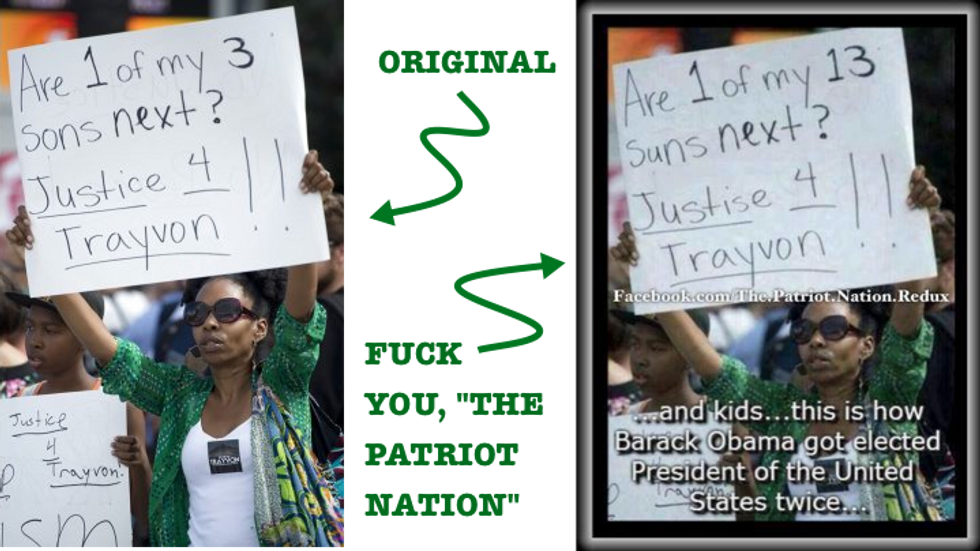 So, the altered photo on the right was posted on a rightwing Tea Party website; afterthe fakery was exposed, the "Patriot Nation" Facebook page has removed the photo and issued a stirring notpology:
---
There is but ONE race — the AMERICAN race, and it isn't hyphenated!

Anyone who is found to be posting such racist crap on this page or using racial slurs, will be banned permanently.
Of course, had the picture not been faked, they'd have been perfectly fine with it, because then it would just be a dumb one-of-THOSE-people.
And so welcome to today's wrap-up of charming folks who are just itching for a race war. Needless to say, the actual cause of the coming race war (so much blood!) will be those other people, not the nice patriotic self-defenders we'll be looking at below. (No one ever starts a race war; they just have race war forced upon them so they have to preemptively defend themselves.)
And in the meantime, Sarah Palin's going to take care of that dangerous man working at the DHS.
[Hatewatch via Huffpo / TPM / KMOV.com / Hatewatch and Bismarck Tribune via RawStory / Illustration via Cowgirl Up]