Radio Wingnuts: Colorado Now Just A Hellish Big Gay Pot Orgy Like North Korea
News
July 11, 2013 10:45 AM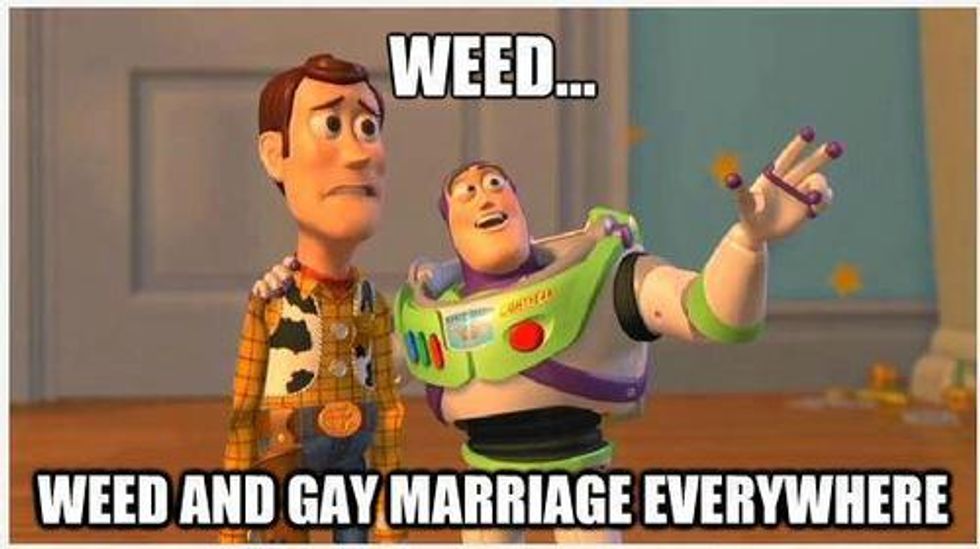 We briefly mentioned, a little while back, acouple of Christianist radio guys in Colorado Springs who were convinced that the state was being plagued with wildfires not because of a drought and a heatwave, but because God Almighty was angry with the state, where women sometimes wear pants and the legislature passed a civil union law (same sex marriages remain banned under a 2006 constitutional amendment). Well, Kevin Swanson and Dave Buehner are back, and this week they're melting down a little more, proclaiming Colorado "more tyrannical than communist China and maybe even North Korea." Not because of women in pants, but because... well, really everything, man, the abortion and the gheys and the gun control and the Mary Jane, just all of it. Dudes just need to smoke a joint and chill out.
---
Swanson -- who you may recall is the science genius who thinks the Pill leaves tiny dead babies in women's wombs -- is quite certain where this is all headed: Colorado is destined to become "the worst possible hellhole on planet earth." He briefly summarizes what he calls "the vision of the Democrats."
If it was evil, they loved it; if it was against God's laws, they said go for it. Our legislature in Colorado stuck a finger in God's eye every opportunity that they had in this last legislative season, it was amazing, they obliterated family freedoms at every step, they trashed gun rights, they embraced every moral abomination they could find, they undermined liberty at every single point.
You don't want to stick a finger in God's eye, because how is He supposed to aim His gun? Which he can't even do any more, because Colorado took away God's gun! (Colorado's horrible new restrictions, which are just like North Korea, actually just ban sales of magazines over 15 rounds, and require a background check for all gun purchases, which we suppose could be a problem for God because of past anger management issues). But that's not all, Swanson says. He really gets a on a roll here:
Their vision for Colorado is a drugged-out, marijuana'd-out homosexual culture where children are abused as much as possible, because children in non-nuclear families are twenty times more likely to be abused than children in nuclear families, so children abused as much as possible.

This is the vision of the Democrats, get children abused, kill them in the womb as much as possible, be sure there are as many dysfunctional families as possible, as many homosexual families as possible and children abused as much as possible, so government can grow their child welfare services even more, so that they can kill more kids, so that more adults can commit adultery, so that more kids would be murdered, so that more kids would be abused, so more government would tax and regulate and tax and regulate to produce the worst possible hellhole on planet earth.
While we were impressed by the logic that has Democrats seeking to promote child abuse as an excuse to raise taxes, we were ultimately disappointed. Swanson never quite got to dogs and cats living together.