Chicago Mayor Rahm Emanuel Blames ShootaPalooza On 'THOSE PEOPLE.' Again.
Guns
August 08, 2018 09:10 AM
Photo by Dominic Gwinn
On Monday, Chicago Mayor Rahm Emanuel choked back tears during a press conference with Police Superintendent Eddie Johnson to discuss another bloody weekend that left 66 people shot, and 12 dead.
"What happened this weekend didn't happen in every neighborhood in Chicago," Emanuel said, "but it shouldn't happen in any neighborhood in Chicago."
Wagging his finger and pointing towards cameras, the mayor groused about more grieving mothers and fractured communities, urging people to create a moral center, and turn in these violent ne'er-do-wells.
"Someone knows who did it," an exasperated Johnson sighed. "I hear people hold us accountable but I never hear of people holding others accountable."

Both Rahm and Johnson pleaded with communities to turn in those responsible, and denied that an increased police presence around Lollapalooza downtown kept beat cops from patrolling their neighborhoods.
It was a brilliant display of political theater, and they both deserve a fucking Oscar!
---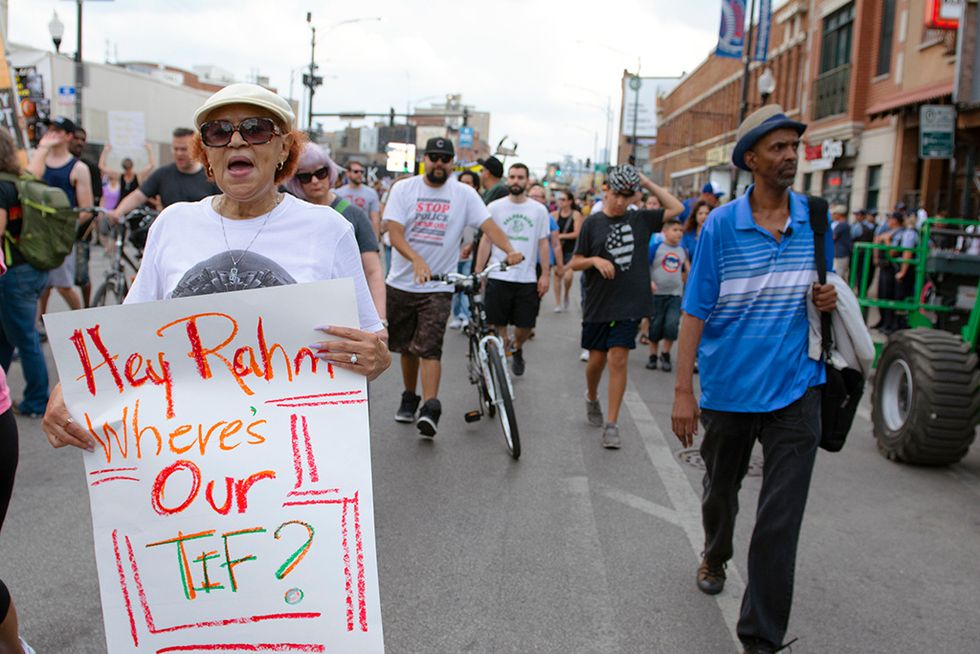 Anti-violence protesters march down Addison Rd. on Thursday, Aug. 02, 2018.Photo by Dominic Gwinn
All that violence even triggered Rudy Giuliani to weigh in on our post-apocalyptic bullet-ridden hellscape with some idiotic tweets about how Democrats are "brainwashing" Chicagoans into murdering each other. He then misspelled an endorsement of former police superintendent Garry McCarthy, a Democrat, for mayor, and restrained himself from blurting out "9/11."

Chicago murders are direct result of one party Democratic rule for decades. Policing genius Jerry McCarthy can do for Chicago what I did for NYC. He was one of the architects of Compstat. Slashed homicides over 70%. Tens of thousands of lives saved.
— Rudy Giuliani (@RudyGiuliani) August 6, 2018
Give Garry McCarthy your support @Garry4Chicago. Tomorrow I will get you information to contribute. MAKE CHICAGO SAFE AGAIN! He can do a lot better than Mayor Emmanuel who is fiddling while Chicago burns.
— Rudy Giuliani (@RudyGiuliani) August 6, 2018
It's a familiar scene: A bunch of people shot in Chicago (forty people over seven hours Sunday!) almost all in poor black communities in the South and West sides. Someone in DC opens their mouth, as if they really care. Rather than take responsibility, Rahm blames the victims, then goes to Stroger Hospital and watches someone get a bullet hole stuffed full of antibiotics. Wash off the blood, send thoughts and prayers, now dry those peepers 'cause tomorrow is new day in the Second City.

Rahm wasn't weeping with the mothers who can't afford to bury their kids. Rahm doesn't hang his head and trudge into AA Rayner & Sons for another wake on the South Side. Rahm's only sad because the last thing he needs heading into another election is another dead black kid from the ghetto.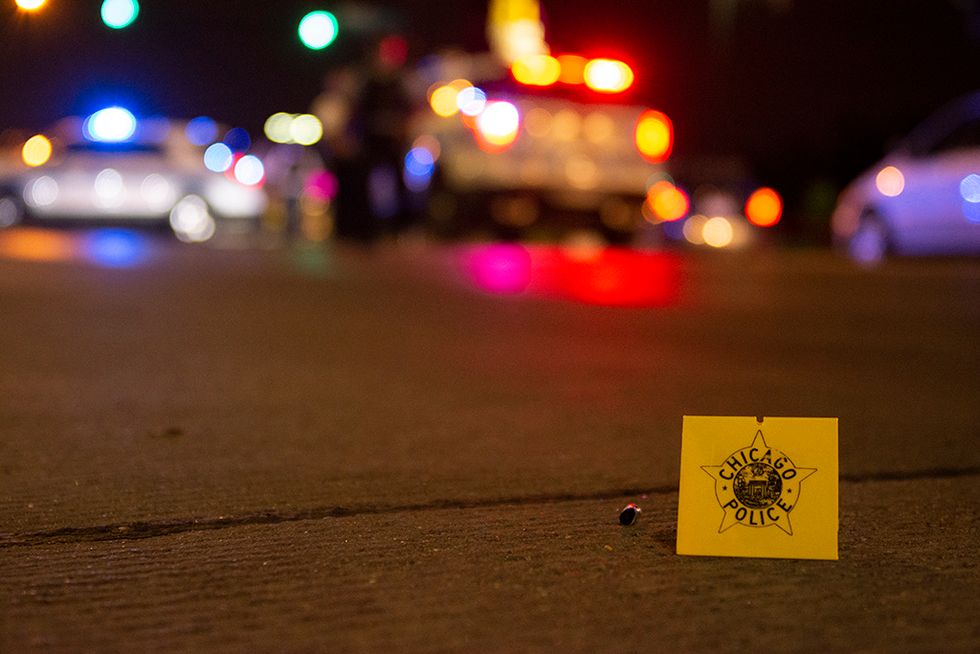 A bullet lays on the pavement after a drive-by shooting in Chicago. Photo by Dominic Gwinn
While city officials are quick to boast that the overall number of homicides and shootings are down by a few hundred bodies compared to previous years, they're still making an apples to oranges comparison with dead kids. Though Rahm grieves and bemoans the little black boys and girls killed in senseless gang violence, his policies have emboldened the gangs who've taken over many downtrodden neighborhoods.

In 2013 Rahm told the city that closing 50 bad schools, predominantly in the city's worst neighborhoods, would create a "brighter future." Four years later, studies show students from affected schools have done worse academically.
When Rahm talks about alleviating food deserts, he's not talking about connecting local entrepreneurs with community gardens and area farms, and creating incentives to set up shop in the 'hood. He builds a Whole Foods and a microbrewery next to some brand new condos in Englewood.

Since coming into office, Rham has taken money from his personal slush fund and given it to the needy suit and tie crowd in skyscrapers. Rather than remove lead pipes poisoning the majority of the city, or open mental health clinics and homeless shelters, Rahm got iPads for charters schools, and tried to build a basketball arena for a private college.
And let's not even get started on Rahm's $95 million cop academy, the secret facility Chicago police used to detain and torture people, "bait trucks" full of Nike shoes, or that cops have just stopped responding to certain calls. You get the picture.
If this had happened anywhere else we'd be calling it a killing spree or a mass shooting, but this is Chicago. This happens every summer, and that's all just "Chicago politics." Besides, all those problems are happening to "those people" down in "those neighborhoods," the rest of the city isn't burning down (yet). And if the violence was so bad, maybe "those people" should just go march in the streets, or march on city hall ... just not "our neighborhood." The traffic here is a killer!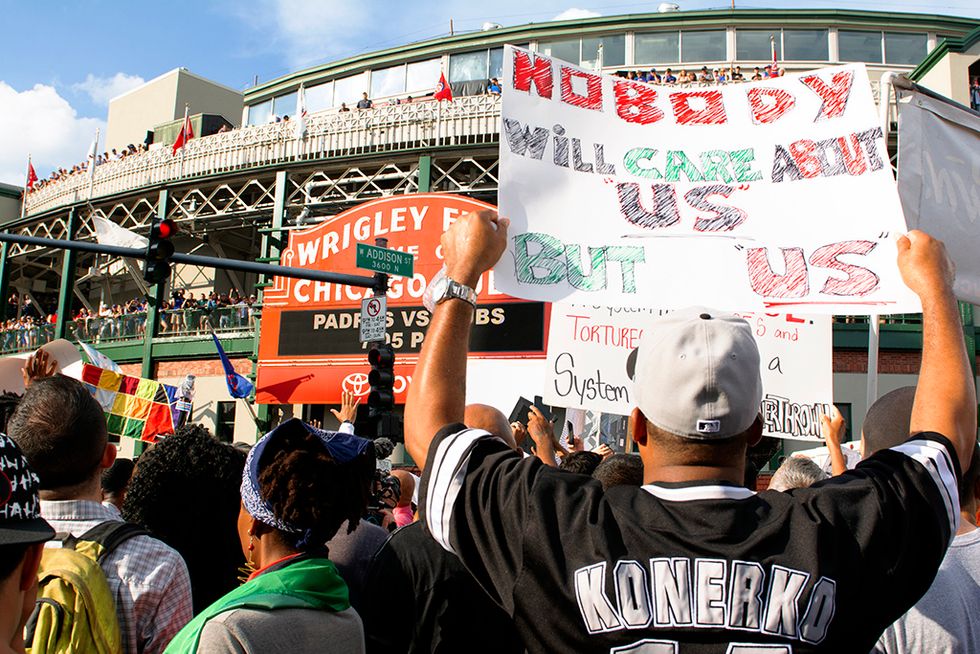 A man holds up a sign during a protest at Wrigley Field to draw attention to gun violence on Thursday, Aug. 02, 2018. Photo by Dominic Gwinn
[Chicago Tribune / Block Club Chicago / Chicago Sun-Times]


Wonkette is ad-free and reader-supported, and we think Rahm Emanuel can go fuck himself. If you've got some extra cash this month, can you hit the tip jar below?
From Your Site Articles
Related Articles Around the Web
Dominic Gwinn
Dominic is a broke journalist in Chicago. You can find him in a dirty bar talking to weirdos, or in a gutter taking photos.