'Red' States Just Dying To See Joe Biden Fail To Get Them Vaccinated
coronavirus
July 07, 2021 09:18 AM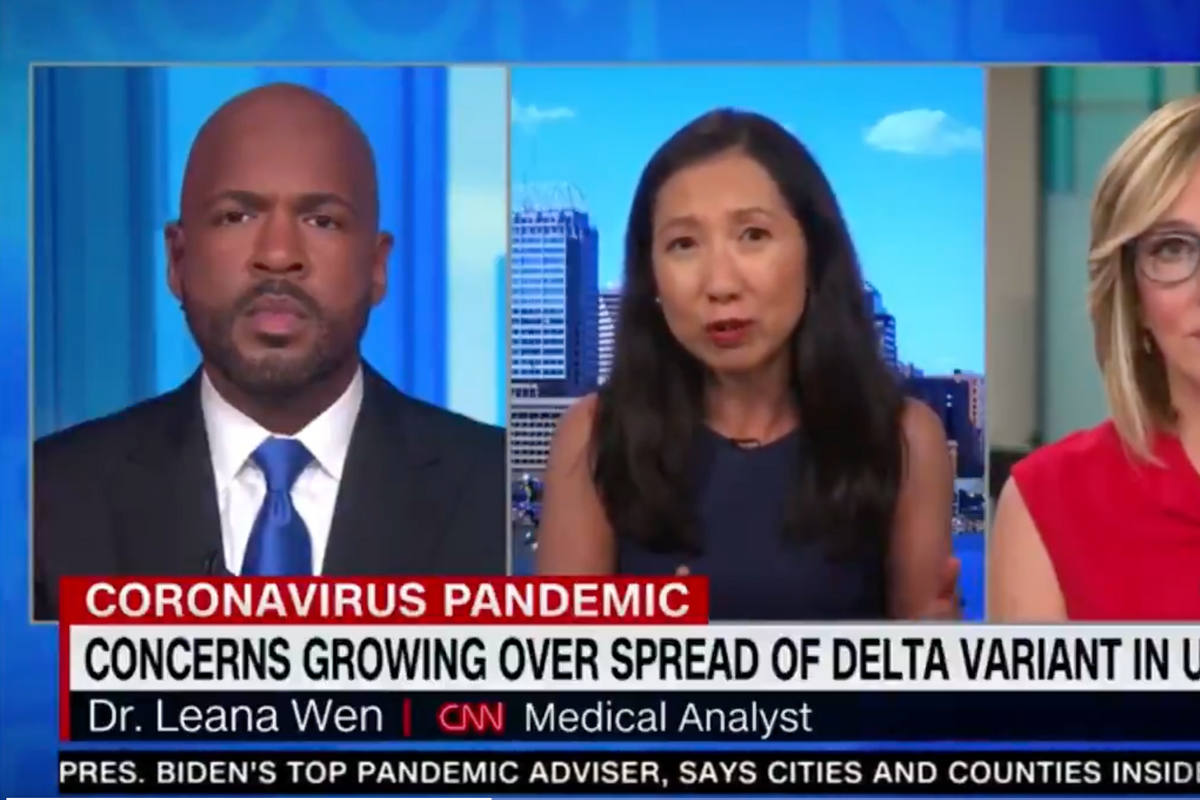 Most of us enjoyed a normal Fourth of July holiday where the neighbor's goddamn fireworks kept us up all night and traumatized our pets. America's back, baby! However, the COVID-19 pandemic isn't finished just yet. The delta variant is making a final, desperate lunge for our throats.
USA Today dropped a new analysis of Johns Hopkins University data that is sobering but not surprising: COVID-19 infection rates are rising in almost half of all US states. They've more than doubled in Alaska, Arkansas, Kansas, and South Carolina. Last week, the delta variant crossed the South Dakota border, and Governor Kristi Noem, who'd just sent National Guard troops to the US-Mexico border, is whining about fireworks on Twitter.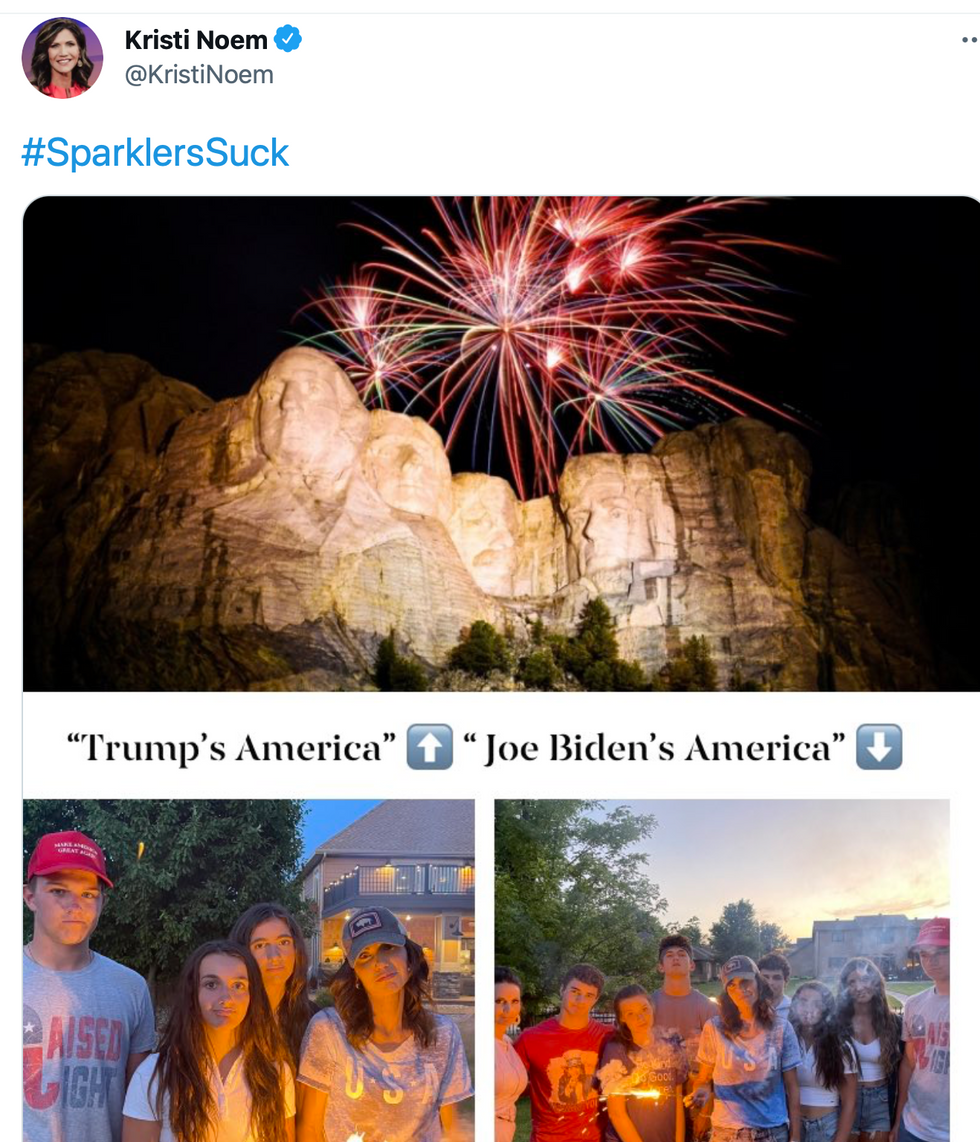 For God's sake, lady, the temperature in Sioux Falls, South Dakota, was over 100 degrees on Saturday, and your state is also experiencing a drought. Can no one in your immediate circle science? Also, the fireworks display pictured from "Trump's America" took place in 2015, which was still Barack Obama's America or as we used to call it "America."
---
We might never fully understand why COVID-19 cases are surging. All we have to work with is the obvious fact that the delta variant runs wild in states where coronavirus vaccination rates are low. For example, Missouri has the highest number of new COVID-19 cases per capita over the past two weeks, and only 39.4 percent of its residents are fully vaccinated. COVID-19 related hospitalizations in an especially hard-hit section of Missouri spiked by almost 30 percent over the Fourth of July weekend. This is obviously because Vice President Kamala Harris didn't visit the border quickly enough.
The buck obviously stops with President Joe Biden, who the Daily Wire points out FAILED to meet his July 4 vaccination goal. Biden wanted 70 percent of Americans to have received at least one vaccination shot by Independence Day, but we only got to 67 percent. Missed it by that much!
Colorado reached Biden's vaccination goal on Saturday, no thanks to Rep. Lauren Boebert, who chose to mock Biden's perceived failure rather than encourage her fellow Idiot Americans to get vaccinated.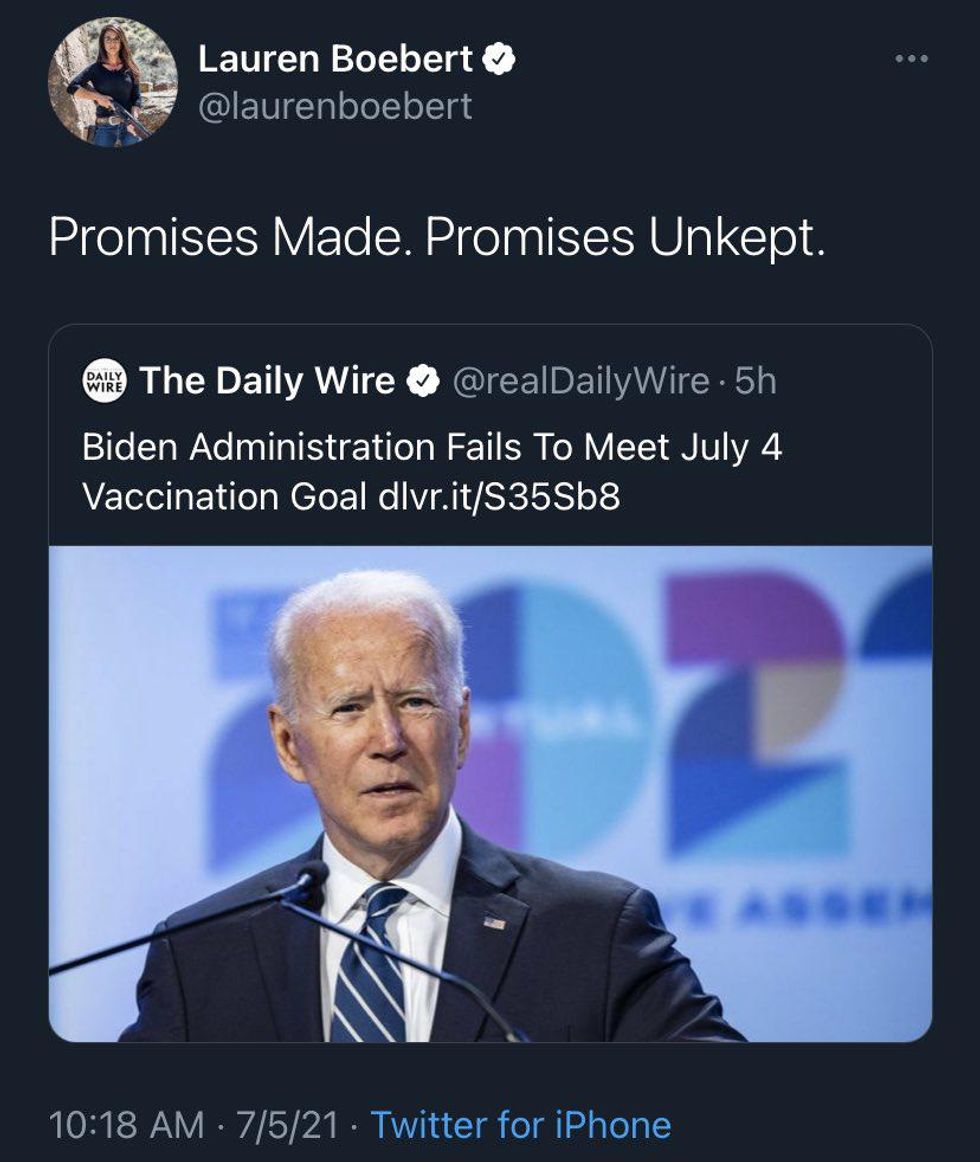 Twitter
"Promises Made. Promises Unkept" she crowed like the publicly funded Twitter troll she is. However, Biden achieved his goal by any reasonable measure. There are ample vaccine shots available for Americans with the frontal lobe capacity to accept them. In April, Missouri health officials claimed state distribution issues "made providing shots difficult." Biden doesn't run the state of Missouri.
COVID-19 infections increased almost 15 percent last month in Mississippi, which has the lowest vaccination rate in the country: Only 31 percent of the state's residents are fully vaccinated. During an appearance on "Meet the Press," Dr. Anthony Fauci said there's "good reason" to wear a mask when visiting Mississippi even if you're fully vaccinated. Trump won 81 percent of the white vote in Mississippi last year, so if Dr. Fauci ever finds himself in the state he should go full Spider-Man with his mask.
DR. FAUCI: Because as we've said so often, that vaccines are not — even as good as they are, and highly effective, nothing is 100 percent. And if you put yourself in an environment in which you have a high level of viral dynamics and a very low level of vaccine, you might want to go the extra step and say, when I'm in that area where there's a considerable degree of viral circulation, I might want to go the extra mile to be cautious enough to make sure that I get the extra added level of protection. Even though the vaccines themselves are highly effective.
But we're in a Catch Twenty-Stupid: States with low vaccination rates are also the least likely to wear masks or tolerate others who do. Rep. Marjorie Taylor Greene tweeted a mini-manifesto Tuesday where she shared the same old lies about the 2020 election and smeared Democrats as inherently un-American. However, she insisted that all the "regular Americans" she speaks with daily are "over covid."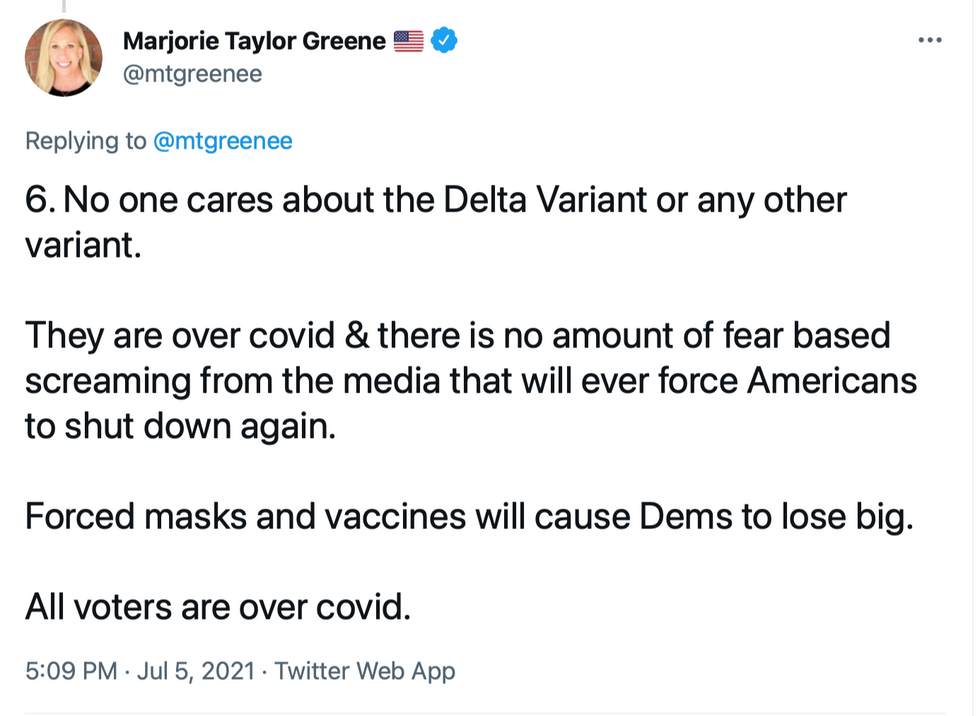 Twitter
She said:
No one cares about the Delta Variant or any other variant.

They are over covid & there is no amount of fear-based screaming from the media that will ever force Americans to shut down again.

Forced masks and vaccine will cause Dems to lose big.

All voters are over covid.
Georgia's vaccination rate is also sadly low at just 36 percent.
There's a shocking contrast between Republicans who blow off an infectious disease that's killed 600,000 Americans while simultaneously freaking out over a so-called border "crisis" that has killed no one. This is the GOP's cynical message leading into the midterms. Republicans just hope they don't kill so many of their own voters they can't recapture the House and Senate.
Meanwhile, President Biden is expected to press on with a vaccination campaign intended to save these voters from themselves. He won't dismiss it as a "red state" problem because he's not a sociopath. He's the actual president of a less-than-United States.
[L.A. Times / The Hill]

Follow Stephen Robinson on Twitter.
Keep Wonkette going forever, please, if you are able!
Stephen Robinson
Stephen Robinson is a writer and social kibbitzer based in Portland, Oregon. He writes make believe for Cafe Nordo, an immersive theatre space in Seattle. Once, he wrote a novel called "Mahogany Slade," which you should read or at least buy. He's also on the board of the Portland Playhouse theatre. His son describes him as a "play typer guy."