Republican Lady Explains Good Fathers Stop Gun Crime. RFK's Son Chris Kennedy Says Go Fuck Yourself
Elections
January 17, 2018 11:05 AM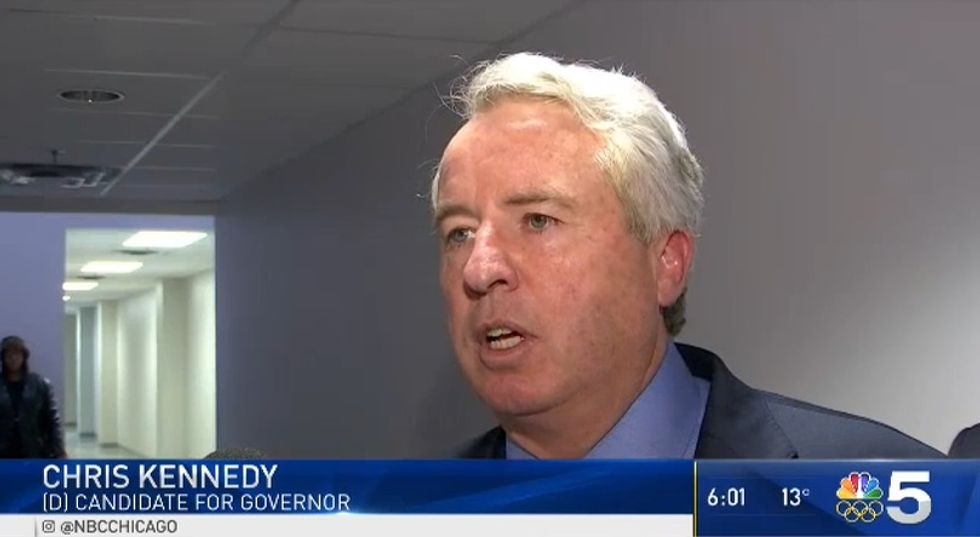 He might know a thing or two about gun crime.
---
Chris Kennedy, the son of Robert F. Kennedy, is running for the Democratic nomination for Illinois governor this year. Rep. Jeanne Ives is primarying current Governor Bruce Rauner from the right. And at a candidate forum Monday night, offered her prescription for the problem of guns in Illinois:
The problem is the gun violence in this city of Chicago, predominantly. And you know how you're going to solve it? Fathers in the home.
The audience booed, and Ives repeated, confidently, "Fathers in the home."
When it was Kennedy's turn to speak, his reply was short and simple: "Well, I wish I could agree with you. I didn't have a father in my life. Somebody shot him," Kennedy said. And then he got up and left the forum, getting a standing ovation. He hadn't yet reached the age of five when his father was assassinated the night he won the California presidential primary in 1968.
Hell of a way to mark Martin Luther King Day, Rep. Ives. If only he'd had a father to prevent gun violence, too, huh?
As he left the forum, Kennedy said,
You know, some stuff hits a raw nerve and, um, I think that should be a debate about great ideas, a clash, and not one of emotions [...]

But when I hear such ignorance and stupidity aired out by someone who knows so little about so much, I don't think there's an appropriate place for them to be on a podium on a dais with other people who have given these issues thought and have the emotional capacity to be empathetic at the same time.
Kennedy later told the Chicago NBC affiliate,
I lost my father to someone with a gun. For someone to say simply the solution is to have a father-in-law – I don't know. How shall I react? What should my family have done?
Clearly, his lack of a strong male role model left him unable to deal with simple facts about guns and character from an upstanding moral scold Republican lady.
Ives scored something of a threefer, since Kennedy's running mate, Ra Joy, had a son murdered with a gun during a mugging, and one of the other Democratic candidates, J.B. Pritzker, also lost his father when he was seven years old, to a heart attack. He stayed at the debate, but told the Chicago Tribune,
I don't know what was going through Chris's head other than I can only imagine the grief that he feels when he thinks of his father's death.
Ives campaign spokesperson Kathleen Murphy later told NBC Chicago that Rep. Ives hadn't meant to offend Kennedy. Honestly, we understand: It's the sort of little slip that's just bound to happen when you're around a guy whose father and uncle were both assassinated by gunmen. You might not mean to tread on sensitive territory, but before you know it you're just inadvertently mentioning leaving through the kitchen, or chatting casually about the magic bullet theory. These things happen.
But just to live up to Kennedy's point about Ives, Murphy couldn't resist the urge to keep digging, and
reiterated the importance of fathers in domestic life, citing "similar statements" like President Barack Obama's 2008 Father's Day speech at the Apostolic Church of God on Chicago's South Side. In his speech, the then-candidate said, "too many fathers also are missing — missing from too many lives and too many homes."

"Those are President Obama's words, and that was what she was echoing today," Murphy said. "She certainly meant no offense to Mr. Kennedy."
So shut up, you're not going to turn on your big Democrat hero, The One, are you, huh? We suppose we could point out that while Barack Obama has in fact been roundly criticized for his Cosbyesque pull-your-pants-up-and-be-responsible rhetoric, notably by Ta-Nehisi Coates, Obama never once suggested that missing fathers caused gun violence. He seemed to think that has more to do with guns being insanely easy for people to get their hands on.
Rep. Ives also did her part to make the whole thing worse, telling the Chicago Tribune that she thinks the lack of fathers is one of the main causes of crime, and then veering straight into the personal again:
She went so far as to speculate that the son of Kennedy running mate Ra Joy, who was killed near the University of Chicago in June, was killed by someone who lacked a father's influence.

"I'm sure Ra Joy, whoever the perpetrator was against his son, I'm imagining that person also did not have a father figure in the home," Ives said.
She seems nice. Wait, we meant pathologically clueless. As for her little faux pas in suggesting fatherless homes resulted in criminals, Ives explained,
he's obviously very sensitive about (his father's death) and I can understand why. It's horrible. I'll be honest with you, it didn't even, I didn't connect the two because the two aren't connected.
Yes, she is saying that Kennedy is white. She doesn't have a setting for "subtle."
Kennedy said the shitshow of the Republican 2016 primary debates had been part of what motivated him to leave the stage:
"the Republican Party allowed Donald Trump to say racist and simplistic things." Kennedy argued that Republicans should have vacated the stage in protest like he did when he heard "simplistic solutions to tragic problems."
Sounds good to us. Maybe this will catch on, and the next time Sarah Huckabee Sanders starts lying, the White House press room will just silently file out.
We can dream, can't we?
Yr Wonkette is supported by reader donations. Please click here to send us money.