Republicans Demand Obama Declare Holy War, Invade France
News
January 12, 2015 08:50 AM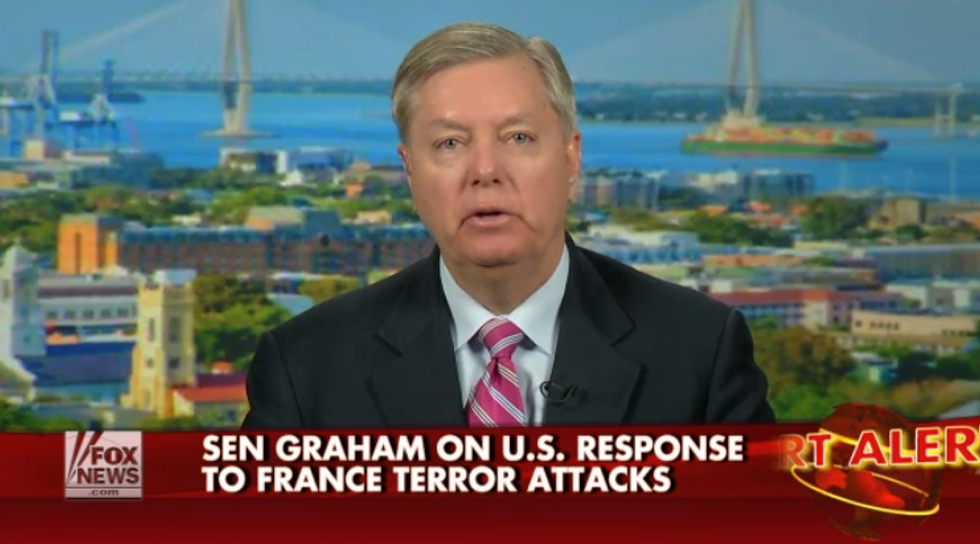 ---
It used to be that Republicans wouldn't have to hate President Obama so much if only he had the Dad Jeans to call terrorist attacks by their rightful name, which he has never done. But that was ages ago, and now that the president, ever the appeaser, has started using the T-wordfor the first time ever, there's a whole new standard. Sure, the president said the slaughter at Parisian satirical magazine Charlie Hebdo's office was a "terrorist attack" and that his administration would "help bring these terrorists to justice." But that's still sort of wishy-washy in today's even more terroristical climate, don't you think? How do we know he really, truly understands the seriousness of a terrorist attack if he's only willing to call it a terrorist attack?
Please go on Fox News and explain, Sen. Lindsey Graham:
I have no idea why the president of the United States won't call this a religious war when the president of Egypt does. Our strategy to combat radical Islam is failing. President Obama's world view has been, "I don't want to be George Bush." Radical Islam has risen in the last three or four years on his watch. Pulling our troops out of Iraq against sound military advice allowed Al Qaeda in Iraq to rise again to become ISIL. Not supporting the Free Syrian Army three or four years ago when it would matter. Taking Gaddafi down without dealing with the militias has been the perfect storm to lead the rise of radical Islam all over the world, and I put it at the feet of our president.
Also, Lindsey has a hangnail, pretty sure that's Obama's fault too. If only he'd take his international policy cues from Egypt! And if only he'd try to be more like George W. Bush, who never had any terrorist attacks or religious wars on his watch. (No, really, it's true. He didn't. His former spokeschick Dana "What is Cuba?" Perino said so.)
In addition to not using the proper terminology in discussing the attacks in France, Graham is appalled at the president's personnel choices.
"Last time I checked, we're at war," he scoffed. "I wouldn't send my attorney general, if I were president, to deal with radical Islamic terrorists." Because Holder is merely "a law enforcement officer," and not, say, Czar of Terrorist Ass-Kicking, "that says all you need to know about Obama's view of this conflict. He thinks it's a crime out of control. I think it's a war out of control."
Good thing Graham is toying with the idea of becoming president of rich, white men in 2016, so he can make the right kinds of nomenclature decisions. Is there anything else the president is doing wrong, while Lindsey's on a roll?
This is an international war, it's a global war. We don't have a strategy. I hope that Congress will do a global risk assessment about how many groups are out there and what kind of comprehensive strategy we can come up with to defeat them.
Huh. Well, that sounds like a job for Congress, then, doesn't it? But whatever, that's Obama's fault too. Somehow. Does Graham have any more specific suggestions? Sure he does! In addition to a strategy to defeat the terrorists, he also thinks the president should have "a coherent strategy." Guess Graham did learn from the Bush years that an incoherent strategy isn't advisable.
Graham might not have more detailed tips for How To Defeat The Terrorists -- or maybe he's just going to keep that a secret until after he's elected president? -- but he's pretty sure it involves "a ground campaign."
If you really want to make a difference, go into Iraq and Syria with an international coalition on the ground and destroy these guys. Every day they're allowed to survive is a day that we can get hit. So if this doesn't translate into a coherent, aggressive strategy to win in Syria and Iraq, it's just a feel-good exercise.
Because invading countries has worked great for us so far. Let's do more of that. And you will never guess who, coincidentally, completely agrees with him. Why, it's Graham's bestest buddy and hetero-lifemate Sen. John McCain, who thinks pretty much the exact same thing. What a shocker! Blah blah "no strategy" blah blah "Free Syrian Army" blah blah "boots on the ground."
ISIS right now is winning, and we need to go after them, and we need to have more boots on the ground. We need to understand that Syria and Iraq are the same. We need to arm the Free Syrian Army. We need a no-fly zone, which many of us have been calling for for years, and a coherent strategy that can be presented to the Congress because they're going to be wanting an authorization for the use of military force.
OK, good talk. And how would this plan have prevented the attacks in Paris, exactly? How would invading the Syrian nation of Iraq again prevent those "lone wolves" from committing acts of terror -- or "religious war," as we are now mandated by law to call it? Ha ha, what a stupid beside-the-point question that McCain does not even want to bother acknowledging, because here's his answer to that:
Well, first of all, we have to have every Muslim cleric in the world, especially in the West, condemn this as a violation of the Koran, and an honorable and decent religion. That has to happen, and it hasn't been happening.
Sure, that's a coherent strategy. Just like how every time a white dude tries to bomb an abortion clinic in the name of Jesus, McCain is first in line to condemn those acts too, because killing doctors in the name of "life" is a violation of -- oh, screw it, we all know how that never happens. Any more suggestions for the guy Americans preferred to put in the White House, John?
Second thing, obviously, is that we have to try to track these people. But look -- it's a threat, the lone wolf. It is a serious threat. But that's far different from some sleeper cells, manned by people who are trained, as one of these young men was in Yemen -- the "success" Yemen -- and they're training them right now in Syria, where we have refused to help the Free Syrian Army. They're killing more of them than we are training. And we have to go to the heart of it because it's one thing to have a lone wolf. And that's bad. But far worse is a person who has been trained and equipped and sent on a specific mission. That's where you get the big attacks.
Right. So, in other words, we invade Iraq-Syria -- Yemen isn't on the list, for now anyway -- and somehow, that'll fix it. Of course, we wouldn't have had to fix anything at all, if only Obama had listened to the military advisers in the first place and not insisted on pulling troops out of Iraq, just like McCain insisted at the time. It would probably be impolite to remember that one time McCain thought it was just swell that Obama had pulled our troops out, all to the credit of no-longer-president Dubya. Good thing we don't even try to be polite around here.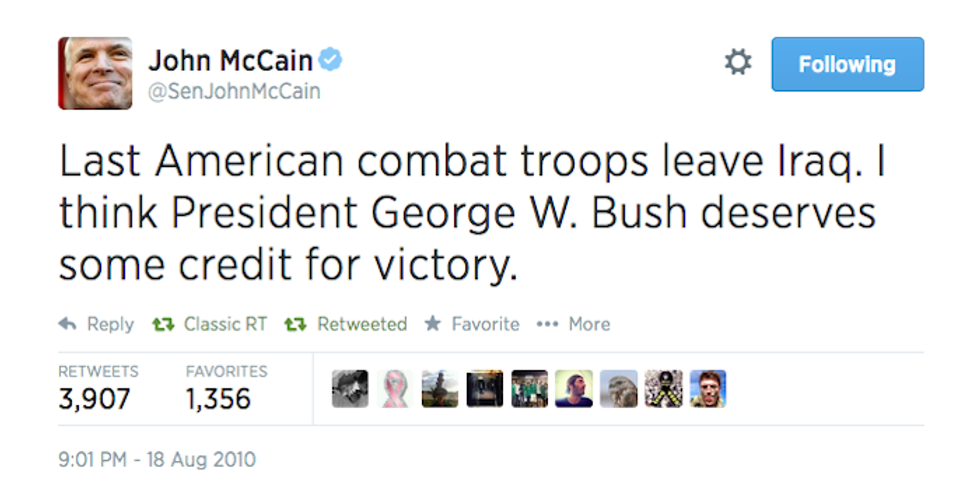 So while the president might not have a strategy, coherent or otherwise, the Senators from the Bomb Everything wing of the Republican Party do. Blame all the Muslims, since they refuse to apologize; update the dictionary because "terrorist" ain't what it used to be; and invade whatever country is handy, and voila! Victory.
And, while no Republican would ever suggest such a thing, if Obama fails to properly invade all the countries, or fails to fail to invade all the countries, there's always McCain's Plan B from way back in 2013: impeach!