Republicans Have Massive Freedom Boner For Egypt's Dictator
News
January 15, 2015 03:44 PM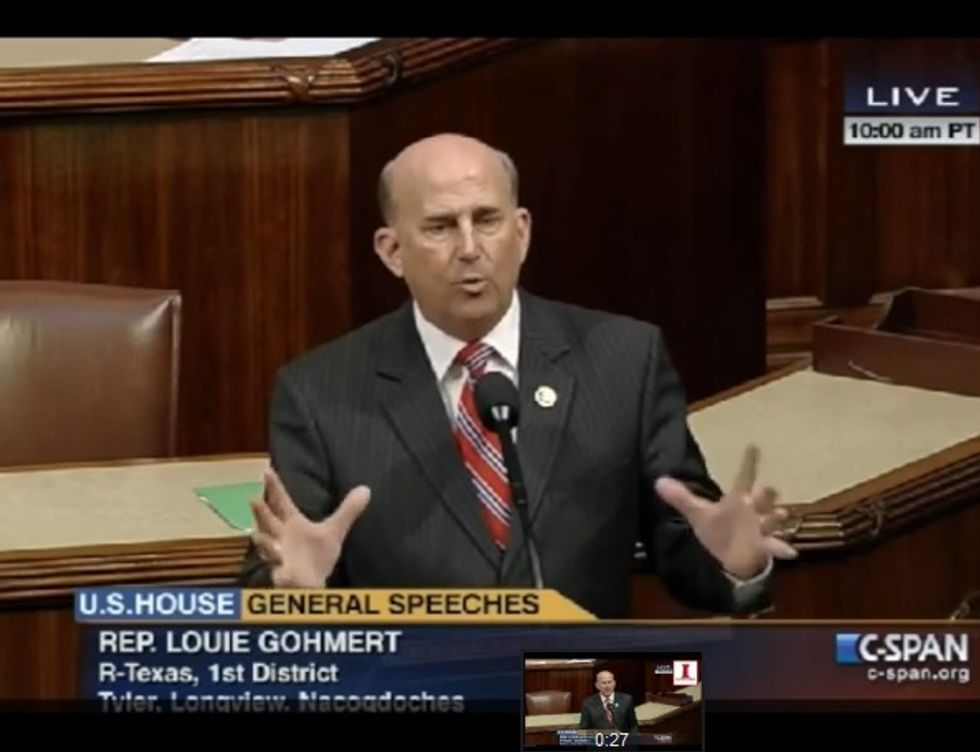 Attention, Wonkers: We're proud to announce that the American right has a new Strongman Boyfriend! They seem to have a real crush on Egyptian President Gen. Abdel Fattah al-Sisi, who seized power in the 2013 coup against Mohammed Morsi. Lots of wingers love him because he outlawed the Muslim Brotherhood and made the trains run on time, or at least he outlawed the Muslim Brotherhood. And even better, as Sen. Lindsey Graham noted over the weekend, al-Sisi recognizes the need for an actual religious war against radical Islam, while Barack Obama pretends that terrorists aren't even Muslims at all, and won't even say the words "radical Islam," except for the times that Obama has actually said "radical Islam."
---
The point is, Obama is just not as committed to fighting radical Islam as much as the manly strongman who rules Egypt, and polished reflective surface Rep. Louie Gohmert is just sick of it. In a floor speech Wednesday, Gohmert shared his fantasies about what a great avatar of freedom and liberty the military dictator is, and wished we could have some manly leadership like that:
"I hope one day that our top leaders in this country will have the courage of President al-Sisi in Egypt and they will reflect, as Gen. al-Sisi has, the will of the people of their country," Gohmert said.
Well of course! That's why they elected him, after all. Or at least haven't thrown him out in another coup just yet. Gohmert went on to praise the al-Sisi regime's dedication to something that might be like freedom and justice, if you don't mind a bit of military overthrow of an elected government, and a few rampant human rights violations:
"If the story is properly written about Egypt, and one day it will be, they will see that in the last six years, that besides Israel, the country that has been most fearless in standing up for freedom and against radical Islamic terrorism, unfortunately, has not been the United States because of our leadership," he said.

"It has been the nation of Egypt," Gohmert said.
That's some pretty awesome doublethink at work. Not only is Barack Obama a feckless dictator who's too wishy-washy as he rules America with an iron fist, but he'd be much better if only he'd emulate the freedom-loving actions of an actual dictator who seized power in a literal military coup. Not for nothing was Louie Gohmert crowned the East Texas Legislator of the Year, a title that would be considerably improved by the inclusion of the word "Shitmuffin."
Sarah Palin was also in a hurry to jump on the "Obama won't say we're at war with Islam" bus, which seems to be shaping up as the "act of terror/terrorist attack" pointless wordfight of 2015. Palin went on Inside Edition to flog her idiot reality show and to explain why saying "radical Islam" is now the most important thing Obama can do to fight terrorism:
They're so politically correct, and yet they're so politically wrong on just about everything [...]

It is, in a sense, being a chicken, as was made manifest when we didn't have a high-ranking official go over and unify with other world leaders to say, "No, this Islamic fundamentalism that is resulting in such terror across the globe, we're not gonna have that in our land."
White House spokesman Josh Earnest explained the administration's diplomatese Tuesday, arguing that calling terrorists "Islamic" actually legitimizes their claim to be acting in the name of Islam:
These terrorists are individuals who would like to cloak themselves in the veil of a particular religion. But based on the fact that the religious leaders of that religion have roundly condemned their actions, those religious leaders have indicated that their actions are entirely inconsistent with Islam. I think the fact that the majority of victims of terror attacks that are carried out by al Qaeda and adherents to their particular brand of violence, that the majority of them are Muslim I think is a pretty clear indication that this is not a matter of the world being at war with Islam.
In other words, Barack Obama is secretly a Muslim and won't name our real enemy because he wants them to win! You know, like that time the president said,
All Americans must recognize that the face of terror is not the true faith -- face of Islam. Islam is a faith that brings comfort to a billion people around the world. It's a faith that has made brothers and sisters of every race. It's a faith based upon love, not hate.
Oh, except the president who said that was George W. Bush. Guess he was too friendly to radical Islam, too!