Rick Gates, Fucking Dummy, Tried To Put One Over On Bob Mueller. A Lawsplainer!
Elections
February 23, 2018 03:47 PM
Rick Gates, BOY WONDER!
---
Here's a PSA, kids: DO NOT LIE TO THE FBI. No, not even if you really don't want to tell the truth and are pretty sure you're smarter than Johnny Law. Just don't. Like, EVER.
Exhibit A: Rick Gates, who has just pleaded guilty to conspiracy against the United States and making a False Statement to the FBI.
Let's acknowledge at the outset that Gates is a fucking moron. And not just because he left a paper trail a mile wide of the one million financial crimes he committed with Paul Manafort, ALLEGEDLY. And not just because he went into business with Paul Manafort, the sleaziest of sleazeballs, FACT. But even knowing Robert Mueller had all of his boss's hard drives, Gates was still lying to him three weeks ago ABOUT A WRITTEN DOCUMENT.
WTF, Dude!
For weeks we've been hearing that a plea deal was imminent for Gates. Over the course of several sealed hearings, Gates's lawyers Shanlon Wu, Walter Mack, and Annemarie McAvoy asked to be removed from the case for "irreconcilable differences."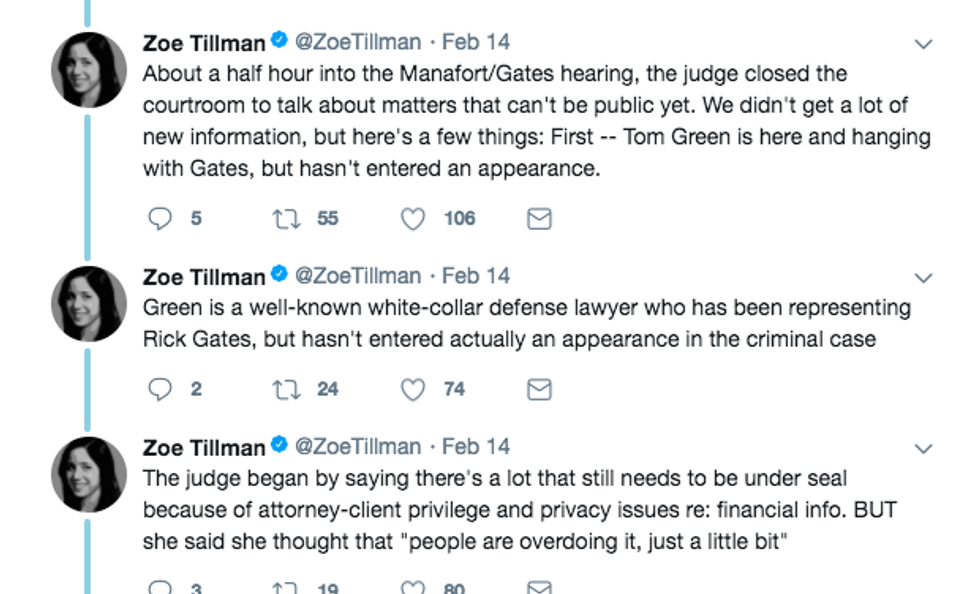 Yesterday the court finally approved their withdrawal, and Gates's new lawyer Tom Green entered an appearance. But no one heard about it because ...
Yesterday Robert Mueller dropped a 32-count indictment on the swashbucklingest, most tech-savvy money launderers in all of Northern Virginia! As Wonkette's own Evan Hurst detailed this morning, Manafort's trusty sidekick Rick was always down to falsify a loan application, sign those bogus tax returns, and pretend to have maxed out Uncle Pauly's credit card when the bank came calling. Nothing could come between them.
Well, nothing but the FBI. Because when Lil' Ricky went to talk to them at the beginning of this month, he might have made a little fib.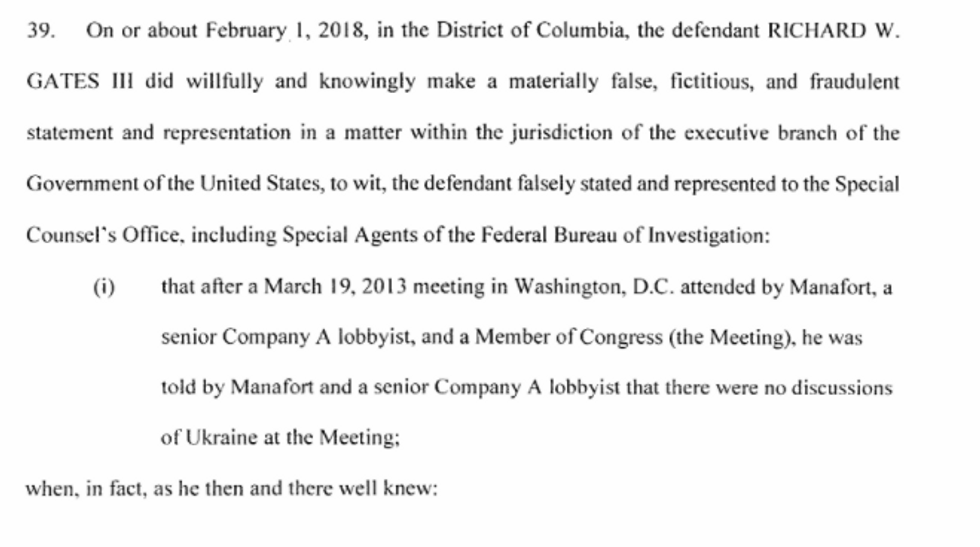 See, he told Mr. Mueller that Manafort and the Ukrainian lobbyist never did discuss Ukraine with no Member of Congress in March of 2013. NO SIR! But in fact they had discussed Ukraine, and Gates knew it because he helped write the report for their Russian-backed Ukrainian clients saying, "We just met with the Russia-lovingest fascist in the United States Congress. And he is PSYCHED for you guys to throw that Tymoshenko woman in jail and prop up that Yanukovych dude that Putin likes."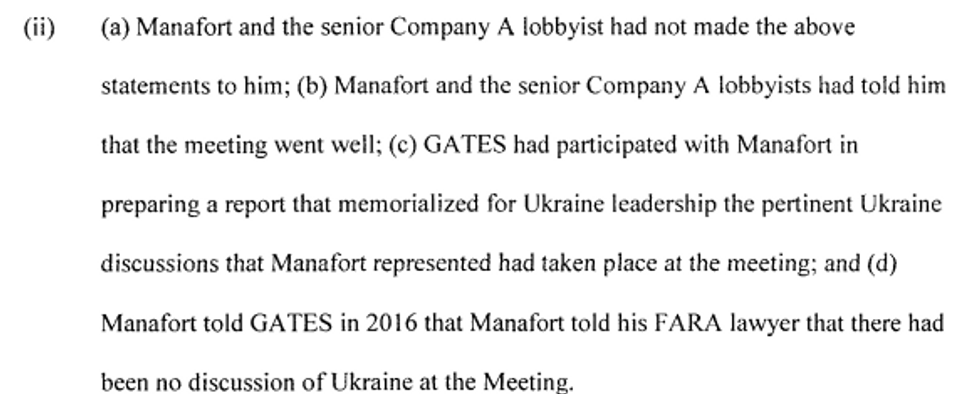 Can you guess who the congressman was?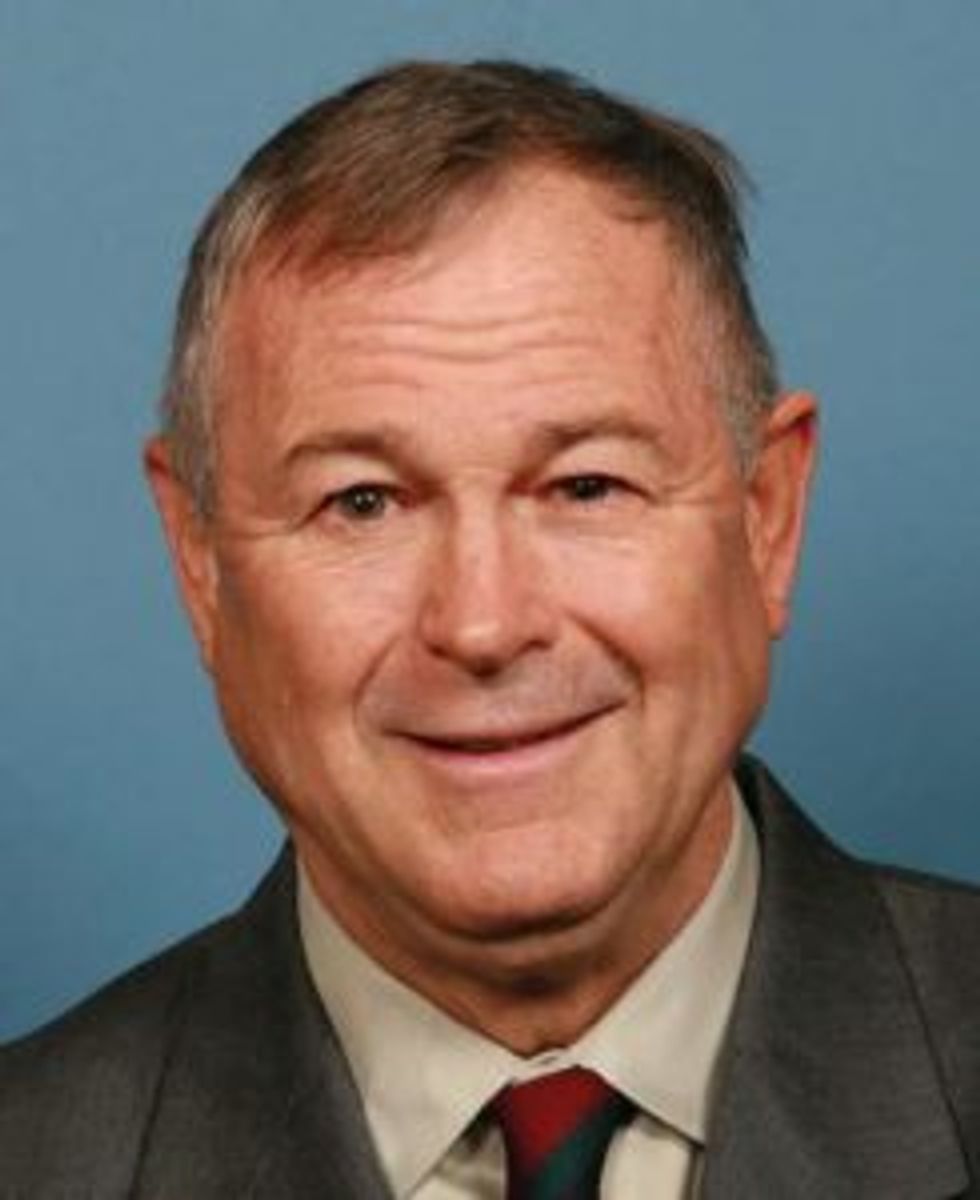 Dana Rohrabacher (R-Putin)
Ayup, it was Rohrabacher. The one the House Majority Leader joked was "paid by Russia" har har. And a week later, Manafort made a nice contribution to Rohrabacher's campaign. As one does.
So far, so grifty. If you guessed that Gates was negotiating to avoid jail time and finally tapped out when Mueller dropped those indictments yesterday, you're probably right. But let's step back and take a guess at what's going on behind the scenes here.
On February 1, Gates's lawyers moved to withdraw from the case, citing irreconcilable differences. They entered their motion about 10 minutes after Gates had his "Queen for a Day" with the FBI. That's the proffer interview, where a witness lays all his cards on the table and says to the prosecutor, "What will you give me for this?"
Now in normal circumstances, a witness can't be prosecuted for what he says during the proffer. But he can lose that immunity if he lies. WHICH HE DID. Meaning that whatever he said during that interview might be used to prosecute him.
And in normal circumstances, lawyers aren't allowed to pull out in the middle of a case. But if, say, you know your client lied to the FBI, you have an ethical obligation to withdraw. And you have to balance that obligation with attorney-client privilege. Thus, the "noisy withdrawal," where the attorney is allowed to breach the privilege and tell the judge in chambers that she needs to be excused from the case because her client has been less than wholly truthful.
And look at this thread from your favorite lawyer Renato Mariotti from February 1!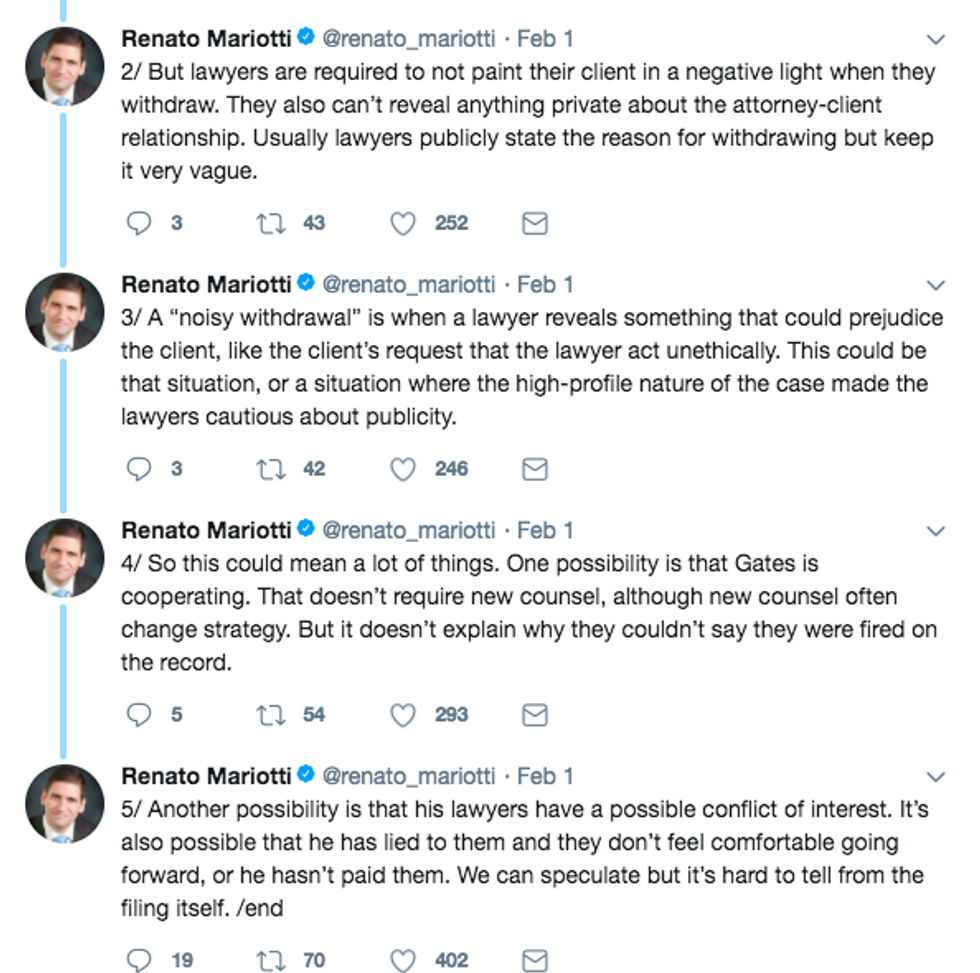 Boy, that guy is SMART! All the Illinois Wonkers should vote for him to be the next AG!
But back to Gates. We don't know for sure what happened here, but if your eyes glazed over during the TL;DR, our working theory is this:
Gates lied to the FBI on February 1 during plea negotiations.

His lawyers shit a brick and immediately moved to withdraw.

Because of the lie, Gates lost immunity from prosecution for whatever he said during plea negotiations.

Gates is a FUCKING FOOL.
We haven't worked out yet why that meeting with Rohrabacher was incriminating enough to lie about, but it sure is an interesting question, huh?
Okay, batten down the hatches Wonkers. Emperor Dementia 'bout to lose his shit on Twitter when he realizes that Gates is singing like a canary. Shit's gonna get weird.
Follow your FDF on Twitter!
Please money us! We never lie to the FBI!
Liz Dye
Liz Dye lives in Baltimore with her wonderful husband and a houseful of teenagers. When she isn't being mad about a thing on the internet, she's hiding in plain sight in the carpool line. She's the one wearing yoga pants glaring at her phone.