Rick Perry Discusses Awfulness of Gay Rights While Texas Burns
News
July 29, 2011 04:45 PM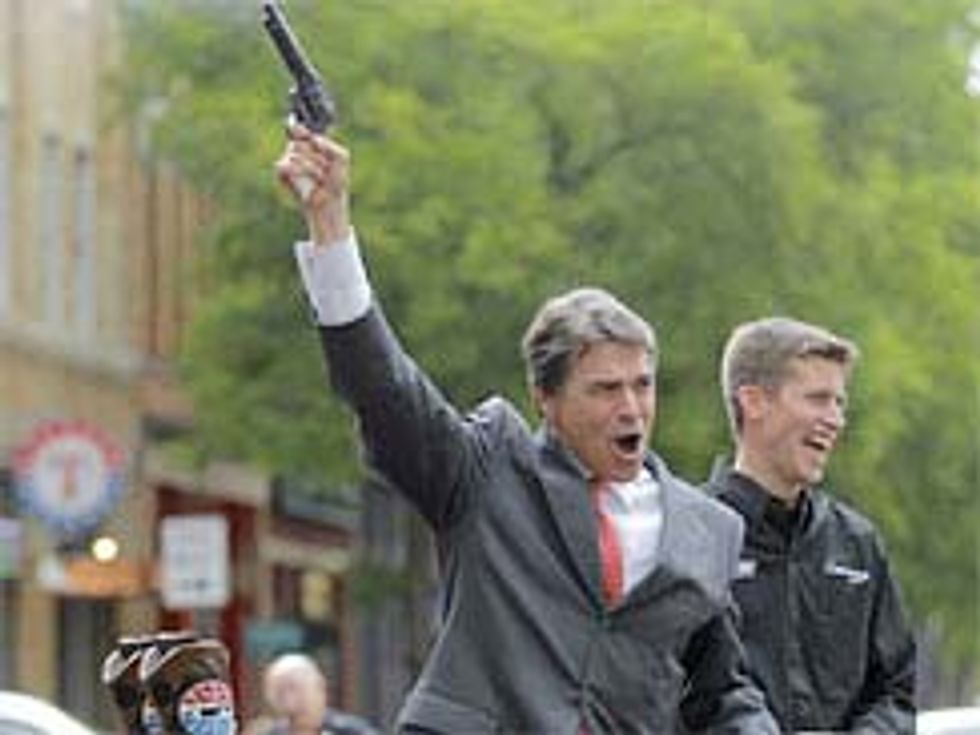 Rick Perry recently skipped Texas, where there is an epic droughtengulfing 90% of the state, so that he could tell social conservatives at a GOP donor sleepover party in Aspen (ahem) that the recent passage of a gay marriage bill in New York was its own business, states rights, etc. Then, here's a little quiz, massive outrage ensued about which of these two things, the fact that he a) skipped out on drought management or b) does not hate gays enough?
---
The weepy homophobe retribution was swift, most notably from WorldNetDaily for claiming with a straight face that they felt "unclean" about their previous boner for the gaywad Texas prince. Thus Perry has been doing damage control and having little sexy pow-wows with hate groups and so forth. What a fun, sexy time for Rick Perry!
AND SO ALL OF THIS IS TO SAY THAT MEANWHILE, back in the state that Perry runs, Texas is suffering one of the worst droughts in its history, farmers have lost all their crops, and the entire state is absolutely melting. Leadership in times of crisis? No, he'll just be talking about the gays, thanks.
So here's the situation, from a report by the AP:
Texas' economy will take a more direct hit. Agriculture accounted for $99.1 billion of Texas' $1.1 trillion economy, or 8.6 percent, in 2007, the most recent year data on food and fiber was available from the extension service. Losses in that sector have a ripple effect that's about twice the amount of the actual agricultural loss.

"That's a fairly substantial portion of the Texas economy that's going through this hardship," Anderson said.

And, it's a hardship that's following close on the heels of others. Texas suffered droughts in 2005-06 and 2008-09, although those were mostly regional. This year's is broader and more intense. The state is coming off its driest nine-month period ever and its hottest June on record. More than 90 percent of the state is in the two most severe drought stages.
Perry notoriously put God in charge of this whole drought problem since Perry is really, really busy talking about gays right now. GAYS ALL DAY LONG, is the agenda that Rick Perry's scheduler runs off in the morning these days.
Is it fair to even ask Rick Perry to be in charge of something like a natural disaster? Historically, that has always been something that is the federal government's fault. Here is the Texas Tribune, wondering about this:
Partly because of the relative powerlessness of the state, the consensus of political observers is that the drought is unlikely to cause a political problem for Perry, even if he campaigns around the country while Texas continues to dry out. "This drought would be going on whether he was in Texas or Hong Kong," Seliger says. "That's not the point."

Historically, however, during the worst drought in recorded Texas history — the 1950s — the governor, Allan Shivers, did take a prominent role in working to get more aid flowing to stricken areas.
Yes, historically something terrible like a sweeping drought may have been something a governor worried about and tried to correct, but Rick Perry is too much of a Christian for that. [AP/ Texas Tribune]