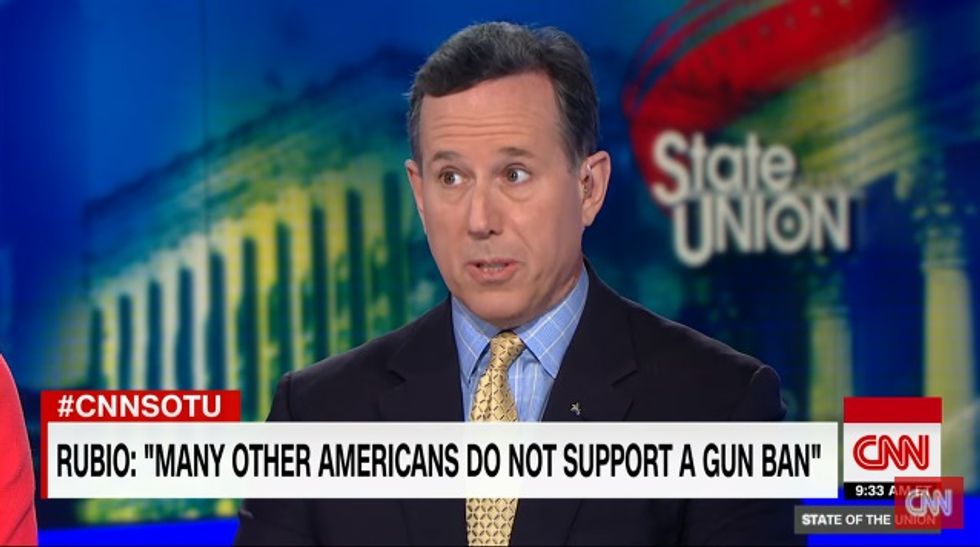 ---
Former one-term US senator and twice-failed presidential candidate Rick Santorum, who apparently can't find honest work, still has a talking head job at CNN for no discernible reason, so on "State of the Union" yesterday, he explained why America's young people are wrong to try to address gun violence by pushing for stricter regulation of murder tools. You see, calling for laws is a waste of time because laws don't work, and as a one-time lawmaker, he oughta know. No, what's needed is good old-fashioned individual responsibility:
How about kids instead of looking to someone else to solve their problem, do something about maybe taking CPR classes or trying to deal with situations that when there is a violent shooter that you can actually respond to that?
CNN anchor Brianna Keilar seenmed a bit thrown by the notion that organizing a nationwide movement was somehow lazy and irresponsible: "But how are they looking at other people to -- I would ask you, they took action." Silly news lady, that's not what "action" means. Action means individual responsibility, like opposing abortion by not having one. We're sure Rick Santorum would agree.
Yeah, they took action to ask someone to pass a law. They didn't take action to say, "How do I, as an individual, deal with this problem? How am I going to do something about stopping bullying within my own community? What am I going to do to actually help respond to a shooter? What am I going to do -- those are the kinds of things where you can take it internally and say, here's how I'm going to deal with this, here's how I'm going to help the situation, instead of going and protesting and saying, oh, someone else needs to pass a law to protect me.
As everyone knows, there's almost nothing that can be done to prevent a school shooting -- you can only clean up afterwards. Silly kids. But isn't there anything impressive about the kids starting a movement that brought 800,000 people to Washington, and millions to marches nationwide? Pfft, not really that much:
I'm proud of them, but I think everyone should be responsible and deal with the problems that we have to confront in our lives. And ignoring those problems and saying they're not going to come to me, and saying some phony gun law is going to solve it, phony gun laws don't solve these problems. That's what we found out.
How exactly we found that out is open to question, since the CDC isn't allowed to do research on gun violence (thankfully, the omnibus spending bill passed last week did at least roll back that restriction).
An excessively charitable reading of Santorum's remarks might make the case that since heart attacks are more common than mass shootings, universal CPR training might save more lives, but no, in context, he was definitely talking about responding to a mass shooting. And as any number of actual doctors noted, there's a bit of a problem with that particular nostrum, Dr. Fetus-hugger: CPR isn't especially useful when it comes to gunshot wounds. Heather Sher, the Florida radiologist who wrote that incredible Atlantic piece about the wounds AR-15s left in the bodies of Parkland victims, called Santorum's comments "gobsmackingly uninformed" on Twitter, and suggested he leave public health and medical advice to doctors.
Dr. Jo Buyske, the executive director of the American Board of Surgery, pointed out a significant flaw in Santorum's plan: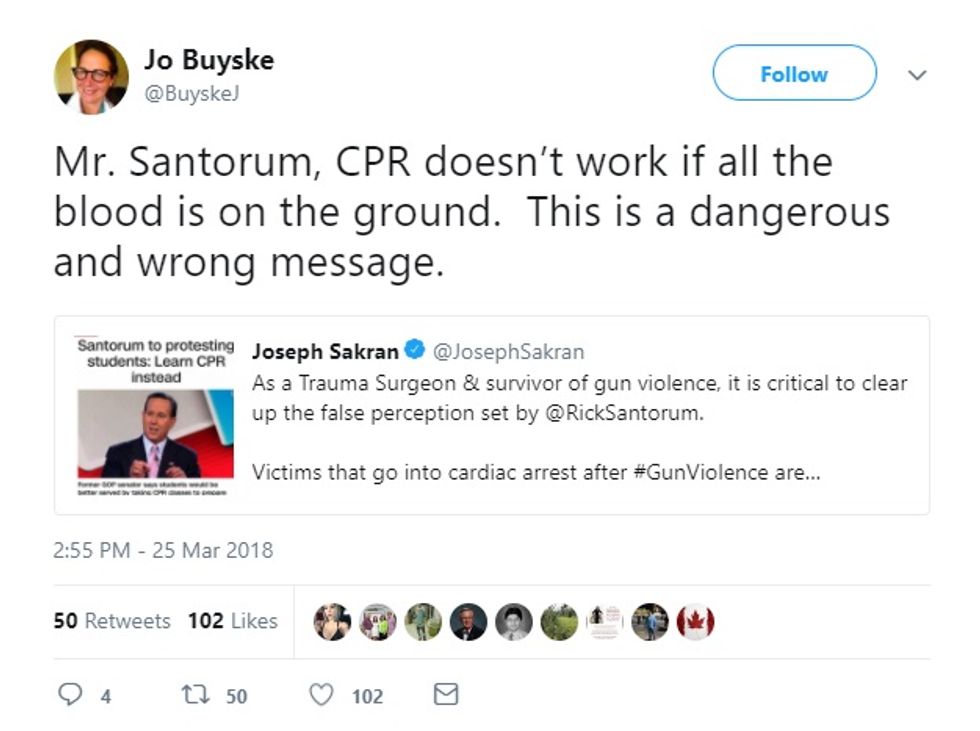 Pediatrician Rebecca Bell, ever the optimist, knows how to explain medical ideas in very simple terms. If nothing else, he might take some personal responsibility for his bad thinking: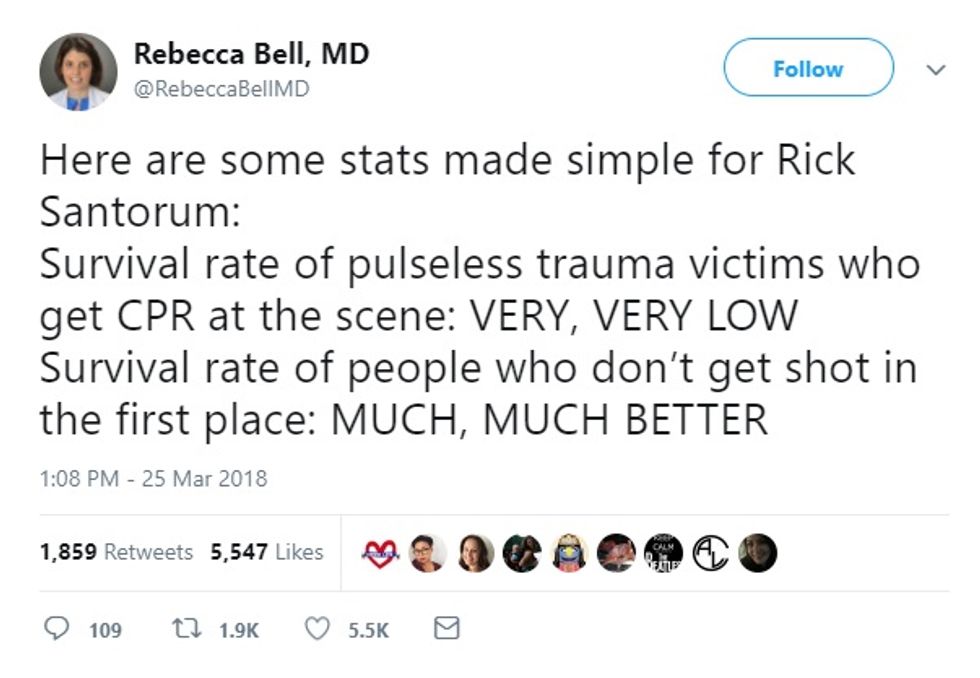 Temple university medical student Jordan B thought maybe a more graphic illustration might make the point a bit more effectively: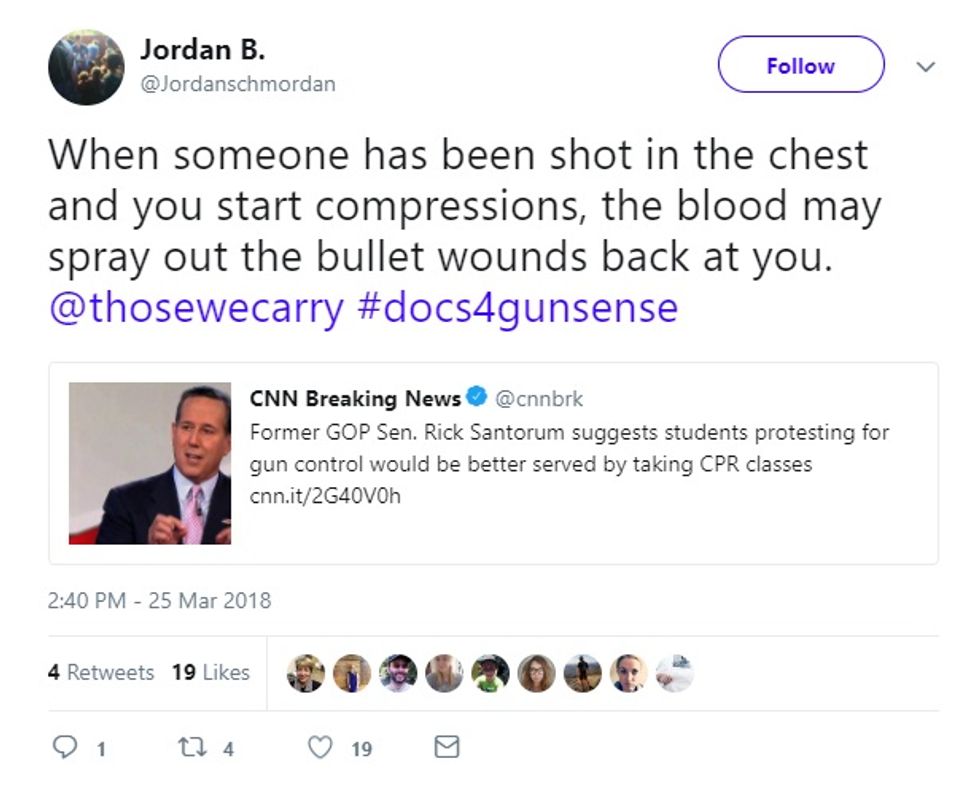 As did surgeon and healthcare columnist Eugene Gu: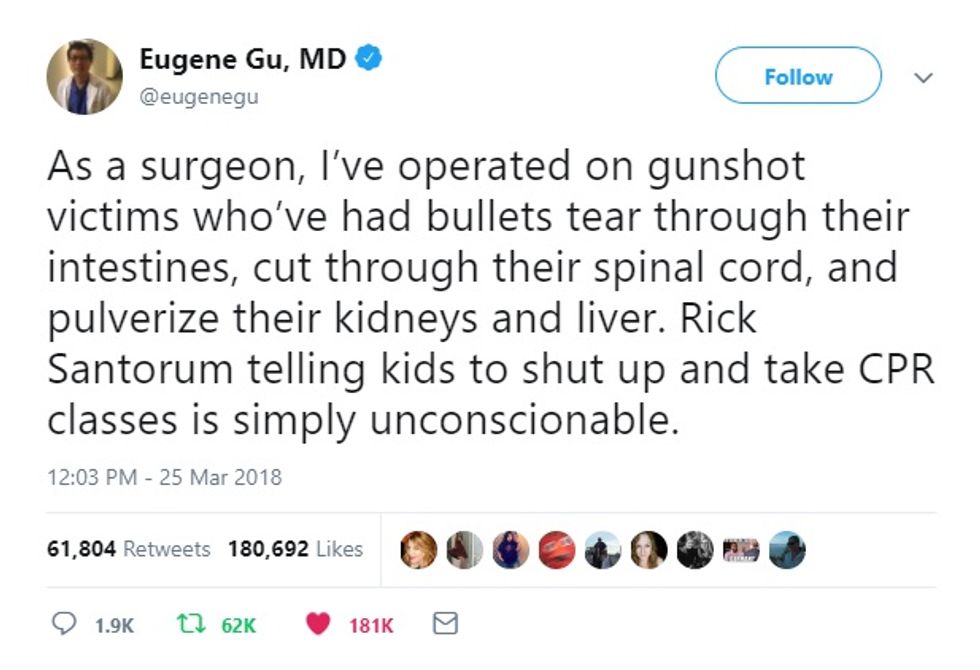 Others pointed out that it's actually possible to do more than one thing, like teach kids CPR, which is a good thing in itself, and also work to reduce access to the high-velocity military-grade semiautomatic rifles that mangle people's insides to the point that no treatment is likely to save them.
Still perhaps we're overlooking at least two good things that could come out of Santorum's incredibly stupid comments: Maybe some students who have learned CPR will be able to save the life of an armed teacher who has a heart attack after accidentally blowing away a kid pulling a cell phone out of their pocket.
And maybe CNN will finally get so much angry feedback that it will fire Rick Santorum.
Yr Wonkette is supported by reader donations. Please click here to help us buy some duct tape for Rick Santorum to put over his own stupid mouth.
[Media Matters / CNN on YouTube / WaPo]