Rick Santorum Knows Unaccompanied Honduran Babies Just In It For The Obamaphones
2016 State/Local Elections
December 16, 2015 10:45 AM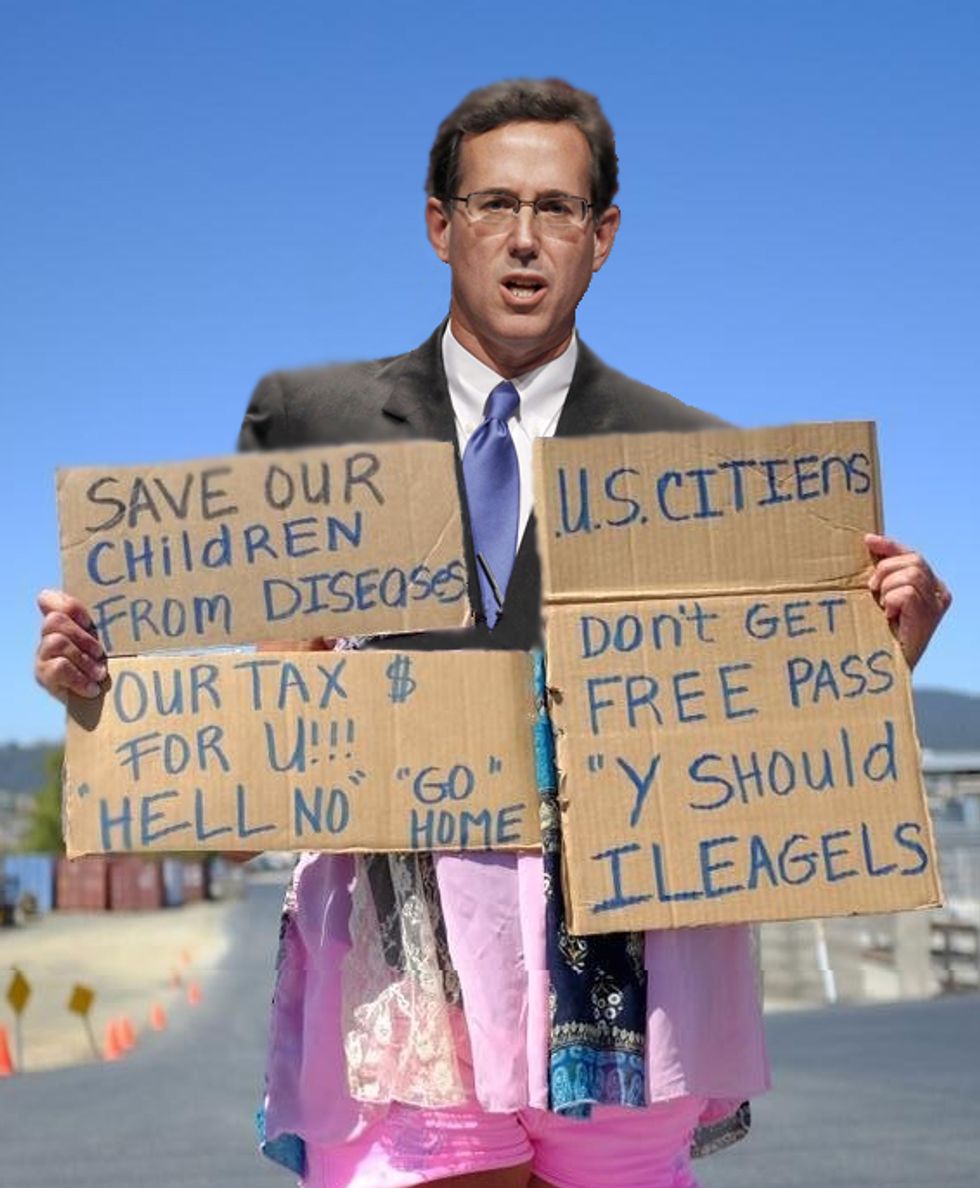 Rick Santorum cares about one thing, as everybody knows, and that is the children. OK, he cares about butt-fucking too, like, way too much. But we are talking about Rick Santorum and kids and how he is the Number One Defender of Them for All Time and Forever. During last night's Las Vegas Republican Debate, Losers' Edition, he gave ISIS what-for for murdering all the disabled babies, about which of course he's right, if that happened, I dunno, I saw the headlines and wouldn't put anything past those evil sons of bitches, so probably?
---
[contextly_sidebar id="hPw0s73uZvEeMOHGnjsmdZ9cBHhrLN4U"]
But there is one group of children Rick Santorum will not defend, and that is the group of unaccompanied minors from Central America who flooded into the border states last year and who are still probably waiting to be processed in their Texas Baby Jails if they haven't already been sent back to die.
Yeah, them? Rick Santorum's got some Thoughts:
SANTORUM: Here's the problem. I was with, in fact, one my guests here today is the Sheriff in Cochise County, down on the border in Arizona. And, he talked with me last night when I was with him about all of the children coming across. All of the children, why?

Because we've created a magnet. These children are not coming over, and in great shape, not coming over -- and not in harms way, and -- going through difficult times. We're attracting people.

He's also the Sheriff that caught Syrians at the border. We have through the policies supported by almost everybody in this field.... A policy that says amnesty. The world hears this, and knows that if they can come across this border, by and large, they're going to be able to stay. That has to change.
You hear that, unaccompanied Honduran minor babies? You weren't coming over because you were in harm's way (we assume that's what that "not" in the little bowl full of word salad meant), but because US America will give you A Obamaphone.
But is that ... true? Let's ask some nerds.
The major public benefits programs have always prevented some noncitizens from securing assistance. Since the inception of programs such as food stamps (now called the Supplemental Nutrition Assistance Program, or SNAP), nonemergency Medicaid, Supplemental Security Income (SSI), and Temporary Assistance for Needy Families (TANF) and its precursor, Aid to Families with Dependent Children (AFDC), undocumented immigrants and persons in the United States on temporary visas have been ineligible for assistance. However, the 1996 federal welfare and immigration laws[1] introduced an unprecedented new era of restrictionism. Prior to the enactment of these laws, lawful permanent residents of the U.S. generally were eligible for assistance in a similar manner as U.S. citizens. Thereafter, most lawfully residing immigrants were barred from receiving assistance under one of the major federal benefits programs for five years or longer. Even where eligibility for immigrants was preserved by the 1996 laws or restored by subsequent legislation, many immigrant families hesitate to enroll in critical health care, job-training, nutrition, and cash assistance programs due to fear and confusion caused by the laws' chilling effects. As a result, the participation of immigrants in public benefit programs decreased sharply after passage of the 1996 laws, causing severe hardship for many low-income families who lacked the support available to other low-income families.
Immigrants do get free lunch at their free schools, though, and they can have polio shots, so we award Rick Santorum a "Mostly True," just kidding no we don't we are not the Washington Post. Also, this one nice guard gave a tiny boy, who only had his birth certificate in the pocket of his neatly pressed little pants, a bottle of water, as captured in this very cry-y New York Times photo, so clearly that tiny boy is a taker.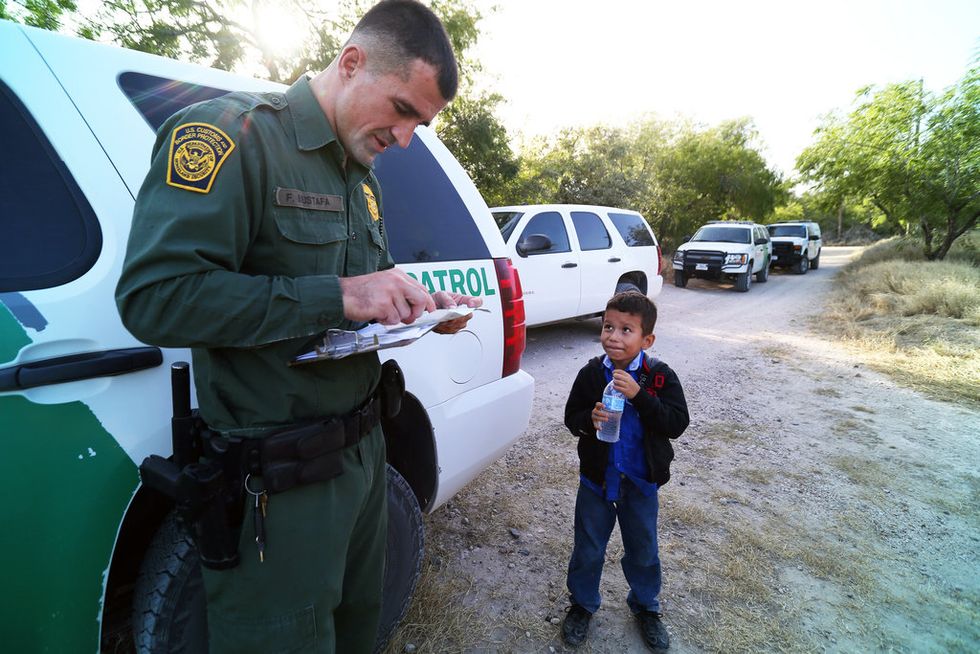 Please let us use this picture, New York Times, so all the Wonkers can cry like I cry when I look at this picture. Let's just call it fair use, huh?
In other news, Rick Santorum can go fuck himself.
[Debate transcript via Washington Post]
Rebecca Schoenkopf
Rebecca Schoenkopf is the owner, publisher, and editrix of Wonkette. She is a nice lady, SHUT UP YUH HUH. She is very tired with this fucking nonsense all of the time, and it would be terrific if you sent money to keep this bitch afloat. She is on maternity leave until 2033.