Rick Santorum Says Pope Francis Is Bad At Science, Bad For America
Featured
June 08, 2015 01:45 PM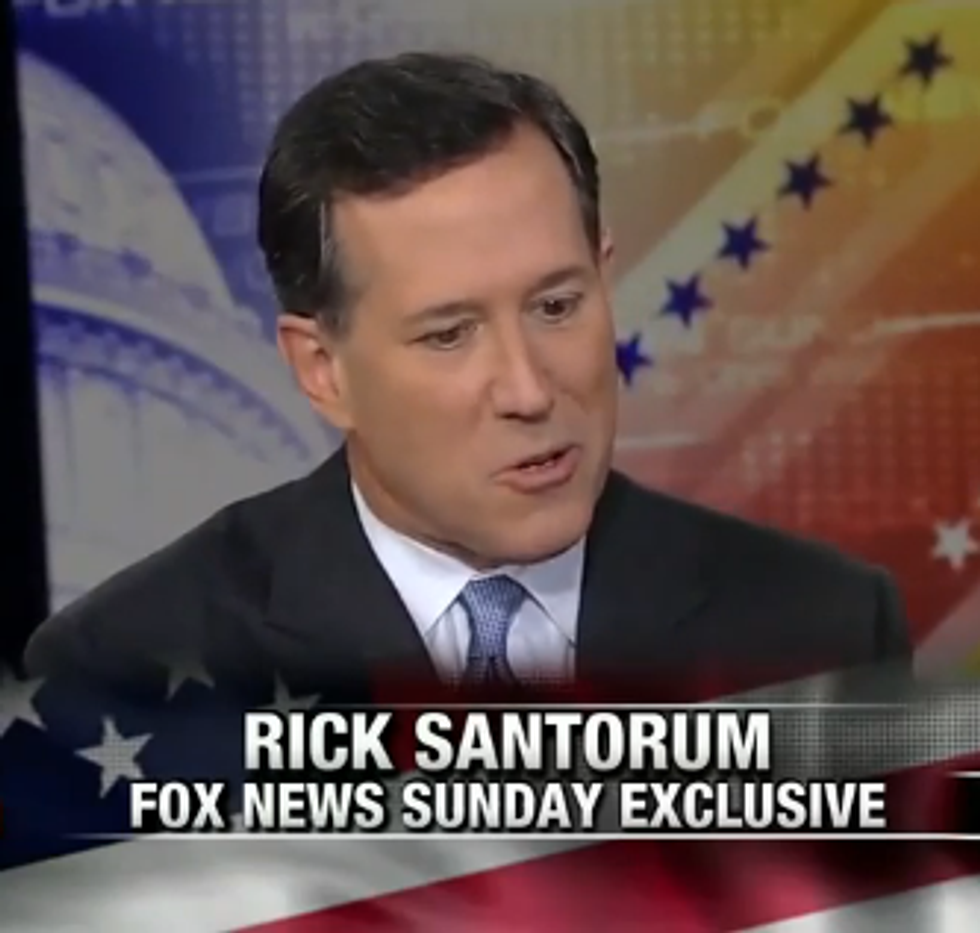 ---
Last week we laughed and laughed at Rick Santorum, who really thinks Pope Francis needs to shut right up about climate science, because the pope, despite having studied chemistry, is not a scientist. Why focus on things like that, when there are more important Poping duties out there, like slut-shaming and telling people to stop being gay? But damn godless liberal Pope Francis, he's putting out an encyclical on climate change, despite Santorum's advice to the contrary.
On "Fox News Sunday," host Chris Wallace did some unexpected journalism in Santorum's general direction, asking, "I guess the question would be, if he shouldn't talk about it, should you?" GOOD POINT, CHRIS WALLACE! But Wallace is wrong and dumb because OF COURSE Santorum should talk about it:
Santorum argued that politicians "have to make decision with respect to our public policy that affect American workers." He added that the pope "can talk about whatever he wants," but it might not be the best issue for him to "use his moral authority for."

"He would say he's protecting the earth," Wallace replied.

"I would say that that's important thing to do, but I think there are more pressing problems confronting the earth than climate change," Santorum said, adding that he is "someone who's trying to go out there and make sure we have a revitalization in manufacturing and energy production, things to create jobs and opportunities."
[contextly_sidebar id="S59SY3cKHHqfJGRn0YxvDzMunfJc85RZ"]
First and foremost, climate change, according to all smart scientists, is happening and humans are causing it, and if we don't do something about it -- assuming it's not way too late already -- then there won't be any other "pressing problems" to deal with. Santorum will be dead, along with all the other people whose existence the Earth can no longer sustain. So that is a thing to point out.
But we've got to wonder what these other "pressing problems" are, which Santorum wishes New Pope would get to addressing, instead of focusing on dumb liberal stuff like climate change. Oh, we know! Here are some priorities, which the Pope would pay attention to if he were good at being Catholic, like Santorum is:
There. Those would all be better ways for Pope Francis to spend his time. Leave the sciencing to politicians like Santorum, that's the ticket.
[HuffPo]
Evan Hurst
Evan Hurst is the managing editor of Wonkette, which means he is the boss of you, unless you are Rebecca, who is boss of him. His dog Lula is judging you right now.
Follow him on Twitter RIGHT HERE.