Rick Santorum To Bring Word Of God And/Or Rick Santorum To Heathen CNN
News
January 19, 2017 10:20 AM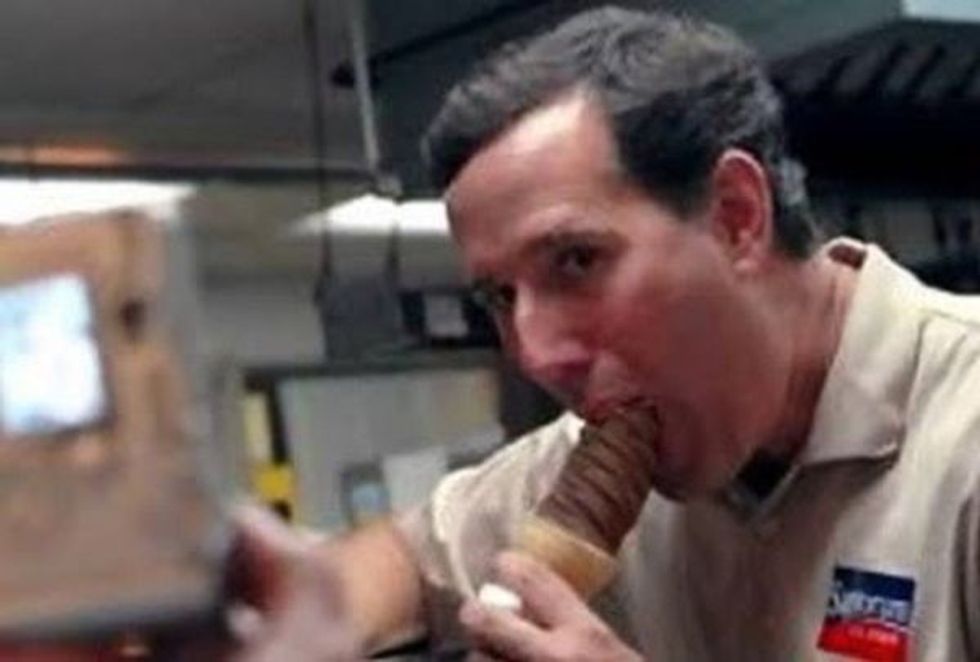 Never Forget
---
Rightwing Bible-beater Rick Santorum, having failed twice at running for president and also briefly presided over a crappy Christian film studio (which is somehow still in business, at least as a distributor?) has a new gig to help pay the bills, since that frothy mixture of lube and fecal matter doesn't come out by itself, you know: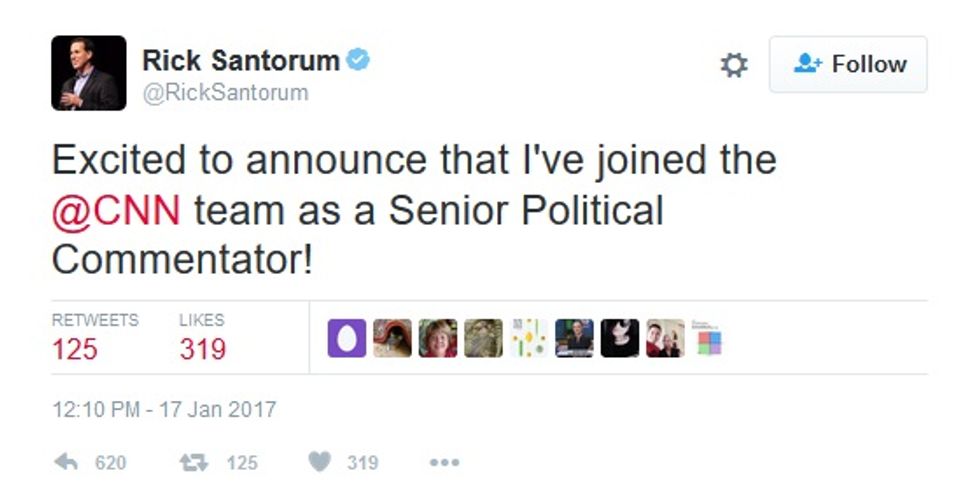 Reaction around the Internet was quick:
.@RickSantorum@CNNpic.twitter.com/hJpcRzfRLd

— Parker Molloy (@ParkerMolloy) January 17, 2017
CNN is adding a whole new stable of political commentators for the Age of Trump, including Santorum, former Michigan Gov. Jennifer Granholm, former New York Rep Steve Israel, and a couple of new contributing journamalists, including the Washington Post's Wesley Lowery and investigative nerd king David Fahrenthold, who may even bring along his famous Investigative Reporter notepad. Oh, yeah, and they got some guy from the National Review and some lady from the Washington Examiner, snooze.
We can hardly wait to ignore all the important insights Santorum will bring to his job as a senior political commenter; we will go as far out on a limb as to predict he will say the traditional family is the source of all political and financial stability; abortion bad; contraception bad; gays bad but loved by God as long as they act straight and stop being gay; black people good, especially the sweet ol' Christian ones, but not so much when they're takers or object to having Law and Order done to them arbitrarily; Messican people good when they're Catholic but not when they're undocumented; Iran bad; Israel good; guns good; science bad except in bomb form; and Trump a great man who will be good for America at least until his approval ratings drop low enough that other conservatives jump ship.
There you go, no need to watch CNN, unless that Don Lemon fellow starts talking about aliens and black holes eating airliners again. Enjoy something nice on Netflix or Hulu. We hear "Rick 'n' Morty" is pretty funny.