Rick Santorum: To Lose One Child Is A Misfortune; To Lose 1500 Seems Fine, Just Fine
Russia
May 29, 2018 11:45 AM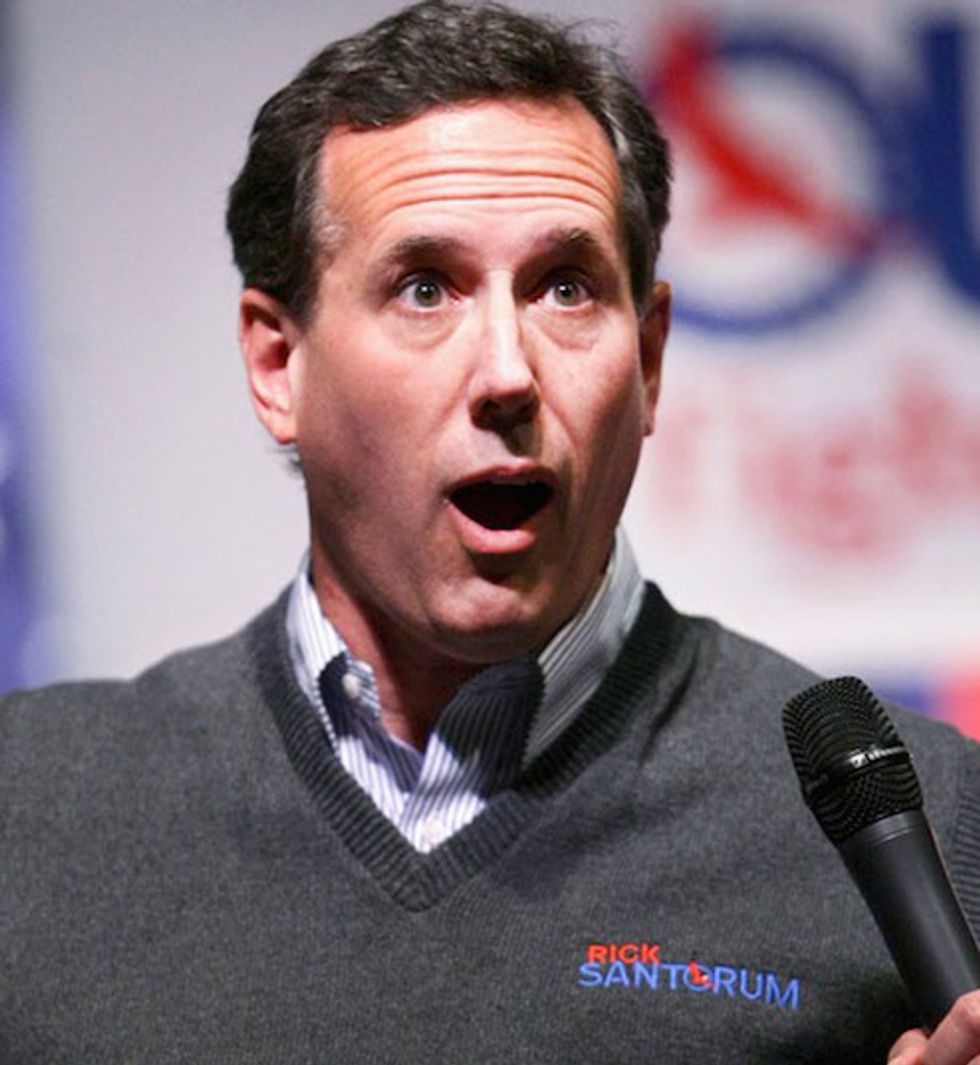 Hello Wonks! Welcome to another Sunday Rundown, but on a Tuesday! Will you be able even to figure that out?
---
On this May 29TH in the year of our Time-Lord 2018 there is but one who is worthy of being the stupidest, most idiotic and hypocritical scumbag of all: Richard "Rick" John Santorum!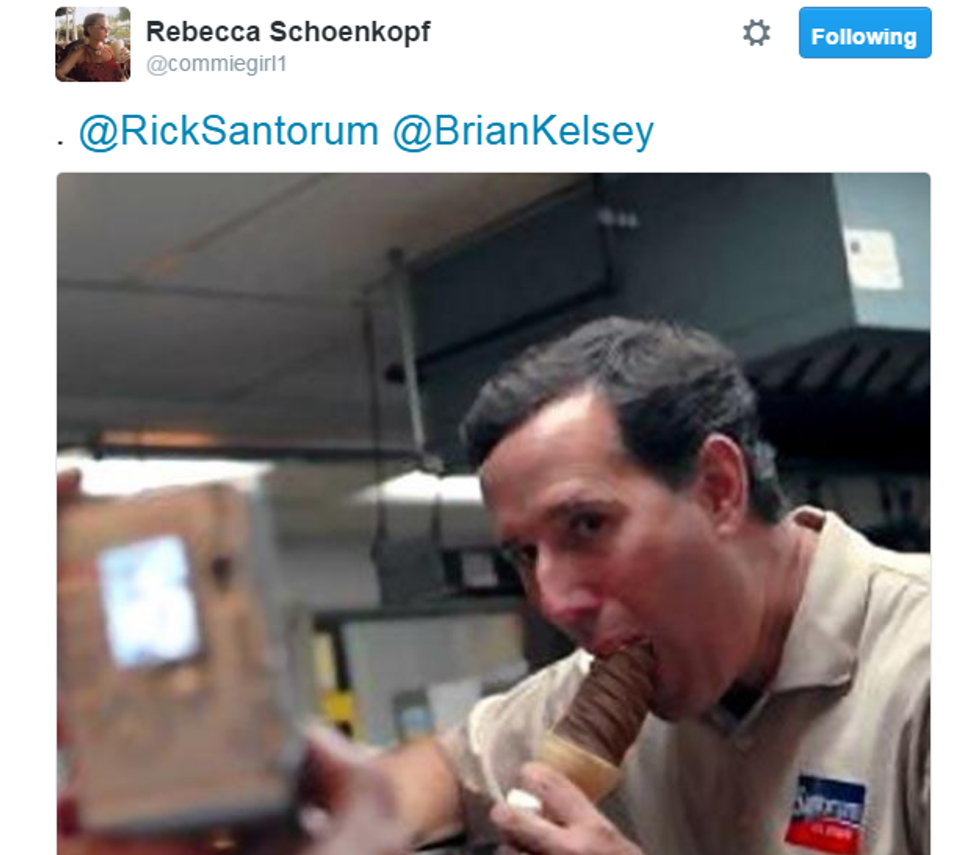 Take a bow, you sentient jar of expired mayonnaise. But before we proceed to probe the human santorum that is Rick Marvolo Santorum, let's take a look at today's runner-up. Step right up, former New York Mayor and current Nosferatu Rudy Giuliani.
Speaking to Dana Bash on CNN State of the Union, Rudy provided more of his amazing legal expertise on behalf of Trump.
BASH: How are you so sure that there was no collusion with anybody in the campaign? We don't know exactly what Robert Mueller and his team has right now. Do you know something we don't?

GIULIANI: Well, yes. I know 50 years of investigatory experience tells me they don't have a darn thing, because they would have used it already, and they wouldn't be off on collusion, they wouldn't be off on Manafort, they wouldn't be off on Cohen.

You got a good case, man, you go right to it, against -- and against the president of the United States, you got something, and you don't start charging it? Come on. It would be out there immediately.

BASH: Well, maybe not necessarily against the president himself, but people in his orbit.

You are confident that there was no collusion?

GIULIANI: I -- I can't -- I can't be confident about anything with my client.

I mean, am I -- am I confident because I was in that campaign at a very intimate level? Nobody talked about Russians. Nobody knew about Russians. This came as a surprise to me, to the president, and to the top four or five people around him.

Now, you go out to the outer orbit, how do I know what is going on? But I don't think that would matter. You can't -- if there is collusion with a guy 50 rungs down on the campaign -- not that I'm saying it happened, but, if it did, I don't know -- I don't know what that means.
So … Rudy is saying that "there is no collusion" but he's not "confident about anything" while saying nobodyknewanythingaboutRussians but leaving room for some "guy 50 rungs down on the campaign" to have colluded and if they did he "don't know what that means."
Seems Giuliani knows as much about this case as he did about his family tree prior to his first marriage.
Now that we had that appetizer of dumb, time for the main course!
Let's begin with a bit of a history lesson. On March 7, 2017:
Washington (CNN) -- Secretary of Homeland Security John Kelly confirmed that the department is considering separating children from their parents at the border.

December 21, 2017: To curb illegal border crossings, Trump administration weighs new measures targeting families (Washington Post):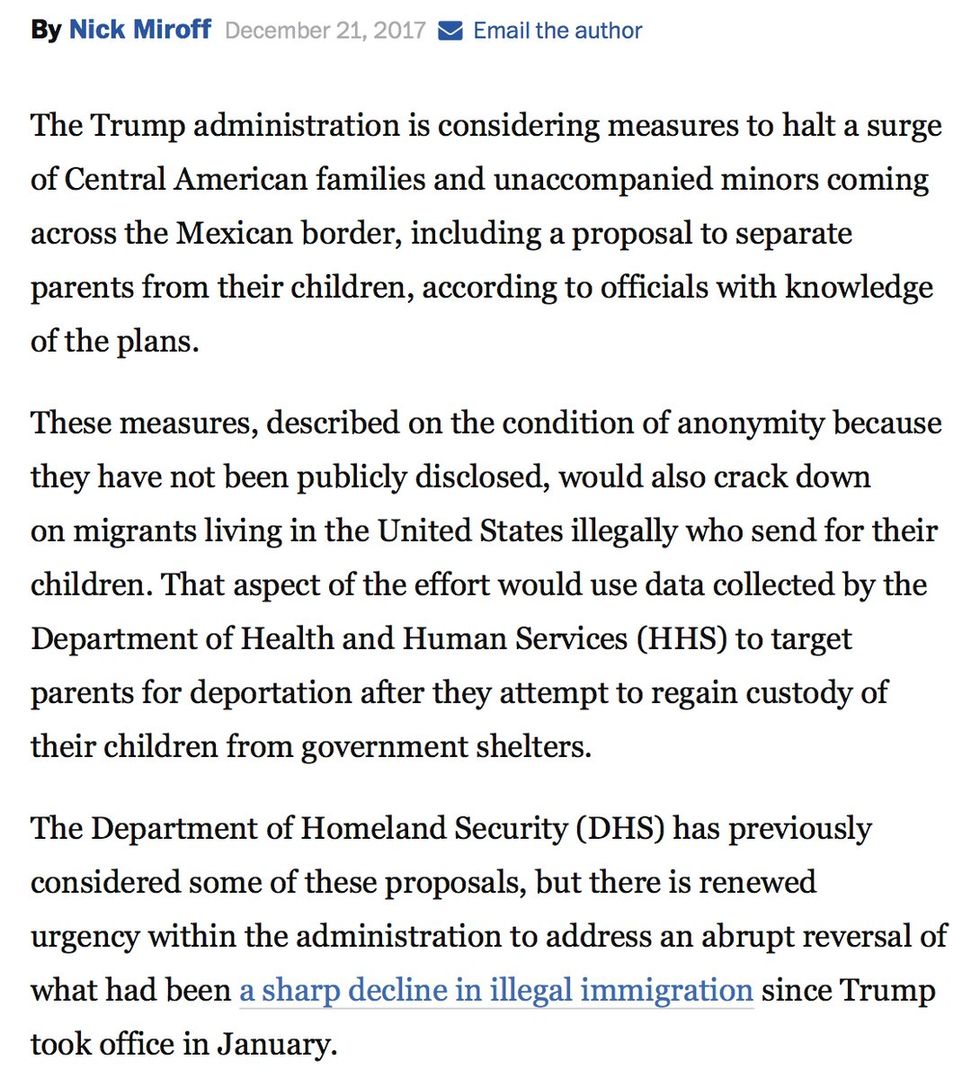 May 8, 2018: Sessions threatens to split children from their parents if they cross the border illegally: "If you don't like that, then don't smuggle children."
May 11, 2018: Chief of Staff John Kelly interview with NPR: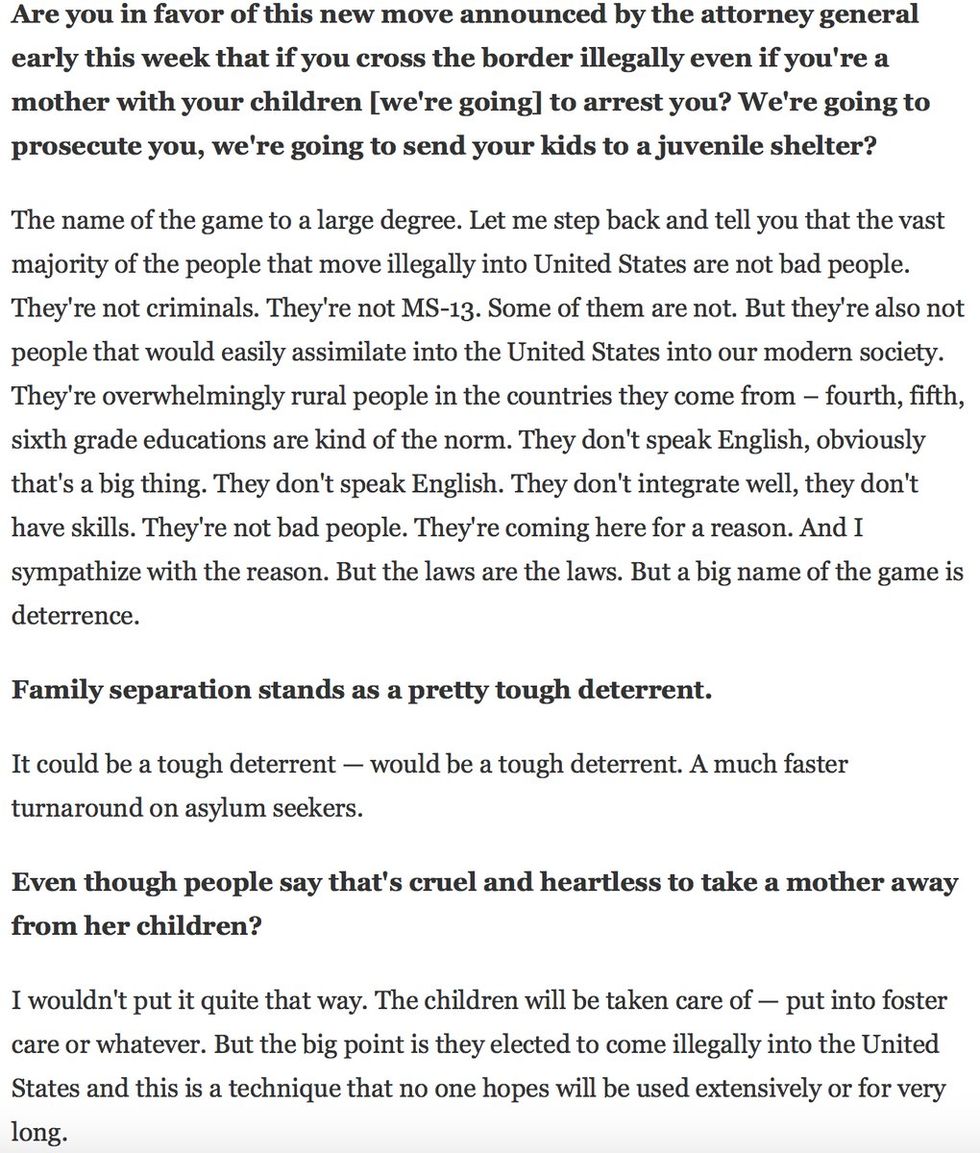 May 10, 2018 -- This was Trump's own personal directive. He berated the Homeland Security Secretary for resisting the policy (NY Times):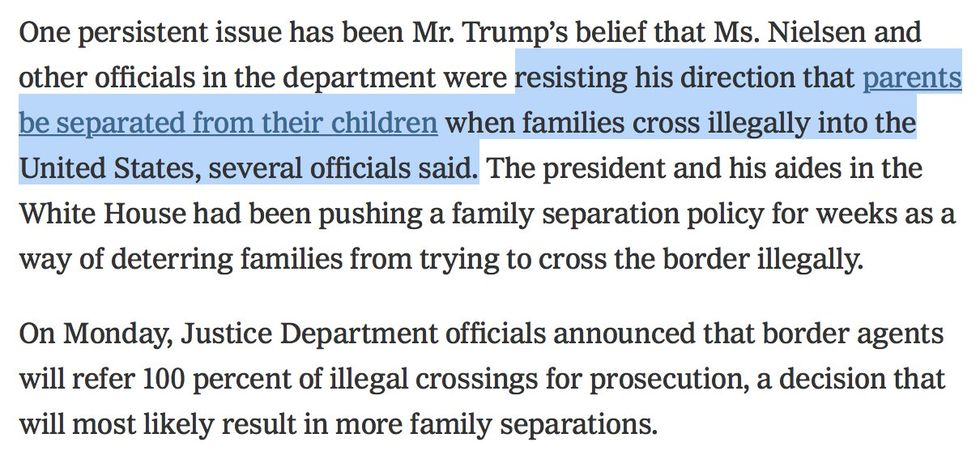 So this policy was something that the Trump administration has been slowly trying to implement since early 2017. Prior to this, the Obama administration policy dealt only with UNACCOMPANIED minors to ensure they could be cared for by a known relative or sponsor here while their claims of asylum/refugee status were processed. So whatever this nonsense is…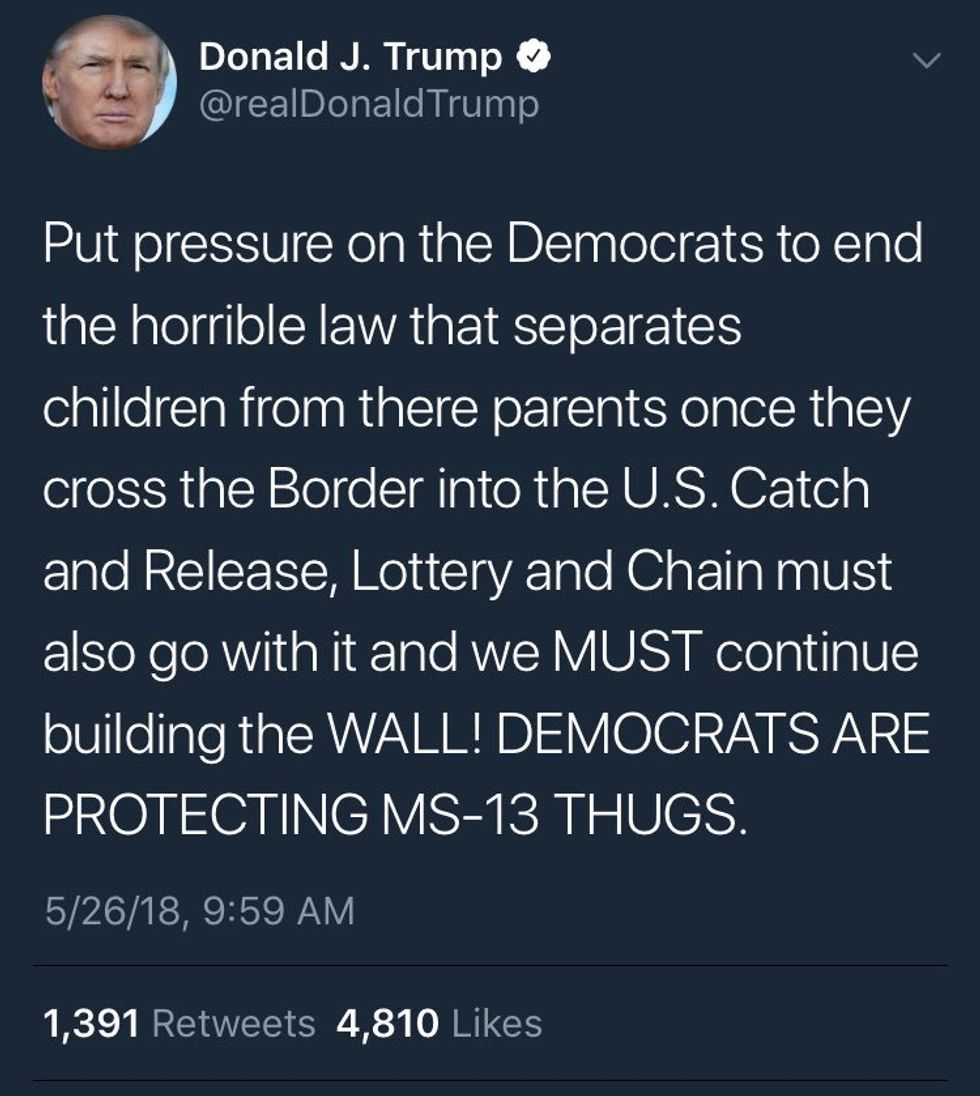 … this cruelty, heartlessness and evil was strictly of Trump and his administration's making. No matter how much he tries to blame the MINORITY party which has no control, this is HIS mess. A mess so big that we are faced with the actual realization of the whole "Enemy of MY Enemy" phrase:
Pro-lifers, if you're upset about ripping a child out of his mother's womb, please be upset about ripping a child out of his mother's arms at the border. Responding to illegal acts with evil acts is not the way of a moral people.

— Erick Erickson (@EWErickson) May 26, 2018
Needless to say, Trump can end what even he calls the "horrible" practice of separating parents from their children by executive action under current law. He does not need to wait for Congress to do anything. https://t.co/ZrqQM5UEEH

— Bill Kristol (@BillKristol) May 26, 2018
Even much of the GOP is condemning this because they are horrified (or in fear of 2018 re-election).
Except for Rick Santorum!
Speaking on CNN's "State of the Union," Santorum attempted a defense of the current policy of separating and losing children:
SANTORUM: The question is they haven't had communication with these previously vetted sponsors. Does that mean they are lost? No. That means that there is a process that's going on right now to try to find why these sponsors haven't checked back in to give us their location. But the idea that 100 percent of the sponsors are going to check in, of course, that is never going to be the case. There is always going to be a problem, people move. They don't feel, oh, we don't have to check in anymore. We've gone someplace else.

So, the idea that they are -- quote -- "lost" I think is an overestimate -- is hyperbole to try to -- to try to create an issue. I don't really think there is one other than the fact that the bureaucracy, surprise, surprise, doesn't work very well.

DOYLE: If you think that 1,500 children being lost is not an issue then there is something definitely wrong.

SANTORUM: I don't think -- I think the idea that they are lost, they are placed with families that had been previously vetted --

DOYLE: And the government has said they have lost track of them. That is another word for lost.
Oh, they aren't "lost" we just can't "find" them. Like car keys, right?! Has America checked its fridge (Alaska)? Sometimes I accidentally leave my keys there.
But the idiocy didn't end there:
SANTORUM: With all due respect these parents are putting their children in peril by putting them and coming across the border.

DOYLE: They are trying to escape peril. They are trying to escape peril.

SANTORUM: You don't know their situation. Some may be. Some may just be an economic -- there may be all sorts of reasons people come here.
Because many people trek from El Salvador and Guatemala, travel through rivers & deserts. Ride on top of moving trains. Risk it all … for shits and giggles?! WTFuck?!
Thankfully, Our Revolution's Nina Turner -- who is not usually a Wonkette Hero -- was there to give Santorum a good verbal smackdown:
TURNER: But this is stunningly immoral and cruel. So whoever started it, this president and this administration has the power to stop it.

And to Bill's [Kristol's] point about this president going the extra step through policy and the fact that we're having -- that some, particularly him, has a cavalier attitude, I want all of us to put ourselves in the place of those mothers, of those fathers or as Patti was -- we're both mothers. I mean, I can't even dream of a situation where my son would be torn from arms in that way.
And when Santorum tried one of his patented deflections, Turner quickly shut him down to the point he could only barely sheepishly respond before going silent (for my sanity):
SANTORUM: Well, I guarantee you -- I guarantee you, Patti, that millions -- millions of kids over the course of this country whose parents have been put in jail have been -- quote -- "lost" in the system. And you know that to be true.

TURNER: We cannot justify this -- cannot be justified and this president is going the extra mile to push this narrative.

BASH: Should there be --

SANTORUM: I wish you had the outrage for parents who were jailed as much as you have outrage for what's going on here.

TURNER: No, I have outrage for it. I have outrage about a whole bunch of stuff. So if you want to go down that line we can.

SANTORUM: OK.
This concludes this week's Sunday Rundown on a Tuesday. We hope we haven't BLOWN YOUR MIND. Until next week, we'll be burning up ICE's answering machine at 1-866-347-2423 until they cave or they honestly answer #WhereAreTheChildren.
Michael Mora
Your friendly neighborhood Puerto Rican Political Freelance Writer for @wonkette. Pop Culture observer, Amateur Movie reviewer & Comics fan. Former Active Duty Marine. All opinions are mine only.