Rick Santorum Wants To Bareback Marco Rubio. With Votes.
News
February 04, 2016 10:45 AM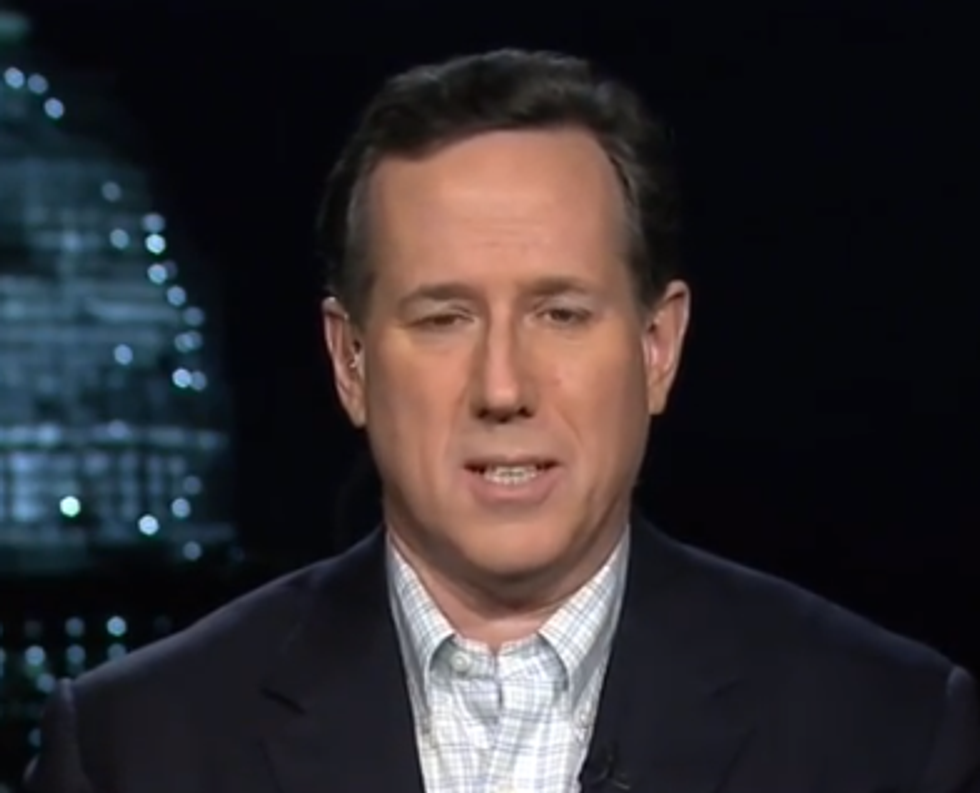 Bye Rick.
---
Oh well, guess Rick Santorum's dreams have died again. Late Wednesday, Santorum surprised exactly no one by declaring that he would no longer be quote unquote "running for president," and that he has decided Marco Rubio is the change we've all been waiting for. In other words, Rubio is neither Ted Cruz nor Donald Trump, so he'll do.
Santorum told the Morning Joe people all the different reasons he loves Rubio on Thursday morning:
[O]n Thursday morning, Santorum was utterly unable to answer a direct question from Morning Joe's Joe Scarborough:

"What do you list as Marco Rubio's top accomplishment?"

What followed was a dizzying array of questionable sidesteps and half-answers from Santorum, who himself won the Iowa Caucus in 2012. To Scarborough's question, Santorum meekly managed to say that Rubio, "[Won] a tough election in Florida, pull[ing] people together from a variety of spots."

Scarborough wasn't having it, and repeated the question multiple times while others on the Morning Joe panel laughed at the absurdity of the situation.

"He's someone who brings people together!" Santorum admitted sheepishly.
We could transcribe it, but there's no point. That's all that happened.
Afterward, Mika Brzezinski thought maybe it would help Santorum if she asked more fill-in-the-blank-style what Rubio was good for, so she said, "Jeb Bush ran Florida. Donald Trump built a company. Marco Rubio ... finish the sentence." Santorum could not finish the sentence, because for real he doesn't know why he likes Marco Rubio so much. The actual answer, of course, is "Marco Rubio has cute shoes and frolics about in the air like a little elf."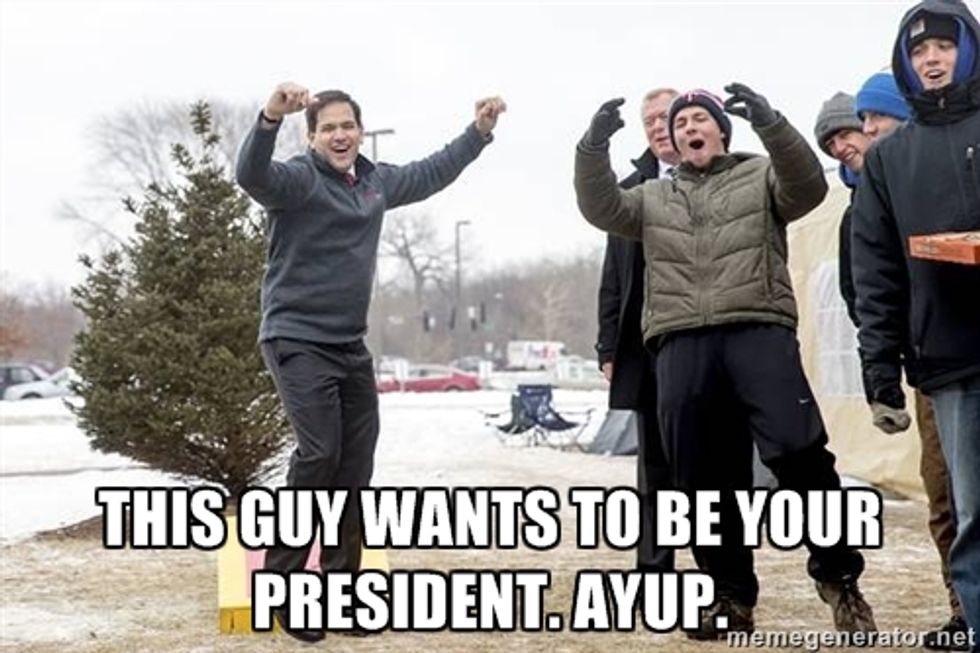 [contextly_sidebar id="p9veCidN2GzrwZr2lpmXPhsNwbwi7cp7"]Or maybe the real answer is that Rick Santorum's one supporter in Iowa, whose name is Peggy, decided at the end of the day to support Rubio, so he guessed why not.
[contextly_sidebar id="gc1o6oL3nt7KLIX0M5Wdqw4orXQ6CNLz"]So, what will we miss most about Rick Santorum? Is it how his name, literally translated, means "The thing that happens when you do buttsex incorrectly"? Is it how he can tie literally any issue in the world, even the Charleston shootings, to how gay people are gross? Is it the way his wife Karen used to date a really hot abortion doctor, and Rick's jealousy over that is probably the only reason he's "pro-life" today?
[contextly_sidebar id="MmGhUOzAqyUALBaXphq2k1Ngwahs4QC8"]Maybe we will really miss the way he resents Americans for spreading their erotic liberties all over the place, which is gross and anti-Jesus and makes the pope cry. Besides, Santorum knows sex doesn't count if you're not barebacking, because otherwise how else will Jesus make a baby?
[contextly_sidebar id="4sk1VPN5RC2RBdn7BKhAjYH7NVEzJjXY"]Or MAYBE it was that blustery thing he said last year about how, out of all the U.S. American men, Rick Santorum is the one ISIS is most terrified of, because the terrorist organization published his picture in its little Tiger Beat newsletter thingie. Ayup. Rick Santorum. Puttin' the fear of God in ISIS. You bet.
Oh yeah, and LOL, just recently he came up with a brilliant plan to deport all the brown people back to their native lands, to preserve his beloved white America.
SPOILER: We're not going to miss Rick Santorum for any reason at all, because he sucks and he's totally irrelevant, and also too fuck him. Fuck him right in the butt.
Evan Hurst
Evan Hurst is the managing editor of Wonkette, which means he is the boss of you, unless you are Rebecca, who is boss of him. His dog Lula is judging you right now.
Follow him on Twitter RIGHT HERE.