Right-Wing Anti-Mexican Arizona Sheriff Has Gay Mexican Lover
News
February 20, 2012 12:31 PM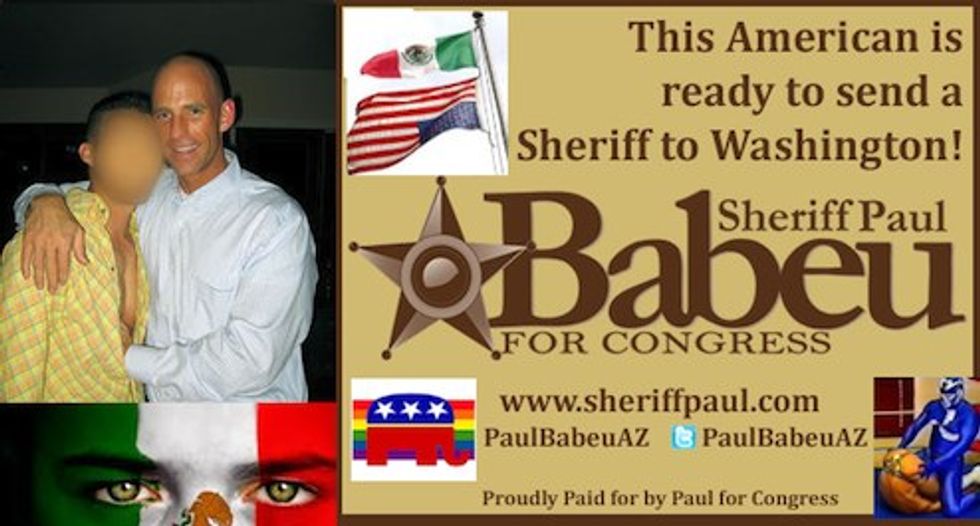 Here is the hot American president's day news for those of you who didn't spend the weekend searching for "gay wingnut arizona sheriff tries to deport gay mexican lover" on Ask Jeeves: Beloved right-wing anti-Mexican Arizona sheriff Paul Babeu has been caught trying to deport his homosexual Mexican lover, because Paul Babeu is a homosexual with an unquenchable thirst for the semen of illegal Mexican men. It is very common for anti-Mexican Republicans to have undocumented Mexican servants and gardeners and nannies, of course, and it is exceedingly common -- almostrequired by the RNC -- for Republican politician men to be self-hating homosexuals, and it is utterly expected that any Republican in Arizona is going to be a comic book villain/idiot. But to get all three in one person (a sheriff, even!) running for Congress is just a bit overboard.
---
So, according to the Phoenix New-Times and the thousand gleeful news articles that have followed this weekend, Pinal County Sheriff Paul Babeu tried to deport his homosexual lover, "Jose." That's about all you need to know.
But, of course, you would like a few comical details, to help with the gloating:
Pinal County Sheriff Paul Babeu — who became the face of Arizona border security nationally after he started stridently opposing illegal immigration — threatened his Mexican ex-lover with deportation when the man refused to promise never to disclose their years-long relationship, the former boyfriend and his lawyer tell New Times.

The latest of the alleged threats were made through Babeu's personal attorney, who's also running the sheriff's campaign for Congress in District 4, the ex-lover says.
Babeu has decided, obviously, to continue running for Congress. After all, he is very tough on illegal immigration, when it comes to the actual Mexican men he is sodomizing! (Or being "sodomized by," as we don't pretend to know the nature of this relationship other than it is Very Gay, which Republicans tend to be against, in theory but rarely in practice.)
Where have we seen this gay man, Paul Babeu, before? Oh, the usual places. But also, in this hilarious John McCain campaign video from 2008, "Complete the Danged Fence."
Paul Babeu, obviously, is now a Mitt Romney campaign chairman in Arizona. Based on the New Times report of the many professional services "Jose" provided to Babeu, we wonder if Romney's Arizona websites were also created by the talented and oppressed "Jose."
Jose says he met Babeu in October 2006 on gay.com, a dating website. What started with an online invitation from Babeu for the two to get together, he says, turned into not only a personal relationship but a professional one.

Jose says he created and maintained Babeu's campaign websites, his Facebook page, and his Twitter account. Babeu didn't pay him for his online services, he claims.
We await the news of Maricopa County Sheriff Joe Arpaio's homosexual Illegal Mexican love betrayal with something approaching horror. [Fox News/Phoenix New Times]