Rock You Like A Hurricane! Wonkagenda For Fri., Sept. 14, 2018
Science
September 14, 2018 09:00 AM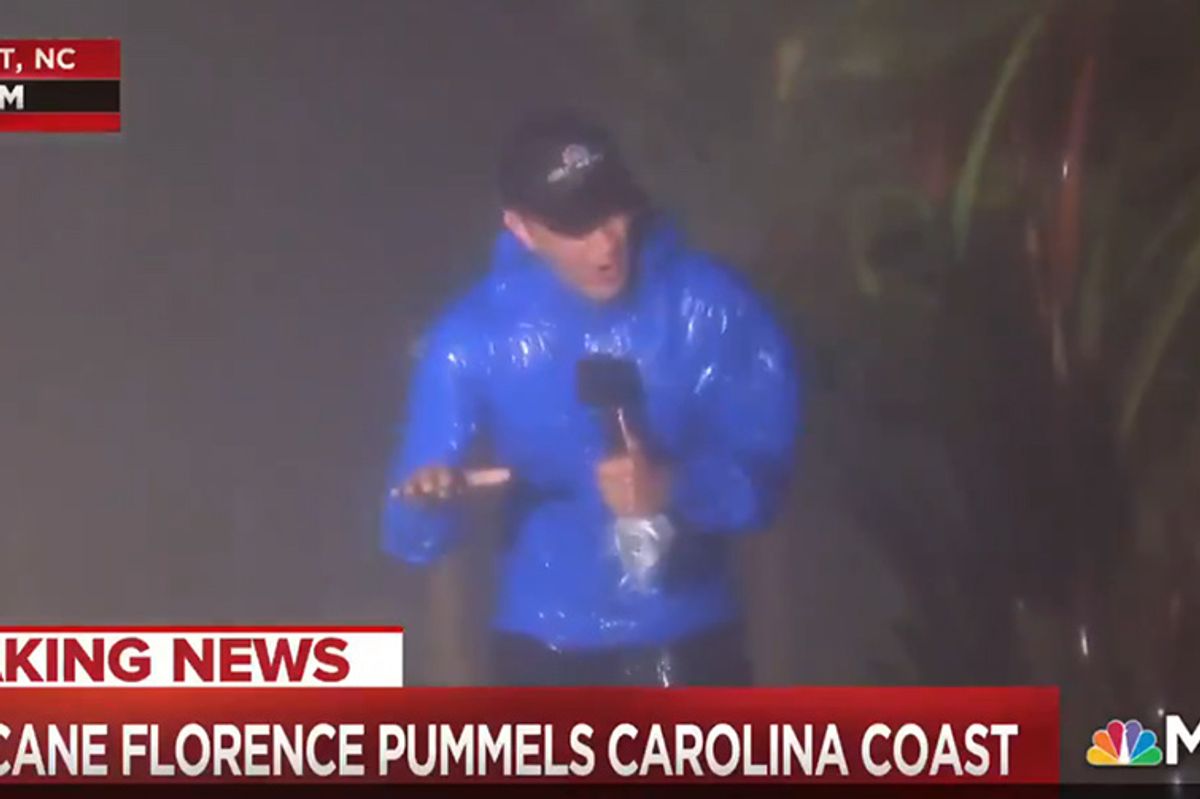 Morning Wonketariat! Here's some of the things we may be talking about today.
---
With Hurricane Florence currently slamming into North Carolina, there are concerns about 100 mph winds, rapidly rising flood waters, and dangerous storm surges from the slow moving storm as it makes landfall as a Category 1 storm.

Here's a real time tracker via the New York Times on the path of the storm.
Trump's blatant lies about the death toll in Puerto Rico forced his sycophants to concoct new ways of scapegoating and otherness, going so far as comparing their response to the wonderful job the Bush administration did during Hurricane Katrina.
FEMA Administrator William "Brock" Long is weathering his own storms: a DHS investigation into his ALLEGED absences and grift, and his miserable failure to respond to Hurricane Maria. "Brock" addressed the allegations "hounding" him and said, "I would never intentionally run a program incorrectly."
Gabe Sherman gossips in Vanity Fair that an increasingly paranoid Trump family are losing what brains they have as Trump suspects everyone around him (except Stephen Miller) of writing THE OP-ED.
Trump passed a new milestone: 5,000 "false or misleading claims." HE DID IT! We never had a doubt!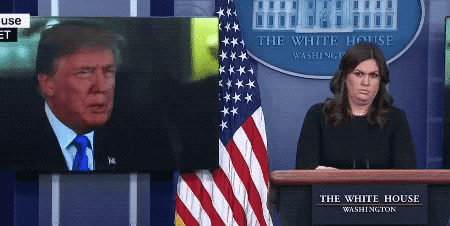 With Don McGahn and his underlings running away at top speed, Politico reports that Emmet Flood is still the most likely swamp monster to become White House counsel, but Jared and Ivanka keep urging Trump to pick another scummy and loyal TV lawyer.

On a party-line vote, House Republicans dumped on a Democratic "resolution of inquiry" that aimed to get "copies of every document, record, communication, transcript, summary, note, memorandum, and read-ahead" from Trump's closed-door pee-hooker party with Vladimir Putin in Helsinki. Y'all trying to hide something?
Someone sent Sen. Dianne Feinstein "information" about Brett Kavanaugh alleging sexual misconduct from way back when Kavanaugh was a youth growing up on the "crime-ridden streets" streets of Bethesda, Maryland. Feinstein sent THE LETTER to the FBI. Facing mounting public pressure, Republican Sen. Susan Collins will sit down with Kavanaugh later today so he can gaslight her about abortion.
Nikki Haley LOVES living the high-life in New York in her $58,000 A MONTH apartment with its $29,000 automatic curtains (complete with $22,801 motor), and a $31,000 dining set. She's just like Weezy Jefferson!
Congress reached a bipartisan resolution to fund the government through Dec. 7 after passing a combined spending bill for Defense, Labor-Health and Human Services-Education, and every other agency that is expected to run out of money on Sept. 30. With no money for Trump's border wall, Congress is daring Trump to shut down the government (again).
In a rare interview with CBS's Norah O'Donnell, FBI Director Christopher Wray says nothing is fucked, the elections are going to be fine, and Chinese hackers are way scarier than the drunk Russians dicking around on Twitter. One of these is true...
UH OH! New audio tapes show Montana Republican Senate candidate Matt Rosendale coordinating with the NRA on ads against Democratic Sen. Jon Tester. WHOA, if true! (LOL, it's true!)
The GOP's biggest fear is the 44 House seats that are open after the old white guys decided to slink into the swamp.
New York Gov. Andrew Cuomo defeated Cynthia Nixon in the state Democratic primary.
Former public defender and Brooklyn council member Letitia "Tish" James stands to become the first African-American woman elected as New York attorney general after winning the Democratic primary last night.
Socialist candidate Julia Salazar won the Democratic primary for the New York state Senate.
Florida is in in the midst of a no-joke constitutional crisis as Gov. Rick Scott attempts to pack the state Supreme Court in the last three hours of his governorship. John Oliver was right, Florida really is the voter disenfranchisement capital of America!
Hotel workers across Chicago have been on strike demanding year-round health care for workers laid-off during the bitter, slow winter season. Now in its eighth day, it saw hundreds marching through the streets yesterday.
Venezuelan dictator Nicolas Maduro is headed to China to beg for a bailout in the hopes that a fresh infusion of cash could curb astronomic inflation that the World Monetary Fund warns could reach one million percent by the end of the year.
The rest of the world is taking a second look at their investments in China as Trump's trade war continues to lurches forward with no end in sight. The US is currently trying to restart negotiations while Chinese markets continue to brush off Trump's ignorant tariffs and tweets.
Dictators and political despots are hailing John Bolton's bitchy rebuke of the International Criminal Court, and using it as a chance to ignore the courts accusations of war crimes, like mass rape and murder, torture, and grift.
A civil war has enveloped the Catholic Church as more Cardinals stand accused of sexually abusing adults and children, as well as covering up sexual misconduct from thousands of priests and clerics around the world. On Thursday Pope Francis met with a number of American bishops to discuss the Church's problem with pedophile priests, and OK'd an investigation into sexual abuse allegations against recently resigned Cardinal Michael Bransfield.
Canada is about to legalize the retail sale of marijuana, but US CBP officials are warning that Canadians risk a lifetime ban from the US if they become entrepreneurs in the booming weed industry. Dude, that's harsh.
Russian state news outlets are blaming US astronauts for a tiny hole that appeared on the Russian Soyuz MS-09 ISS module. Yesterday NASA administrator Jim Bridenstine and his Russian counterpart, Roscosmos's Dmitry Rogozin, issued a joint statement of cooperation in the Russian-led investigation in order to tamp down Russian conspiracy theories of space madness. In a rare (and totally awesome) space-to-ground interview with CBS News, ISS commander Drew Feustel said, "I can unequivocally say that the crew had nothing to do with this on orbit, without a doubt, and I think it's actually a shame and somewhat embarrassing that anybody is wasting any time talking about something that the crew was involved in."
Tucker Carlson and Michael Avenatti threw down last night in a snippy cable news fight that went about as well as you'd expect, complete with chryons labeling Avenatti as "creepy porn lawyer." Avenatti has an op-ed in the NY Times this morning making the case to #IMPEACH. #HesRunning2020
And here's your morning Nice Time! MEERCATS!
Follow Dominic on Twitter and Instagram!


We're 100% ad-free and reader supported, so consider buying us coffee, or get a subscription!

Dominic Gwinn
Dominic is a broke journalist in Chicago. You can find him in a dirty bar talking to weirdos, or in a gutter taking photos.