Florida's Ron DeSantis Humiliates Himself For Daddy Trump's Approval
Post-Racial America
July 31, 2018 03:31 PM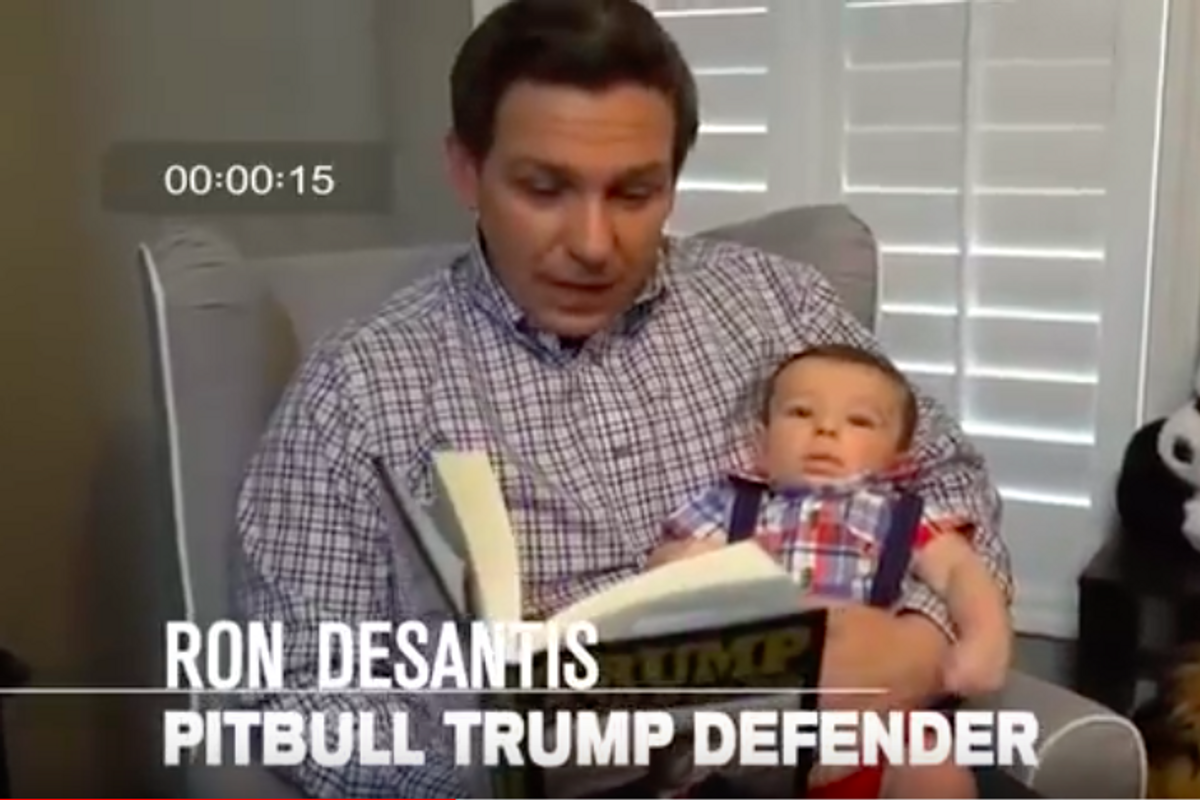 Every day I wonder if there's an actual bottom to how low Republicans can sink in their defense of and fawning support for Donald Trump, and every day I find another Republican willing to debase themselves for a chance to advance to the next round in "Who Wants To Be The President's Stooge?" It's early yet, but this week's winner is probably Florida gubernatorial candidate Rep. Ron DeSantis. Monday DeSantis released a campaign ad that lacked the subtle dignity of one of Casey Kasem's long distance dedications.
"Build the wall," Rep. Ron DeSantis (R) says while playing with toy blocks with his daughter, Madison, nearly 2, in his Florida home. "Then, Mr. Trump said, 'You're fired,' " he says while holding his infant son, Mason, in one arm and Trump's book "The Art of the Deal" in his other.

"People say Ron's all Trump. But he is so much more," his wife, Casey, jokes before the screen flips to a shot of Mason lying in a crib, dressed in a red "Make America Great Again" onesie. "Bigly," the gubernatorial candidate adds. "So good."

"The ad is just meant to reinforce the fact that the President is endorsing Ron and that Ron has defended the President," David Vasquez, a spokesman for DeSantis, told The Washington Post in an email. "It's just a bit of humor."
Humor is a man walking into a rake. That's always gold. This is the shameless exploitation of a political candidate's family for the gratification of Trump's massive baby ego. Why is DeSantis so desperate to seek the favor of a guy who only narrowly carried Florida in 2016? Because Trump is a kingmaker in the region's Republican primaries. He backed Katie Arrington in her upset victory over South Carolina Rep. Mark Sanford. He endorsed Brian Kemp, who ran over Casey Cagle in last week's Georgia run-off. Trump picks winners and lords it over the losers. All he asks in return is that you humiliate yourself for his amusement.
---
How else do you explain Arrington's interview Sunday with Kasie Hunt where she blamed China for Russia's attack on our elections? Her liege also thinks China is a better explanation because no one in their government has compromising video of him. (I'm not a monster, by the way. I'm glad Arrington is doing well after her recent car accident.)
TRUMP-ENDORSED REPUB, Katie Arrington, @karringtonsc ...on whether Russia interfered in the 2016 election. Arring… https://t.co/UY4CMJzo5B

— 𝑻𝒓𝒖𝒎𝒑'𝒔 𝒁𝒐𝒎𝒃𝒊𝒆𝒍𝒂𝒏𝒅 ❄️ (@𝑻𝒓𝒖𝒎𝒑'𝒔 𝒁𝒐𝒎𝒃𝒊𝒆𝒍𝒂𝒏𝒅 ❄️) 1532915701.0
Kemp released a couple campaign ads that resembled Saturday Night Live parodies. He boasted that he's "so conservative" he blows stuff up (no, really). He cuddled with guns and hopped into his "big truck" that he'll use to "round up criminal illegals." Georgia Republicans said, "That's our guy." We're all anxious to see how he'll humiliate himself further before he beats Stacey Abrams in the general election for governor.
University of Georgia professor Charles Davis, who is the dean of the Grady College of Journalism and Mass Communication, apologized Friday for seeming to endorse Kemp, which is the most embarrassing thing to happen to Grady College since they gave me a degree.

"I went to high school with GOP guv candidate @BrianKempGA," Davis wrote in the now-deleted tweet. "We played YMCA ball from childhood. Politics be damned. He is a nice guy, always was. Kind to a fault. He's a friend, always has been, and will be when we're old(er) and grey(er). That's how all this should work, people."
What in the name of James Gunn was Davis doing? He's not some random dad online. He was tweeting from an account called "GradyDeanUGA." Come on! It's like no one knows how to use Twitter. Davis should've just claimed his high school buddy made him send the tweet at gunpoint, as that would only help Kemp in the polls.
So, Arrington wants to defend Trump no matter what, and Kemp just wants to be as "politically incorrect" as Trump. It's all very romantic. But DeSantis's ad is truly something else. It's like pathetic married craven and they had children who hated themselves. (This is also how I'd pitch a rom-com about Donald Trump Jr. and Kimberly Guilfoyle.)
DeSantis describes himself as a "pitbull Trump defender." He even reads to his kid "The Art of the Deal," which is more than Trump has ever done. But it's all worth it! DeSantis likely credits Trump's endorsement for his meteoric rise in the polls. According to Real Clear Politics, he is delivering a real clear ass-whoopin' to his opponent Adam Putnam, who is Florida's agriculture commissioner. Sure, that's a boring title and probably even more boring job, but Putnam is still objectively more qualified to be governor than DeSantis, whose biggest claim to fame so far is picking fights with Alexandria Ocasio-Cortez.
But not knowing what the hell you're talking about and covering it up with an asphalt layer of insults is a Trump speciality. That's probably enough to carry at least Arrington and Kemp to victory in solidly red states, but Florida still has a shot at turning blue statewide. Former representative Gwen Graham is leading in Democratic primary polls. She's got a good record and if she can wrest the coveted journalism school dean endorsement from DeSantis, it's anyone's ball game.
You love Wonkette very much, yes? Please DONATE to our snarky cause.
Related Articles Around the Web
Stephen Robinson
Stephen Robinson is a writer and social kibbitzer based in Portland, Oregon. He writes make believe for Cafe Nordo, an immersive theatre space in Seattle. Once, he wrote a novel called "Mahogany Slade," which you should read or at least buy. He's also on the board of the Portland Playhouse theatre. His son describes him as a "play typer guy."