Roy Moore 2: Kiddie Grabber Boogaloo
News
June 21, 2019 09:32 AM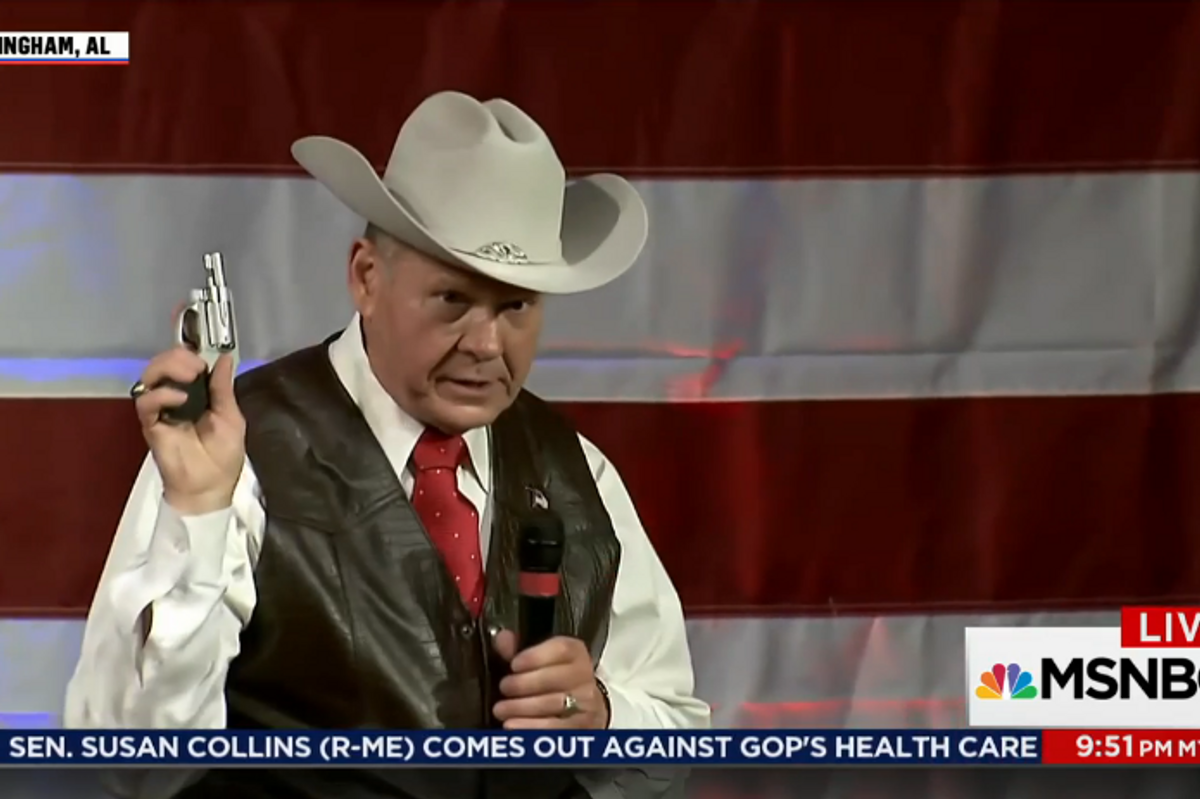 For no good reason Roy Moore is running for Senate again, and there isn't even a tween-filled shopping mall in the entire Capitol. Why the fuck is Roy Moore 'flirting' with another Senate run like he's a better candidate than a Meth Fueled Attack Squirel? Oh, here's the answer! Roy Moore is running again because rape culture. You can go ahead and give us a tip for that brand new information right now. Thanks and you're welcome.
Riding high from his recent attempts to sue a super pac that ran ads about him, Moore wants another shot at losing to Doug Jones. Moore seems to enjoy losing, and has finally proven he's a "Maverick" by brushing off edicts from King Trump to stay the fuck out of the Senate race. Luckily for Jones, Roy Moore doesn't give a fuck what Trump thinks. Roy Moore is from Alafuckingbama just like Yr Wonderbitch's Daddy was, and if you deal with Mississippi's basic ass bullshit, and Georgia's snitty snickers for long enough, you'll say and do whatever you damn well please. Even if it's a marriage proposal to a 14-year-old or something super normal like that.
---
Roy Moore running again for US Senate seat in Alabamawww.youtube.com
Apparently Roy Moore and his wife, Kayla, miss the buzz of ridicule that graces every room he enters, and the long walks with reporters asking how many girls did he abuse. There are probably also candlelit dinners with skeevy old donors who banter about the old days when they could just buy a child bride without those sinful liberals like Kamala Harris, whose music is a cop, arresting their old nasty asses.

I expected to be glad Moore was in the race since he completely fucked everything up for the GOP last time, and handed the US Senate seat to Doug Jones, who honestly hit the opponent JACKPOT, but I just feel irritated. I'm just tired of feeling like we live in a reality show where it's obvious I'm going to get stuck with Flava Flav at the end and not be able to will myself dead.

Moore told POLITICO in an interview last month he was "seriously considering" running for Senate again next year, brushing aside tweets from President Donald Trump calling on him to stay out of the race. Senate Republicans have made clear they view a Moore nomination as Jones' best chance to win reelection and have vowed to oppose his candidacy.
And what does the GOP Senator from Alabama have to say about it?

From CNN:
"I don't think he'll be the nominee," Sen. Richard Shelby, an Alabama Republican, told CNN in May regarding Moore.
Trump had his tantrum over it last month:
"I have NOTHING against Roy Moore, and unlike many other Republican leaders, wanted him to win," tweeted Trump. "But he didn't, and probably won't."
But Alabama Congressman Mike Rogers confirmed the truth of the matter: No matter how bad Roy Moore is, to them he'll always be better than a Democrat.
And Rogers quipped that "no matter who it is or how bad they are," he'd support the Republican in the race against Jones, criticizing the senator for voting against Brett Kavanaugh for the Supreme Court and his positions on abortion and guns.
So, you see, it's not time to relax and feel safe because Moore lost last time.
Roy Moore has never learned to take no for an answer.
Wonkette is brought to you by YOU. Please money us if you are able!
Wonderbitch
Follow Wonderbitch aka Bravenak aka Bianca DeLaRosa, loves her jobs as Social Media Manager for Wonkette more than Sarah Huckabee Sanders loves lying to America. Bianca also moonlights as a Witch (THE BAD KIND!!) and is a Freelance Goddess of All Things Ever. Be very nice her because she likes to curse people, especially mean people. You can find Bianca on Twitter @Wonderbitch81, or email her at bianca@wonkette.com