Roy Moore And Mitch McConnell Are Fighting, And We Can Hear Steve Bannon's Giggly Jizz Yelping From Here
News
November 13, 2017 03:15 PM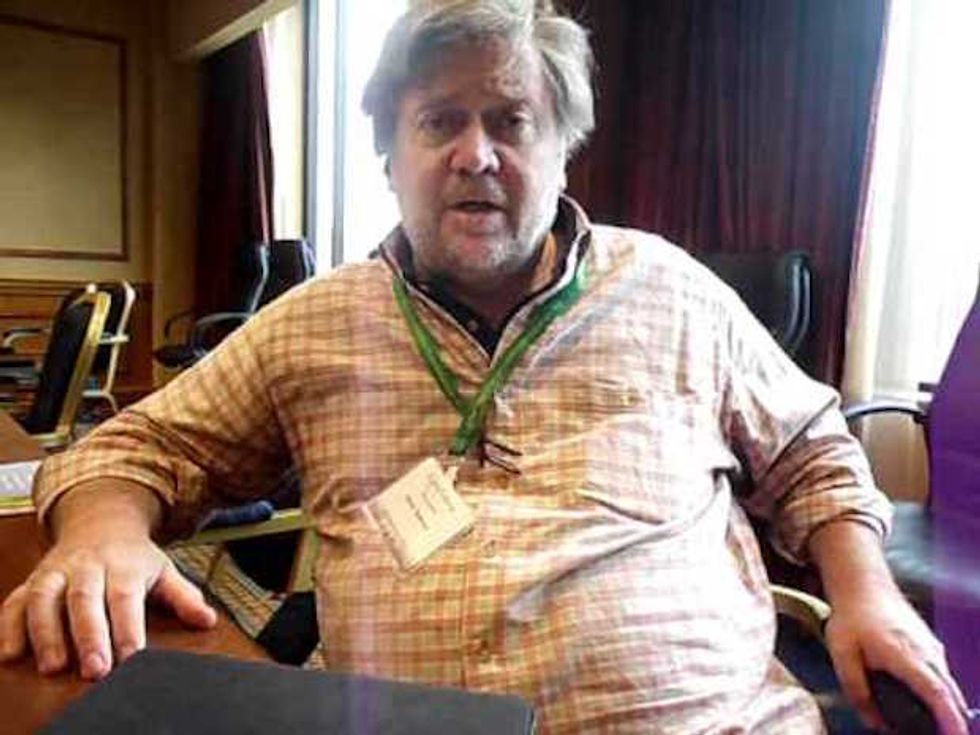 Gross, Steve Bannon.
---
A couple hours ago, Senate Majority Leader Mitch McConnell spoke to reporters and, when asked if he believes the child molesting allegations against Roy Moore, he responded simply:
Here is the video of @SenateMajLdr saying he believes the women accusing Alabama Senate candidate Roy Moore of sexually assaulting a 14-year old and pursuing other teens. pic.twitter.com/169YSHlXym

— Nick Storm (@NStorm_Politics) November 13, 2017
I believe the women, yes.
Thank you, feminist icon Mitch McConnell! No, for real, we are glad the message seems to be getting through to the point that Mitch Freaking McConnell is no longer adding "if true" to the allegations. He believes the women. McConnell added, unequivocally, that Moore needs to GTFO out of the Alabama Senate race.
And Roy Moore thus responded in a tweet what had been dictated by the Lord: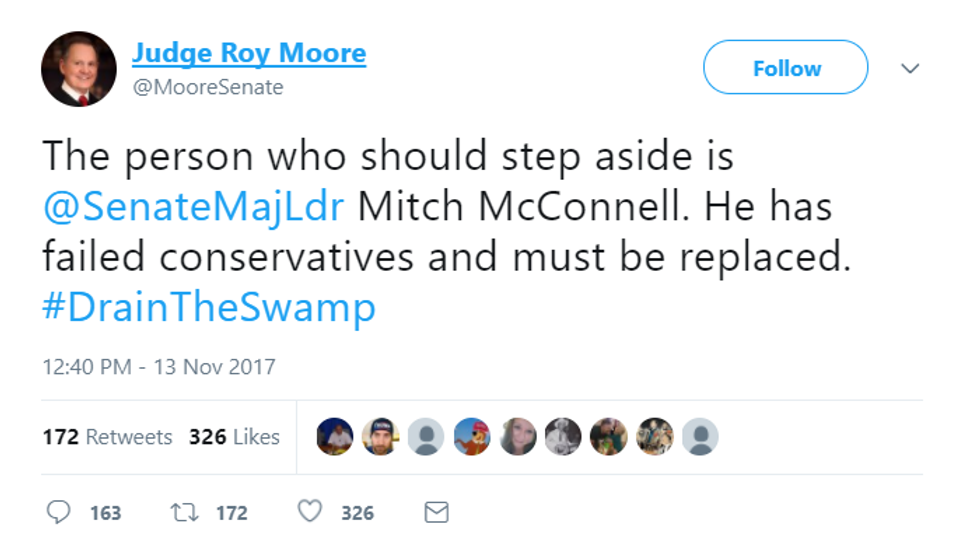 Yeah TAKE THAT, Mitch McConnell! Roy Moore might be an alleged CHILD MOLESTER, but at least he's not 'STABLISHMENT!
Moore also responded to McConnell by sending out another fundraising pitch, about how the establishment is hellbent on keeping God's Chosen Alleged Kid-Toucher out of the Senate: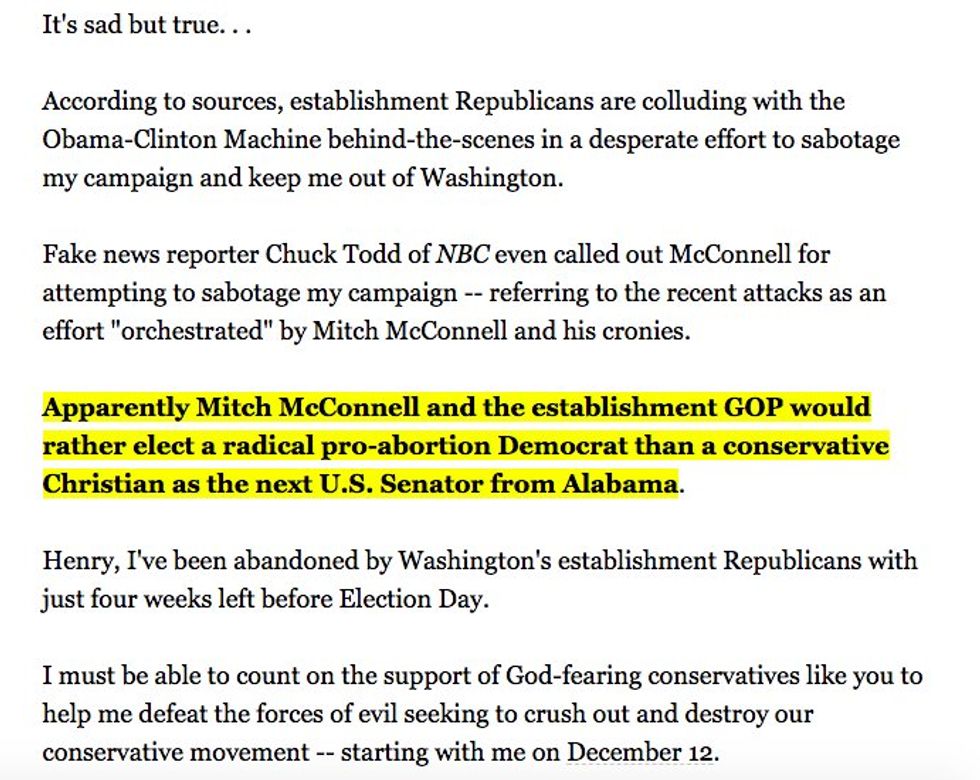 YEAH! Would you rather have an ACCUSED PEDOPHILE or a person who believes ABORTION SHOULD BE LEGAL? Plus, it's bad to abort unborn babies, because what if the baby you aborted was Roy Moore's next girlfriend, allegedly?
Anyway, all of this is obviously making Steve Bannon very 'cited. We don't have an exclusive quote from him or anything, but this is exactly the kind of destruction he's been dying to foist upon America, and the alleged child-fondler is his good old boy. We can only imagine he'll comment on this latest dust-up once he's done maniacally blowing nationalist jizz ropes all over the cobwebby sconces at Breitbart HQ.
He's probably doing O-faces right now, like this: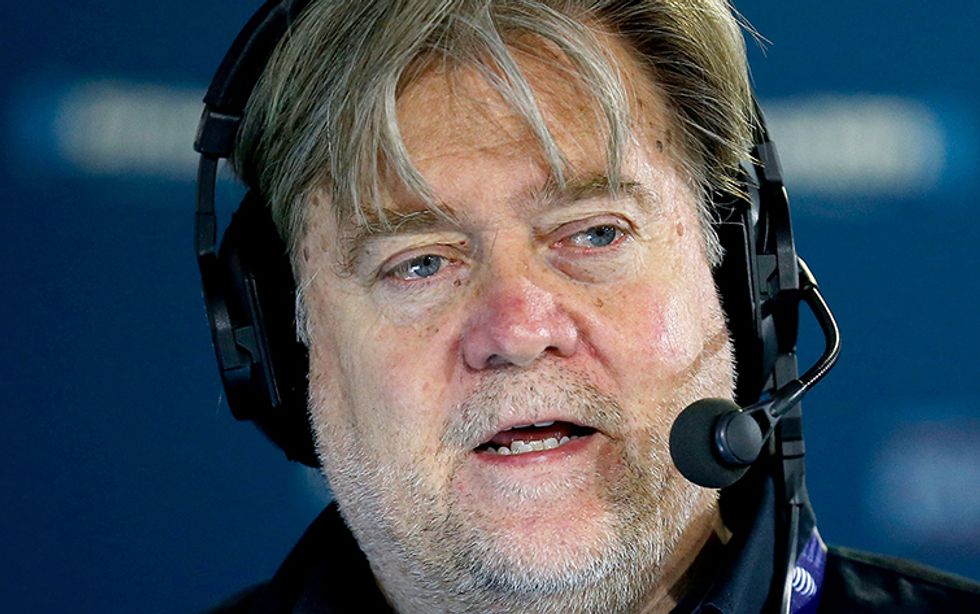 Or this: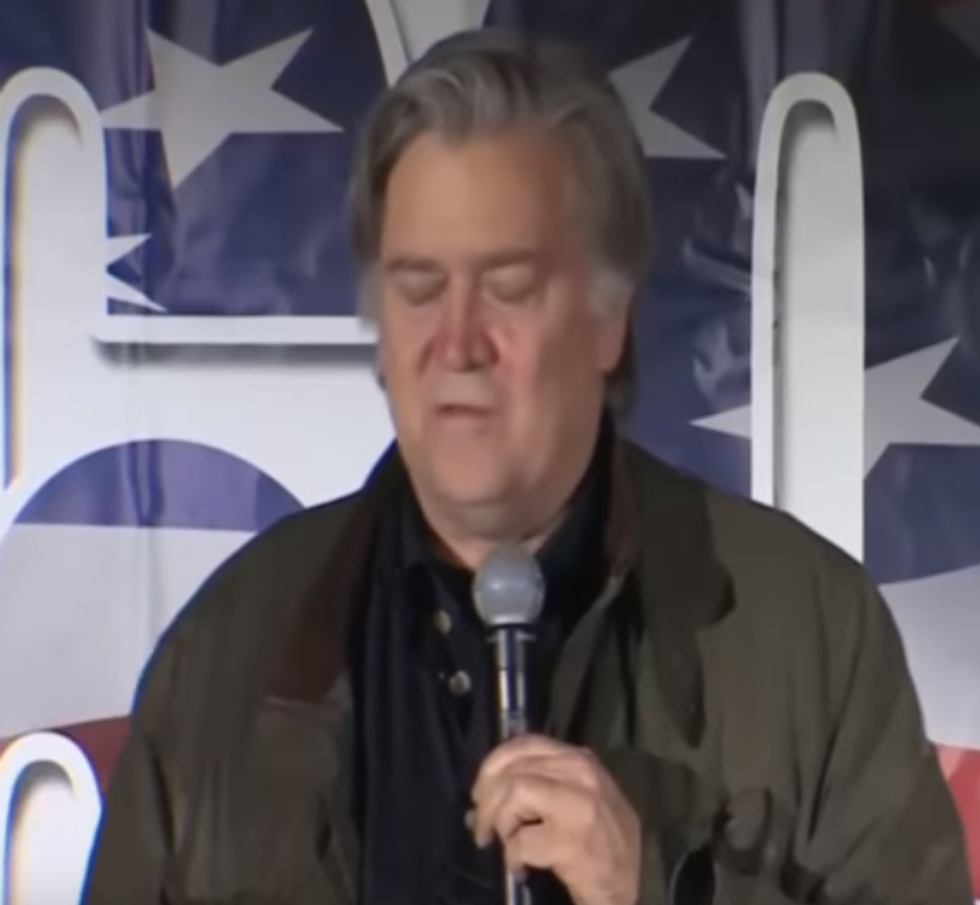 Or this: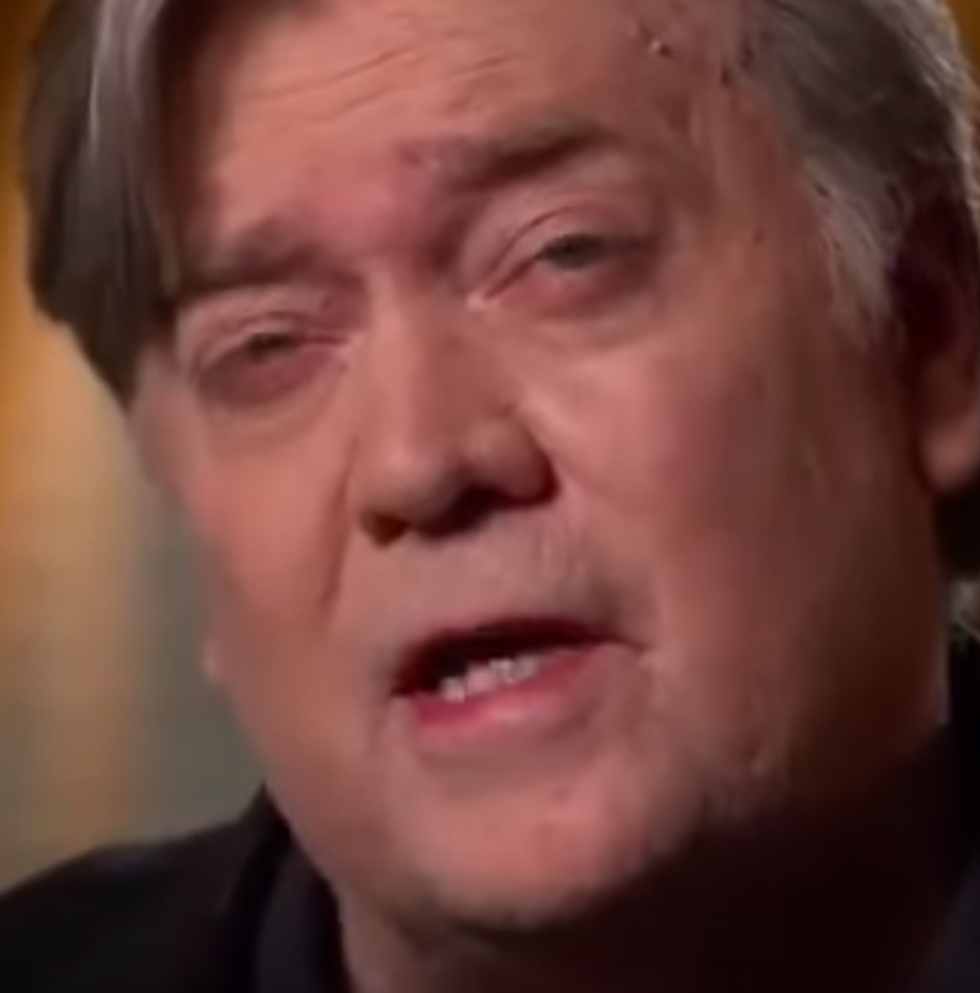 Those are very bad O-faces, Steve Bannon. You should be ashamed.
Unfortunately, Bannon's joy-splosion of gin-gasms may be short-lived, after which he will have to return to his normal life, with its regular sad-splosions of cry-gasms. As WaPo notes, it's way too late to get Moore's name off the ballot. McConnell said Monday he might be thinking about looking into a write-in campaign for Luther Strange, but that's kind of a longshot. And Axios reported this weekend that a "Republican close to McConnell" said the majority leader feels strongly enough about this that "he's willing to lose the seat to prevent someone who's guilty of these things from taking it." (Which would be a WHOA IF TRUE moment if there ever was one, because cough cough MERRICK GARLAND cough cough! But we hope it's true!)
Meanwhile, there have been rumblings among the GOP about "Maybe we can get Alabama Governor Kay Ivey to move the election so we can have time to elect a proper Republican!" Unfortunately for those advocating that approach, the answer out of Ivey's office is an unequivocal "Nah bro."
And there are bound to be more accusers. (Gloria Allred gonna do a press conference? We heard that too! Wait, she's doing it in New York City? Might as well do it in SHARIA-TOWN, in the eyes of the average Alabama voter. Get on an airplane and do the presser in a Cracker Barrel in Huntsville, please. OPTICS, PEOPLE!)
Oh well, too bad there's not a literal saint running against Moore, oh wait, yes there is, donate to Doug Jones please right now.
Follow Evan Hurst on Twitter RIGHT HERE.
Wonkette salaries, servers, and all of the things are fully funded by readers like you! If you love us, click here to fund us!
Evan Hurst
Evan Hurst is the managing editor of Wonkette, which means he is the boss of you, unless you are Rebecca, who is boss of him. His dog Lula is judging you right now.
Follow him on Twitter RIGHT HERE.